Marine Corps Seeking to Buy More M27 IARs
In recent months the Corps has been increasingly open about its intentions to adopt the M27 as its standard issue rifle. Back in August 2017, the USMC released a sole source notice for the acquisition of as many as 50,000 M27 Infantry Automatic Rifles. It now seems the Corps will be acquiring the new rifles in smaller numbers initially.
In February the Fiscal Year 2019 Budget Estimates Justification Book for the United States Marine Corps' procurement was published. It gives us some insight into a whole raft of Marine Corps small arms programs developing over the next couple of years. One of the future purchases outlined in the justification book is two further tranches of M27 IARs. Around 6,500 M27s are currently in service with a total of just under 8,000 more are set to be purchased.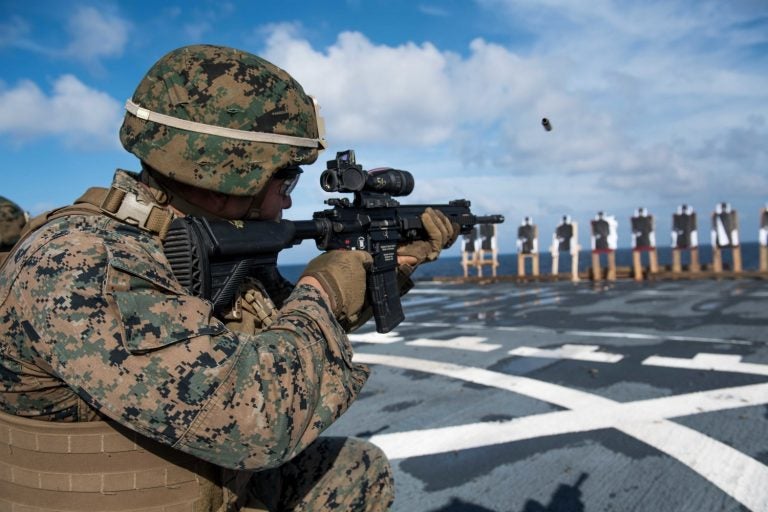 According to the 2019 budget estimates, justification book the first contract for 1,428 new M27s is to be awarded in June 2018, with the RFP scheduled to be published in March 2018. This will be followed by a larger second contract, with an RFP due to be announced in October 2018. This second, larger tranche calls for 6,567 rifles, with the contract to be awarded in November 2018. Combined, these orders for 2018 total 7,995 M27s.
The procurement of these rifles is justified in the 2019 budget estimates:
The procurement of additional M27s is to increase the lethality of Marine Corps' ground combat element conducting a range of military operations. The M27 is currently used by Marine infantry units and has proven to be highly reliable, giving Marine ground forces the ability to provide firepower superiority and effective suppression as needed.
With the adaptation of the M27 into the M38 Designated Marksman Rifle with the addition of a Leupold TS-30A2 Mark 4 MR/T 2.5-8x36mm variable power scope, the Marine Corps appears to be slowly fulfilling a Rifle Squad organisation outlined in an article featured in the April 2017, edition of the Marine Corps Gazette. The article suggests a 15-man rifle squad with every member equipped with an M27, but with one Automatic Rifleman and one Designated Marksman per squad – both with specially adapted M27s. This latter aim has already been achieved, the goal of arming of the rest of the squad with the Heckler & Koch HK416-derived rifle remains.
We approached Marine Corps Systems Command to ask about procurement plans for the M27 but they declined to comment. But as Lt. Gen. Brian Beaudreault, deputy commandant of Plans, Policies and Operations, confirmed at a recent House Armed Services Committee about the cost and procurement of the M27, that "our plan is to outfit our infantry Marines with that M27."
---
Sources: 
Fiscal Year 2019 Budget Estimates Justification Book for the United States Marine Corps Procurement Vol.1, Feb. 2018, (source)
'Small Unit Leaders' Thoughts', Marine Corps Gazette, Vol. 101, iss. 4, retrieved from source
(H/T/ to Leigh Neville for bringing the article to my attention, thanks Leigh!)