Austria Receives Its First AW169M Helicopter From Leonardo And Orders 18 More
The Austrian Ministry of Defense officially received its first Leonardo AW169M LUH on Wednesday, December 21, and signed a Government-to-Government (G2G) Agreement amendment to exercise the option for additional helicopters. The helicopter was officially delivered with a ceremony at the Tulln-Langenlebarn Brumowski Air Base, with senior Leonardo officials in attendance.
"It gives us great pleasure to see the first AW169M LUH here in Austria, and we welcome the decision to further expand the fleet," Leonardo's Chief Executive Officer Alessandro Profumo said during his speech at the ceremony. "We look forward to providing an even greater contribution with the most technologically advanced and cost-effective solution to meet the stringent requirements set by the collaboration between the two governments. We're committed to sustaining this important and growing programme."
"The development of this programme and the handover of the first aircraft in line with the delivery schedule is the result of an amazing collaboration among all the involved parties," Gian Piero Cutillo, Managing Director of Leonardo's Helicopter Division, added. "We know the outstanding technology, performance, multirole capabilities and complete services of the type will significantly boost national defence and emergency response, even more with today's decision to rely on an even larger fleet in the future."
The Austrian government signed a G2G agreement with Italy in December 2021 to purchase 18 Leonardo-built AW169 helicopters. This order included 12 AW169M (armed tactical helicopters) variants and 6 AW169B (training helicopters) variants. Aside from the 18 helicopters, the 346-million-euro agreement also included training services, logistics infrastructure, and spare parts. The contract also included options for an additional 18 helicopters. During the ceremony, Austria exercised its option to purchase 18 additional AW169 helicopters, bringing the total number of AW169s to 36. By 2028, Leonardo will deliver to Austria a comprehensive support and training package, along with 12 helicopters of the AW169B variant (training helicopters) and 24 helicopters of the AW169M variant (armed tactical helicopters). These new helicopters will take the place of the light Alouette III utility and transport helicopters, which have been in service since 1967 and will be decommissioned at the end of 2023 due to technical challenges.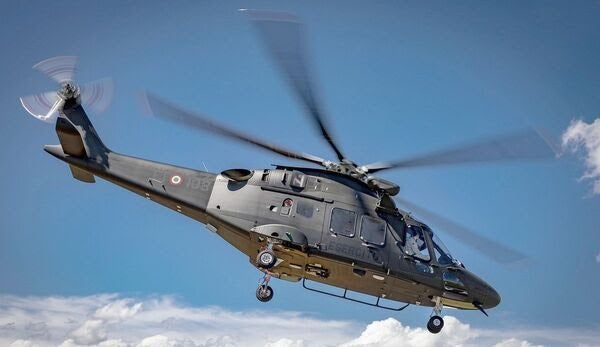 Leonardo's helicopter division developed and manufactured the AgustaWestland AW169M, a twin-engine, 4.8-tonne helicopter. The AW169M is capable of carrying out a wide range of missions, including troop transport, logistical support, surveillance and reconnaissance, special operations, command and control, medical evacuation, and search and rescue. Internal weapons on the helicopter include two pintle-mounted 7.62mm machine guns or two 12.7mm machine guns. External weapons consist of 7.62mm/12.7mm machine guns, guided and unguided rockets, and air-to-ground missiles. The Leonardo AW169 has a maximum cruise speed of 270 km/h and a range of 748 km thanks to two Pratt & Whitney PW201A engines producing 826 kW each. The helicopter, which has a maximum flight time of about 4 hours and can accommodate up to 10 people, can be operated by one or two pilots. Operators from all across the world have ordered more than 300 AW169s so far for multirole operations, logging more than 100,000 flight hours.