TKMS Launches New Type 218SG Submarines Named 'Impeccable' and 'Illustrious' For Singapore
The "Impeccable" and "Illustrious," the second and third vessels in a series of four Type 218SG submarines built for the Republic of Singapore Navy (RSN) by German shipbuilder ThyssenKrupp Marine Systems (TKMS), were launched at a ceremony at the company's shipyard in Kiel. Chancellor Olaf Scholz of Germany, Singapore Prime Minister Lee Hsien Loong, Singapore Defense Minister Dr Ng Eng Hen, German Navy Commander Vice Admiral Jan Christian Kaack, RSN Naval Forces Commander Rear Admiral Aaron Beng, and other senior officials from both countries attended the event.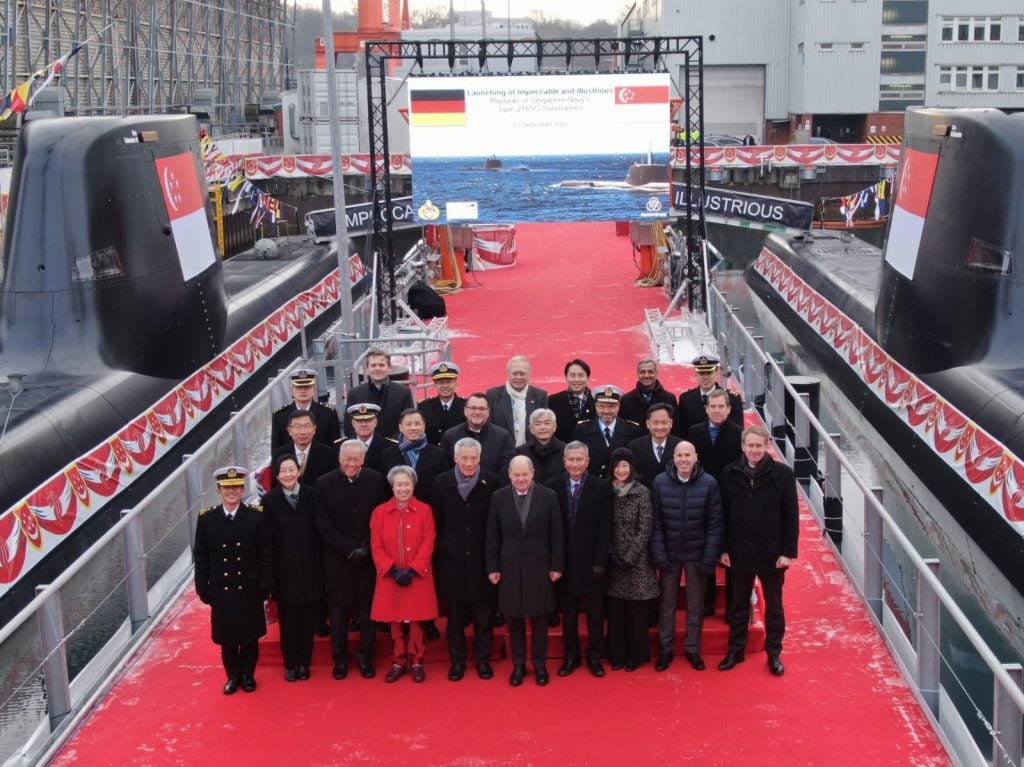 In his speech at the ceremony, Prime Minister Lee stressed the importance of the submarines, stating that, "Singapore is a maritime nation and we are highly reliant on the free and unimpeded movement of goods and services across the sea for our prosperity and indeed survival. The RSN has the crucial mission of keeping our Sea Lines of Communication open. Submarines provide the RSN an added capability to fulfil its role." He continued by stating that he was optimistic about Singapore and Germany's strong and developing defense ties and added, "our collaboration on this strategic capability underscores the depth of partnership and the trust between our navies and our defence industries. I am confident that the relationship between Germany and Singapore will grow from strength to strength, and I look forward to more meaningful interactions between our militaries."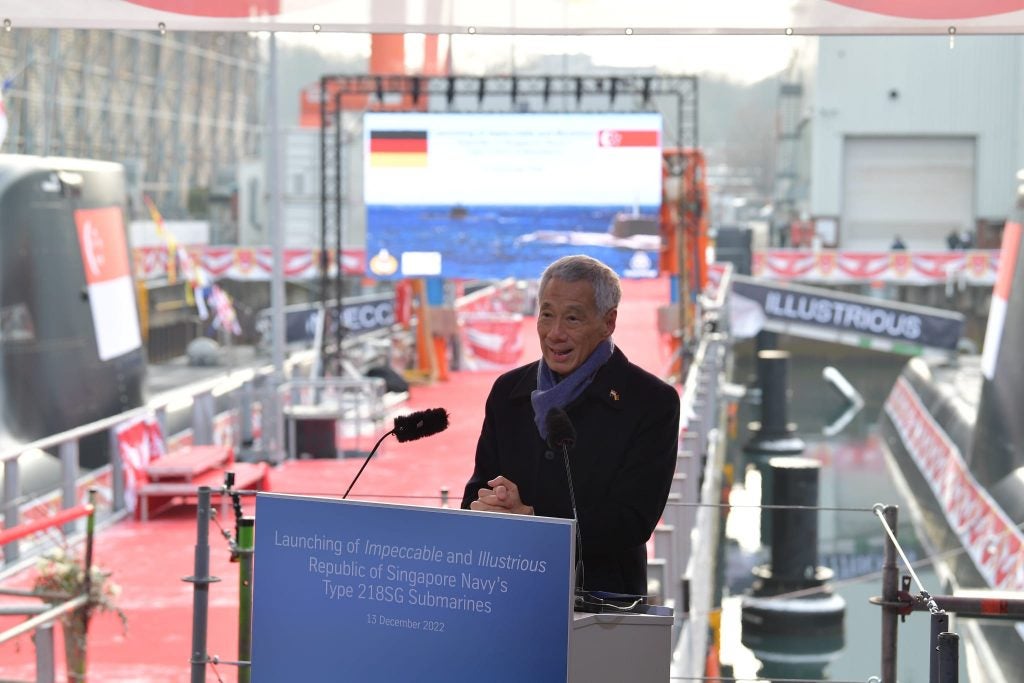 "We can be proud that German companies like thyssenkrupp Marine Systems are leaders in the construction of submarines," German Chancellor Scholz said in his speech. "Each of these submarines … is a one-off with a lot of manual work and maximum precision. That is a clear signal. … And I am therefore also extremely pleased that thyssenkrupp Marine Systems will expand its production in Germany and will also start production at the Wismar site from 2024."
Singapore paid $1.36 billion for two Type 218SG submarines from German Thyssen-Krupp in December 2013. Later, in 2017, the Singapore Ministry of Defense (MINDEF) signed a new contract to purchase two additional Type 218SG submarines. Construction of the first submarine of the class, Invincible, started in 2014. The submarine was launched in February 2019 and later began its sea trials in 2020. The Invincible's delivery, originally scheduled for 2021, was postponed due to the COVID-19 pandemic. The Invincible will be delivered to Singapore in 2023, along with the Impeccable and Illustrious, which were launched on December 13, 2022. Inimitable, the class's fourth and final submarine, is currently under construction. The final submarine is scheduled to be launched in 2023 and be delivered to the Singapore Navy in 2025 after sea trials.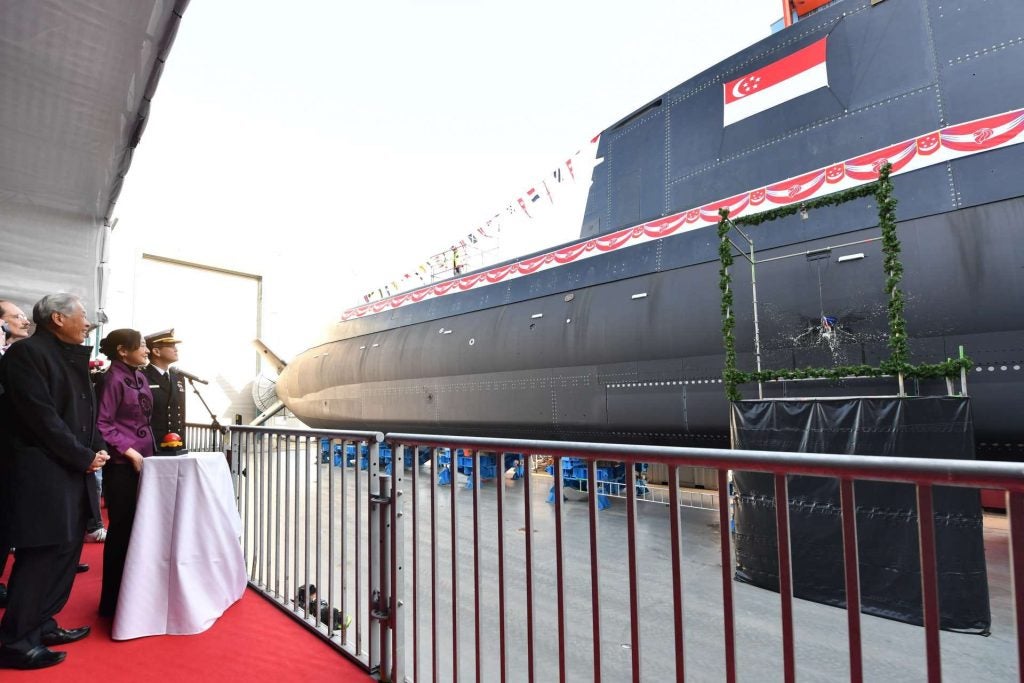 The Challenger (Sjöormen class) and Archer (Västergotland class) class submarines now operated by the Singapore navy are to be replaced by the Invincible class, which are built for operations in Singapore's shallow and dense tropical waters. The Type 218SG submarines are among the most advanced diesel-electric submarines in the world and are based on the Type 214 and Type 212A in their design. These 6.3m wide, 70m long submarines can travel at a speed of more than 15 knots while submerged. These submarines, which have a crew of 28, have a displacement of about 2,000 tons. Equipped with a combat system designed by Atlas Elektronik and ST Electronics, the Invincible class submarines will be armed with modern combat systems, including eight 533mm torpedo tubes.