Ukrainian Crowd Funding Effort Successfully Raises Funds to Buy 60 British Spartan APCs
With the rain of the Ukrainian autumn already turning rural roads into quagmires and the winter snows fast approaching tracked armored fighting vehicles are going to become invaluable. With the success of the latest major fundraising drive by the Serhiy Prytula Charity Foundation it appears the Ukrainian armed forces will be receiving 60 British FV103 Spartan tracked armored personnel carriers just in time.
The fundraiser was launched on the morning of 2 November, with an announcement posted on social media saying: "We are buying 50 Spartan armored personnel carriers, which are already waiting for us in warehouses in Britain! How much money do you need? — The party will cost UAH 200 million" Within nine hours half of the UAH 200 million, or $5.4 million, had been raised.
The foundation had hoped to raise the money in around a week but on the evening of 3 November the foundation's founder announced that the fundraiser had raised enough money to procure 10 extra APCs. Prytula tweeted "No one! Never ever can defeat our nation! Because we are the Ukrainians! We've crowdfunded for 60 British Spartan APCs in only 1,5 day!!"
In the video launching the campaign Prytula tours a private UK depot and passes FV105 Sultans (command and control vehicle), FV104 Samaritan ambulances and FV103 Spartan APCs. Maksym Kostetsky, the transport direction coordinator at the foundation, explained: "we have rain almost every day right now during the autumn season. It's going to start snowing soon, and the Spartans will be very good on the frontline on south of the country and especially in Donbas where the heaviest fighting is going on right now."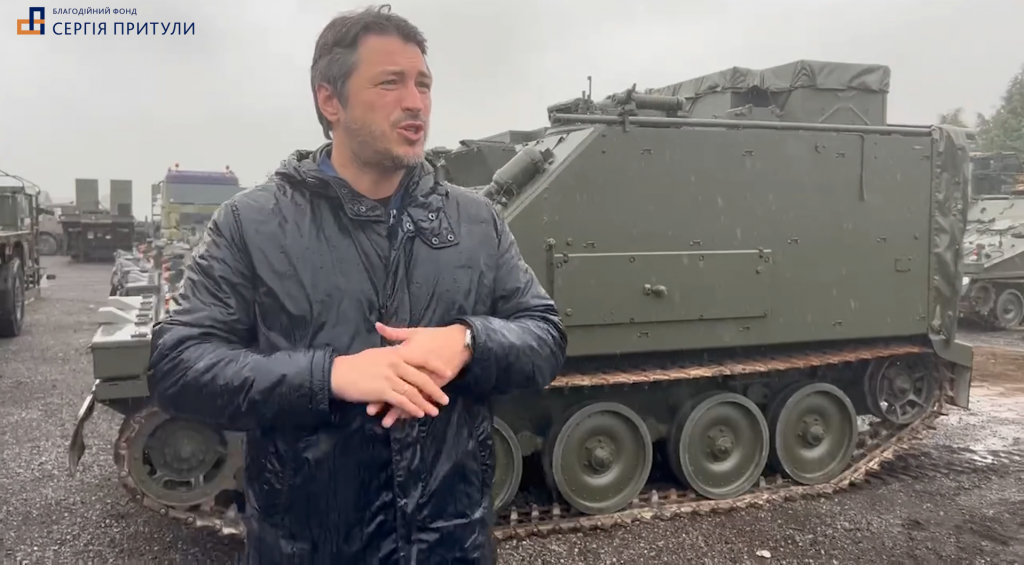 The FV103 Spartans being purchased by the foundation are currently in private hands, previously sold off by the UK Ministry of Defence. There are already a fleet of Spartan family vehicles operating in Ukraine including Samaritan (ambulance variant), Samson (armored recovery vehicle) and Stormer (which carries Starstreak HVM air defense missiles). The UK government announced the transfer over 100 armored vehicles of various types including: Combat Vehicle Reconnaissance (Tracked), Husky, Mastiff and Wolfhound wheeled armored vehicles.
The Serhiy Prytula Charity Foundation, named after its founder – a popular Ukrainian TV presenter and comedian with a large online following, has undertaken successful fundraising drives before. Back in June the foundation launched a campaign to crowd fund the purchase of three Bayraktar TB2s. The TB2s were delivered in early September.