Damen Shipyards Starts Construction of Two OPV 2600 Ships For The Pakistan Navy
Damen Shipyards of the Netherlands has begun work on a second batch of two offshore patrol vessels (OPV) for the Pakistan Navy. Senior officials from the Pakistan Navy, Romanian Navy, and Galatí city administration, as well as Damen Shipyards executives, attended the steel cutting ceremony at Damen Shipyards' shipyard in Galatí, Romania. Admiral Mohammed Amjad Khan Niazi, Chief of Staff of the Pakistan Navy, performed the first welding work on the keel of the first ship during the ceremony. This was followed by the first steel cut for the second OPV.
Speaking at the ceremony, Admiral Niazi, Commander of the Pakistan Navy, said, "These ships will act as force multipliers in increasing the navy's capacity to protect maritime borders. They will offer greater flexibility for Regional Maritime Security Patrol (RMSP) missions in the Indian Ocean." and commended the professional competence of Damen's design and construction teams.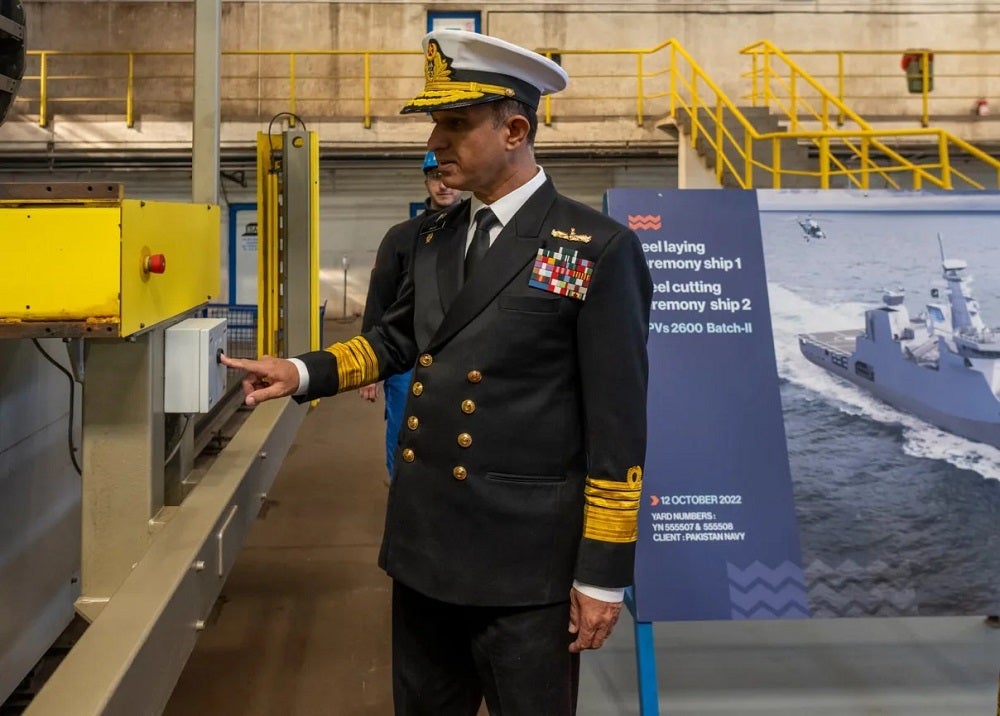 Following their successful operations of two earlier OPVs from the Shipyard Group, the Pakistan Navy placed this order for two additional OPV vessels from Damen. Following the conclusion of a transparent bidding process in which Damen's design and construction proposal was determined to be the most appropriate for Pakistan's maritime requirements, the initial order for the construction of two OPVs was given to Damen by the Ministry of Defense Production of the Islamic Republic of Pakistan. The two original OPV 2300s were delivered in February and November of 2020. A second order was placed as a result of the effectiveness and capabilities of these ships, known as the Yarmook class in the Pakistan Navy. Delivery of the two larger OPVs is anticipated for February and August of 2024.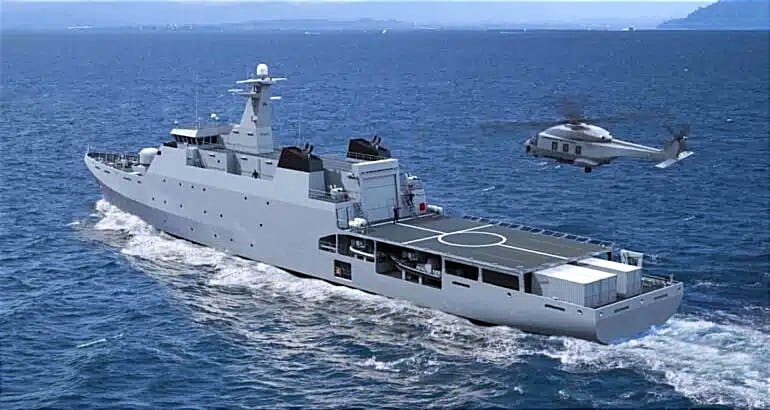 The OPV 2600 is the latest of four new second generation offshore patrol vessels designed by Damen Shipyards to support a wide range of navy and coast guard missions. Damen OPV 2600 is primarily intended for offshore and coastal exploration, surveillance, and control (poaching, drug trafficking, human trafficking, etc.), humanitarian aid in natural disasters, and search and rescue missions. The vessel has an overall length of 98m, a beam of 14.4m, a draught of 4m, and a displacement of 2,600t. The OPV 2600 ship is propelled by four 2,350kW engines. The vessel has a top speed of 26k, a range of 7,000nmi, and an endurance of 40 days. The Damen OPV 2600 offshore patrol vessel is armed with one 76mm main gun and two 20mm secondary guns. A medium-range surveillance radar and an E/O fire control sensor are included in the ship's sensor package. The ship can also accommodate a 60-person crew and an NH-90 helicopter.