North Korea Launches Missile Into the Sea of Japan as Kamala Harris Visits Tokyo and Seoul
On Sunday morning, South Korea's Joint Chiefs of Staff reported that a short-range ballistic missile was fired from Northwestern North Korea's North Phyongan Province. The missile accelerated to about Mach 5 speed, traveling 600km at an altitude of up to 60km before ultimately falling in the Sea of Japan (most likely in international waters). Statements from both the Japanese Ministry of Defense and US Indo-Pacific Command (INDOPACOM) claimed that the missile launch posed no threat to US or Japanese territory, citizens or military installations and personnel. This was the 19th launch carried out by the DPRK this year.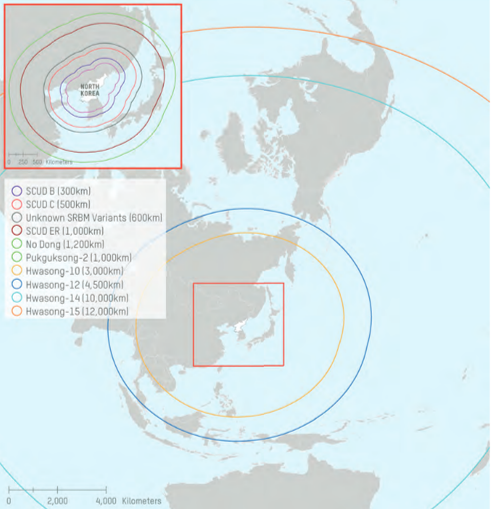 The incident comes amidst a number of high-profile military and diplomatic moves in the region involving the US, Japan and South Korea. On Friday, the USS Ronald Reagan aircraft carrier strike group arrived in Busan; the carrier group is participating in bilateral military exercises with the South Korean navy which began on Monday and are schedule to take place over four days.
Additionally, US Vice President Kamala Harris arrived in Tokyo on Monday for the funeral of Japanese Prime Minister Shinzo Abe who was assassinated earlier this year; the focus of the trip seems to be on security issues. Current Japanese Prime Minister Fumio Kishida has described the solemn occasion as an opportunity to conduct "funeral diplomacy" where North Korea was expected to be a key topic of discussion between the two leaders. Harris is also set to visit South Korea and will tour the DMZ separating the ROK and DPRK on Thursday September 29; she will meet with South Korean Prime Minister Han Duck-soo today.
Last month, American, Japanese and Korea foreign ministers/secretaries had met in Tokyo to discuss the issue of North Korea's nuclear program and missile launches. According to an official statement from Japan's Ministry of Foreign Affairs, "the three Ministers aligned their views on how to respond to further provocations by North Korea including another nuclear test, and on future measures toward the complete denuclearization of North Korea."