Jet Fuel Contamination Of USS Nimitz Potable Water Supply Resolved
The USS Nimitz's potable water supply was rendered unusable for three days due to contamination by jet fuel, with the Navy saying that the contamination has since been removed.

In response to inquiries from Overt Defense about claims on social media that the crew was not immediately notified by leadership after the presence of JP-5 jet fuel in the potable water system was discovered on September 16, Naval Air Forces spokesperson Cmdr. Zach Harrell said:

"As soon as USS Nimitz leadership was made aware of the contamination in the potable water system, immediate action was taken to secure access to the potable water. After the potable water system was secured, the commanding officer made an announcement on the ship's PA system to inform the crew on the status of the potable water supply."

According to Harrell, potable water aboard the Nimitz was "fully restored" on September 19, after the potable water system was properly flushed and the water thoroughly tested for any traces of JP-5. "The water onboard the ship is safe for use, and the health and wellbeing of all of our Sailors is a top priority", said Harrell. No comment was made on whether any sailors had been treated or injured after ingesting or showering with the contaminated water.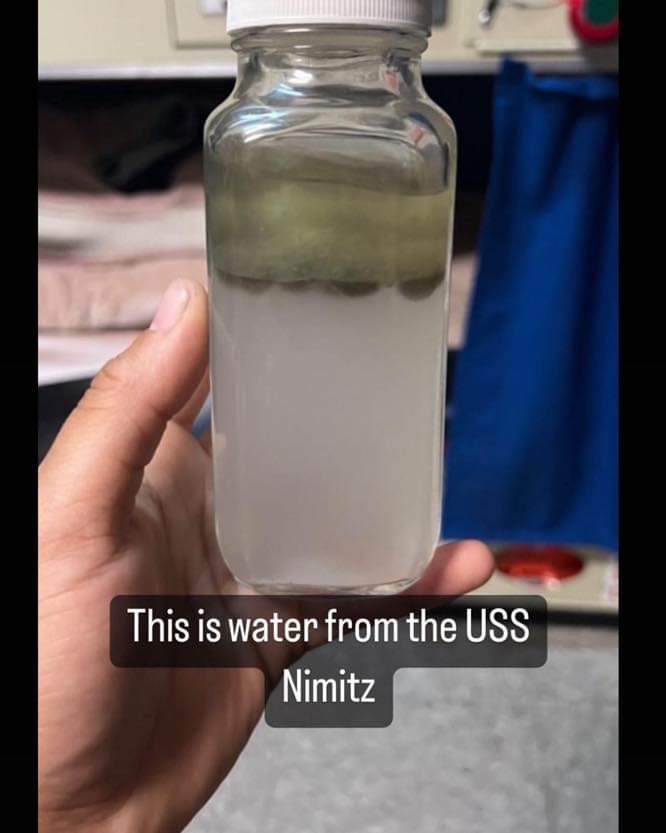 The Nimitz is currently docked in San Diego while partway through its Composite Unit Training Exercise (COMPTUEX), training with its carrier strike group ahead of their upcoming operational deployment. Harrell said that at the time of his statement, there has been no impact on the carrier's operational schedule due to the contamination event and subsequent cleanup work.
A Navy official that spoke to USNI News said that JP-5 entered the potable water system due to a procedural "line up" issue that accidentally pumped the fuel into the fresh water system, instead of a fuel leak or tank failure.

The upcoming deployment of the 47-year old Nimitz is expected to be one of its last, with the carrier scheduled for retirement in fiscal 2025 following the end of its 50-year service life. However, the Navy said in April that it was exploring the possibility of extending the service lives of the Nimitz and the Dwight D. Eisenhower beyond 50 years.