ShinMaywa Announces Maiden Flight Of 'XU-M' Unmanned Amphibian Aircraft
On September 5, Japan's ShinMaywa Industries announced the maiden flight of its unmanned flying boat XU-M (EXperimental Unmanned / Utility aircraft – Marine type). The firm stated that the maiden flight occurred on August 26.

The XU-M is an unmanned aerial vehicle based on the amphibian technology developed by ShinMaywa. It has been developed with the aim of promoting research related to sensing and control of remotely operated amphibian aircraft. The fixed wing drone is propelled by two electric motors and has a cruise speed of 60kmph. The aircraft has a length of 3m, wingspan of 4m and height of 0.9m.The aircraft built using carbon fibre reinforced plastic (CFRP) has an operating weight under 25kg.

Overt Defense reached out to ShinMaywa for further details on the XU-M. ShinMaywa Aircraft Division's Sales and Marketing Department stated that the self supporting aircraft currently has Level 3 autonomy. It can be realised for practical applications once Level 4 autonomy is implemented. While XU-M is a test aircraft, ShinMaywa will design the aircraft and provide services according to customer requirements. Overt Defense understands that the XU-M could form the basis for larger unmanned amphibian designs.

ShinMaywa has also developed a fixed-wing unmanned aerial vehicle XU-S, which has long-term flight capability. Over the years it has been used for radio propagation tests, environmental observation and marine litter survey. This battery powered drone is propelled by two pusher type propellers.

ShinMaywa produces the US-2 manned large amphibian aircraft. This is operated by the Japan Maritime Self Defense Force (JMSDF). The aircraft was earlier considered by the Indian Navy, for which ShinMaywa had partnered with Mahindra Defence. ShinMaywa has also expressed willingness to offer the US-2 for a U.S. Special Operations Command (USSOCOM) requirement for an amphibious aircraft.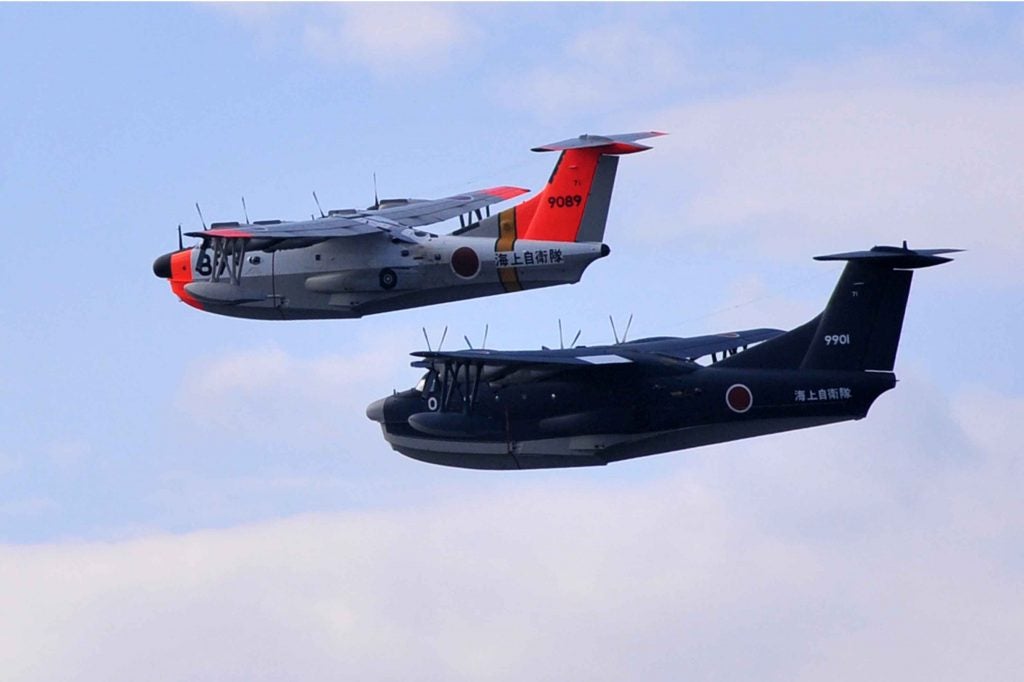 The XU-M combines the technologies used in US-2 and XU-S. On September 2, the XU-M was showcased during the "1st Drone Summit" held in Kobe City. The drone took off from the water and conducted a four minute flight demonstration. The XU-M made two automatic figure-eight turns before landing in the water.

Header image photographed by Asako Nagamine, via @kobekeizaibu.