India Raises Concerns After $450 Million U.S. Proposal For Sustaining Pakistan's F-16 Fleet
The U.S. State Department approved a possible Foreign Military Sale (FMS) of 'F-16 Case for Sustainment' to Pakistan for an estimated cost of $450 million. Congress was notified of this possible sale by the Defense Security Cooperation Agency (DSCA) on 7 September. India has in turn raised concerns regarding the approval, with Defence Minister Rajnath Singh raising the issue with U.S. Secretary of Defence Lloyd Austin during a telephone call on 14 September.
The proposed FMS was based on a request by Pakistan to consolidate prior Pakistan Air Force (PAF) F-16 fleet sustenance and support cases by reducing duplicate case activities and adding additional continued support elements. PAF has a fleet of over 70 F-16s. The FMS can include U.S. government and contractor engineering, technical, and logistics services for follow-on support. The proposal does not include any new capabilities, weapons or munitions.
This proposed sale will allow Pakistan to retain interoperability with U.S. and partner forces in ongoing counter-terrorism efforts and in preparation for future contingency operations, a press release stated. It further stated that the proposed FMS will greatly improve Pakistan's ability to support counter-terrorism operations through its robust air-to-ground capability. Pakistan will have no difficulty absorbing these articles and services into its armed forces, it concluded.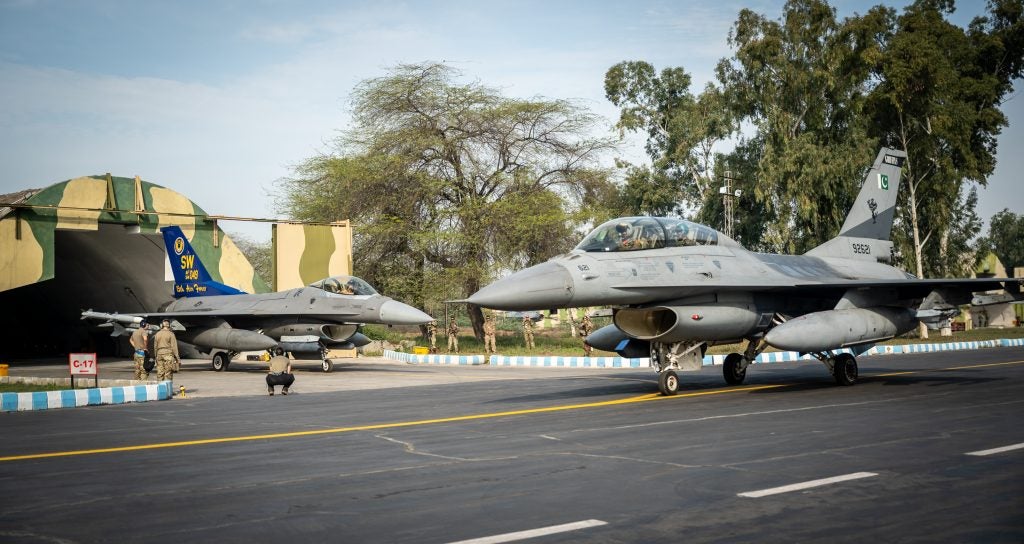 India has heavily objected to U.S. sales and sustenance of PAF's F-16 fleet, which it argues will be used against India and not for counter-terrorism operations. Indian Air Force claimed to have shot down a PAF F-16 in 2019, which PAF denied. Over the past decade, growing India-U.S. ties, reflected in groupings such as Quad along with greater bilateral defence engagement and sales, have given India more leverage over such FMS proposals.
India is also reported to have raised objections to the sale during recent Quad meetings. Previous FMS which India have protested include a July 2019 proposed agreement for a Technical Security Team (TST) for PAF F-16 support, worth $125 million. In February 2016, another FMS proposal for eight F-16 Block 52 aircraft were initially cleared by the U.S., which did not proceed after strong Indian protests, including a summons of the U.S. ambassador to India.
Header Image: A 332d Air Expeditionary Wing F-16 Fighting Falcon aircraft taxis to an aircraft shelter after landing at a Pakistan operational air force base, Feb. 26, 2022. (U.S. Air Force photo by Master Sgt. Christopher Parr)