For the First time in Years, Japan and South Korea Hold Senior Level Defense Talks
On Wednesday 7 September, Japanese Vice Defense Minister for International Affairs Oka Masami and South Korean Vice Defense Minister Shin Beom-chul met in Seoul to discuss trilateral cooperation between the US, South Korea (ROK) and Japan as well as a 2018 incident where a South Korean destroyer allegedly locked onto a Japanese patrol aircraft with its fire control radar. The meeting, which occurred on the sidelines of the Seoul Defense Dialogue conference, was the first time in 6 years that such high-level Japanese and South Korean leaders met to discuss an issue.
Despite their common interests against China and North Korea, strong alliances with the United States and shared democratic values, the Japan-ROK relationship had significantly deteriorated in recent years. Many Korean and Japanese officials had recognized the need to improve the relationship, including South Korea's previous Minister of National Defense Suh Wook. Moreover, American diplomats and officials have also tried their hand at bringing the two neighbors closer together. Yet, unfortunately, all these attempts were undermined by issues which are politically and emotionally sensitive in both nations tied to historical disagreements stemming from Japan's colonization of Korea and the use of forced labor and sexual enslavement of Korean women as 'comfort girls' by the Japanese military. As a result previous attempts at reconciliation have failed.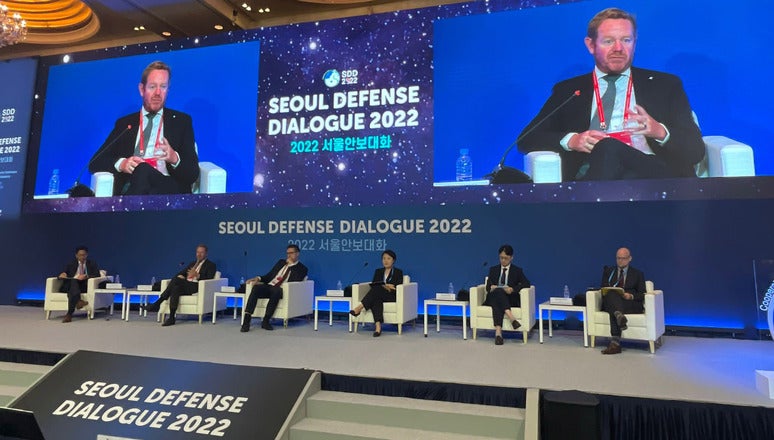 However, the recent victory of the Yoon Suk-yeol and his People's Power Party in the Korean presidential elections have brought a new leader into power who has made it clear that they will work to restore the ROK-Japan relation. While it may be too early to judge, recent events do suggest that the relationship is doing better than under the previous president, Moon Jae-in, who was seen as some as anti-Japanese.
South Korean and Japanese officials also met with American representatives in Tokyo to trilaterally discuss North Korean Nuclear and missile tests as well as the war in Ukraine. Official statements following the talks presented a similar message to that which emerged after the bilateral talks in Seoul – a joint, unified stance and commitment to cooperation. Nevertheless, it will take time to see if the recent talks transform into real improvements in the Japan-ROK relationship. According to recent reports, Korea's president is considering meeting with Japanese Prime Minister Kishida in New York.