Milrem Confirms Delivery Of THeMIS Robot To Ukraine
Estonian military robotics firm Milrem Robotics has confirmed that it delivered a THeMIS unmanned ground vehicle to Ukraine for use evacuating injured personnel at the end of August.

In a statement to Overt Defense confirming the delivery of the THeMIS on Tuesday, Milrem said that the THeMIS delivered to a Ukrainian charitable organization was configured with stretchers for medical evacuation purposes in addition to cargo transport. Alongside the unmanned ground vehicle, Milrem provided on-site training for its Ukrainian operators to facilitate its rapid fielding.
Captain (res) Jüri Pajuste, Defence R&D Director at Milrem Robotics, explained Milrem's choice to provide the medevac equipped THeMIS:
"Casualty evacuation is one of the most crucial and labour-intensive activities in conflicts. Traditionally, it takes several people to carry a stretcher and required medical equipment. However, it would require only one to operate a UGV, which can accommodate several wounded and a lot of equipment. This means that more personnel are available to help more people."
Milrem's confirmation of the delivery of the THeMIS follows claims by former Ukrainian Prime Minister Petro Poroshenko last week that he had acquired one. Posting photographs of himself with the THeMIS on Facebook, Poroshenko said that the UGV was already in Ukraine, and would be operated by volunteer paramedics of the Hospitallers Medical Battalion.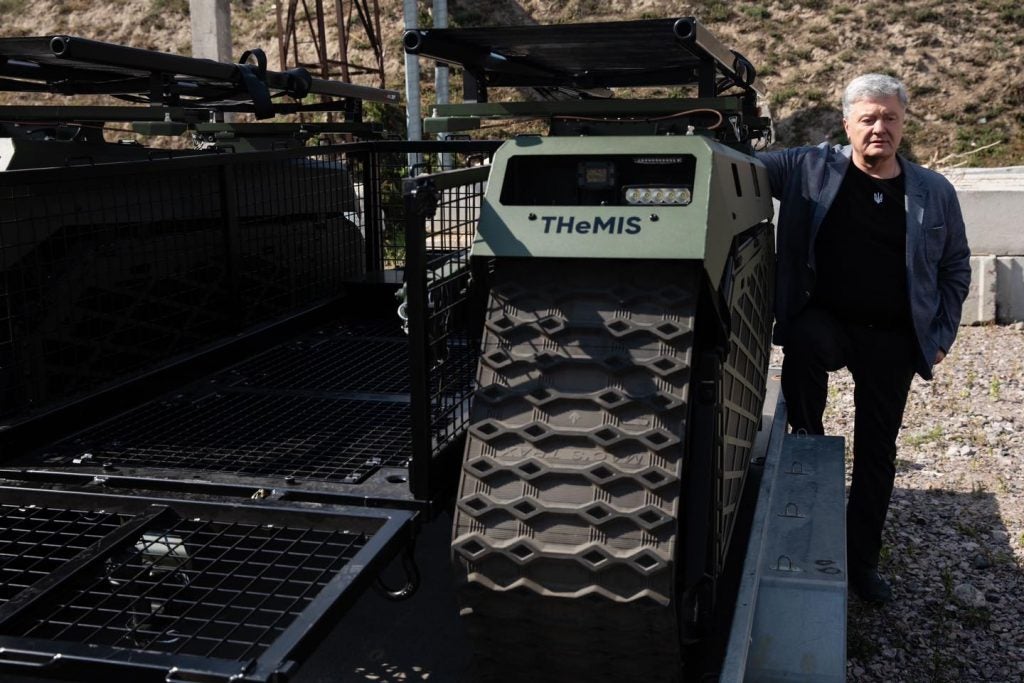 Poroshenko added that the acquisition of the THeMIS marked the start of the "Crane" program, named after the callsign of an Ukrainian fighter killed in action. In addition to facilitating medical evacuations under fire, the former prime minister said that it could also be used to transport ammunition and other military supplies as required.

Prior to Milrem's confirmation that it had delivered the THeMIS, the Russian Centre for Analysis of Strategies and Technologies (CAST) think-tank had announced a 1 million ruble (~USD 16,428) bounty for the capture of an intact THeMIS UGV, as an item of 'technical interest', on its LiveJournal blog and Telegram channel in response to Poroshenko's post.