India's Tejas Mk2 Fighter Gets Government Go-ahead, To Fly By 2024
The Government of India has sanctioned the Tejas Mk2 fighter program and allotted funds totaling $1.25 billion (₹10,000 crore). It is being developed by the Aeronautical Development Agency (ADA). The first prototype is expected to be rolled out in early 2023.
The program has been referred to by multiple names such as Medium Weight Fighter (MWF) and Light Combat Aircraft Air Force Mk2 (LCA AF Mk2). The fighter has delta wings and close coupled canards. The 17.5 ton aircraft will be powered by a single General Electric F414-INS6 engine. The first flight is expected to take place in 2024 with operational clearance and production by 2027.
MWF is a replacement for the Mirage 2000 class aircraft of the Indian Air Force (IAF). Compared to the Tejas Mk1A, it will be heavier and equipped with an enhanced radar, internal electronic warfare suite, Missile Approach Warning System (MAWS) and Infrared Search and Track (IRST) system. The "networked fighter" will have "multi sensor data fusion" capability. It will be capable of carrying payloads of 6500kg across 11 hardpoints including standoff missiles such as Brahmos NG, Rudram I, II and III, various pods for jamming and targeting, long range air to air missiles and precision guided bombs.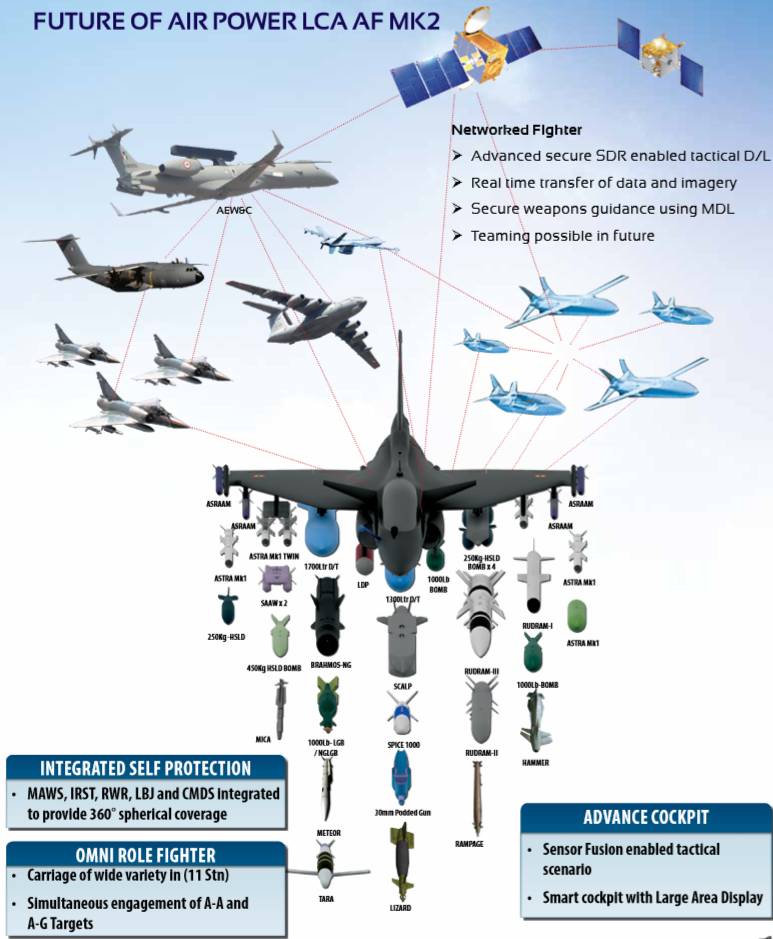 IAF is reported to have committed to purchase at least 6 squadrons of MWF. MWF is an evolution of the LCA Tejas and focuses on improving modularity, ease of maintenance as well as rationalisation of design criteria. A cockpit with large area displays and side control stick has been designed for the aircraft. A retractable refueling probe may also be incorporated.
The MWF program also helps to de-risk programs such as Advanced Medium Combat Aircraft (AMCA) and Twin Engine Deck Based Fighter (TEDBF). MWF, AMCA and TEDBF will share a large number of Line Replaceable Units (LRUs) and weaponry, reducing the time and risk associated with AMCA and TEDBF programs. The government is expected to sanction the development of AMCA in the coming months, with first flight expected by 2025-26.