India Conducts First Flight Of Autonomous Flying Wing Technology Demonstrator
The maiden flight of the Autonomous Flying Wing Technology Demonstrator was carried out successfully by the Defence Research and Development Organisation (DRDO) on 1 July. The flight was conducted from the Aeronautical Test Range in the southern state of Karnataka. A Ministry of Defence (MoD) press release stated that the aircraft operated in a fully autonomous mode and had a perfect flight, including take-off, way point navigation and a smooth touchdown.
The Autonomous Flying Wing Technology Demonstrator has been referred to by multiple officially-used names such as 'Stealth Wing Flying Testbed (SWiFT)', Stealthy High Speed Autonomous UAV and Unmanned Aerial Vehicle Technology Demonstrator (UAVTD). It is designed & developed by Aeronautical Development Establishment (ADE), a laboratory of DRDO. It is powered by a 4kN turbofan engine. The airframe, undercarriage and entire flight control and avionics systems used for the aircraft were developed indigenously. A video released by DRDO showed the UAV taking off with a vertical stabilizer. This is expected to be used only for initial tests and was not present in mockups or during taxi runs. SWiFT had conducted taxi trials in late 2021 after being assembled earlier that year.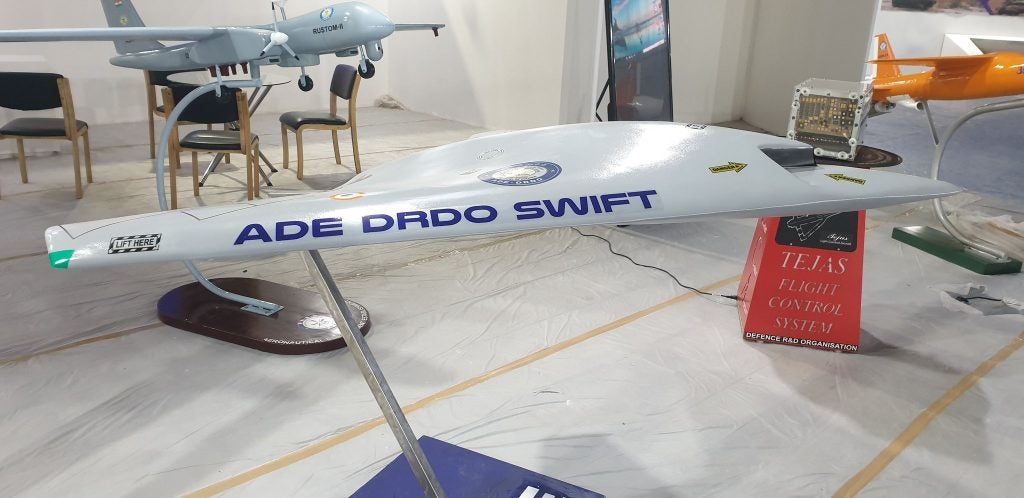 Two SWiFT air frames exist while a third one was being assembled earlier this year. The 1 ton UAV has a retractable landing gear system, designed and developed to be folded within a constrained bay volume. The four meter long, five meter wingspan UAV has a range of about 200km. The MoD press release also stated that "this flight marks a major milestone in terms of proving critical technologies towards the development of future unmanned aircraft and is a significant step towards self-reliance in such strategic defence technologies".
SWiFT is a technology demonstrator for Stealthy Advanced Futuristic Unmanned Combat Aircraft, better known as DRDO Ghatak and Remotely Piloted Strike Aircraft (RPSA). This large UCAV will be powered by a dry version of the Kaveri turbofan engine, generating about 50kN thrust. Programs referred to as Futuristic Unmanned Fighter Aircraft and Futuristic Unmanned Combat Aerial Vehicle also exist, but it is currently not clear whether these are separate from Ghatak.