President Vladimir Putin Announces That Russia Will Deploy The Nuclear Capable Sarmat Missile By The End of 2022
Vladimir Putin, the president of Russia, has continued to use nuclear weapons as a threat against the west as his country's attacks on Ukraine continue. The timetable for the deployment of Sarmat intercontinental ballistic missiles (ICBMs), which they referred to as "invincible," was established by the President in a speech to graduates of military universities on Tuesday, June 21.
President Vladimir Putin stated in a speech to graduates of a military university that his administration is committed to modernizing and strengthening Russia's armed forces in the face of "possible military threats and risks." Putin noted that SARMAT ICBMS will be operational by the end of the year and that the supply of S-500 air defense systems to army units has started as part of efforts to further strengthen Russia.
SARMAT's initial test launch was announced by Russia in April. The missile successfully struck the target on the Kamchatka Peninsula, which is about 6,000 kilometers away from the spaceport, after being launched from the Plesetsk Cosmodrome to the north of Moscow. Vladimir Putin said in a statement following the launch attempt that Sarmat will ensure Russia's security and that "this weapon will make those who try to threaten us with aggresive rhetoric think twice."
A heavy intercontinental ballistic missile (ICBM) with MIRV (multiple independently targetable reentry vehicle) capability, the RS-28 Sarmat, or SATAN-2, has been developed by the Makeyev Rocket Design Bureau. Putin presented six new strategic weapon systems on March 1, 2018, to replace the R-36M ICBM (SS-18 Satan) in Russia's arsenal. Sarmat is one of those weapons.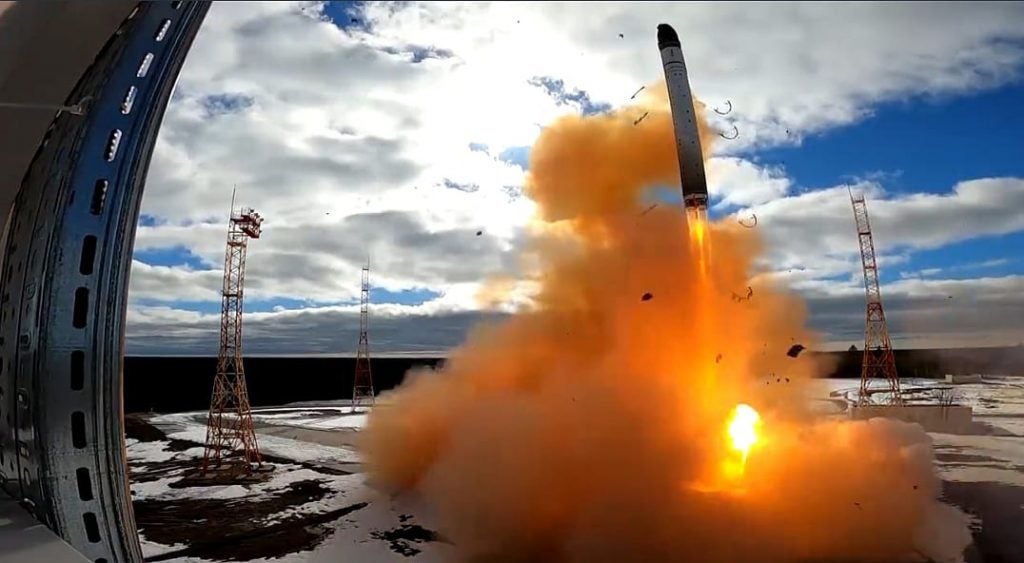 Vladimir Putin had previously asserted that Sarmat cannot be stopped by any present or future missile defense systems in an address to the Russian Parliament in 2018. He also stated that Sarmat is capable of hitting both the South and North Poles. ARMY-2019 International Military-Technical Forum speakers from Russia claimed that the Sarmat missile has a range of 18,000 kilometers, however, the missile's exact tactical and technical specifications are presently unknown. With a total launch weight of 200 tons, the missile can carry a payload of about 10 tons. The missile is believed to have a sub-orbital flight range of 35,000 kilometers, a length of 35.5 meters, a diameter of 3 meters, and a fuel weight of around 178 tons. Russian media has also claimed that 500 anti-aircraft missiles would be needed to intercept the Sarmat missile, and that the missile can carry carry 24 nuclear warheads.
According to Sergei Poroskun, Deputy Commander of the Russian Strategic Missile Forces, Sarmat intercontinental ballistic missiles, which will be ready for deployment toward the end of 2022, will serve for 50 years. The Russian commander proclaimed that "Sarmat is the missile system of the future, and it will carry out combat duties for the next 50 years." The characteristics and exceptional reliability of the Sarmat missile, according to Poroskun, will enable it to be in operation for a very long time.