Britons, Moroccan National Sentenced To Death In Russian "Show Trial"
Two British men and a Moroccan man who fought for the Ukrainian military in Mariupol have been sentenced to death by Russian proxy "separatists".

The internationally unrecognised Donetsk People's Republic's "Supreme Court" convicted Aiden Aslin and Shaun Pinner of "terrorism" on Wednesday, alongside Moroccan national Saaudun Brahim. The "verdict" was reached in days, with observers describing it as a "show trial" with trumped-up charges intended to mirror war crimes trials of captured Russian soldiers by Ukrainian authorities.

Aslin, 28, from Newark, and Pinner, 48, from Watford, served in the Ukrainian Marines, fighting in Mariupol during the Russian siege of the city that largely destroyed it and killed countless inhabitants, with Aslin also being an Ukrainian citizen. While the Geneva conventions on the treatment of prisoners of war state that they should be granted protections as active-duty soldiers, Russian media has portrayed them as mercenaries following their capture, with the court also "convicting" them as such.

Other charges leveled against the three include terrorism, committing a crime as part of a criminal group, and forcible seizure of power or forcible retention of power. The men have been given one month to appeal against their sentence. If successful, they could receive a life or 25-year prison sentence instead of the death penalty.

Aslin has a prominent social media following through his Cossack Gundi social media accounts, where prior to the war he shared details about training with the Ukrainian Marines and his time in Syria with the People's Protection Units of the Syrian Democratic Forces. The accounts were subsequently operated on his behalf by a friend of Aslin following the start of the war.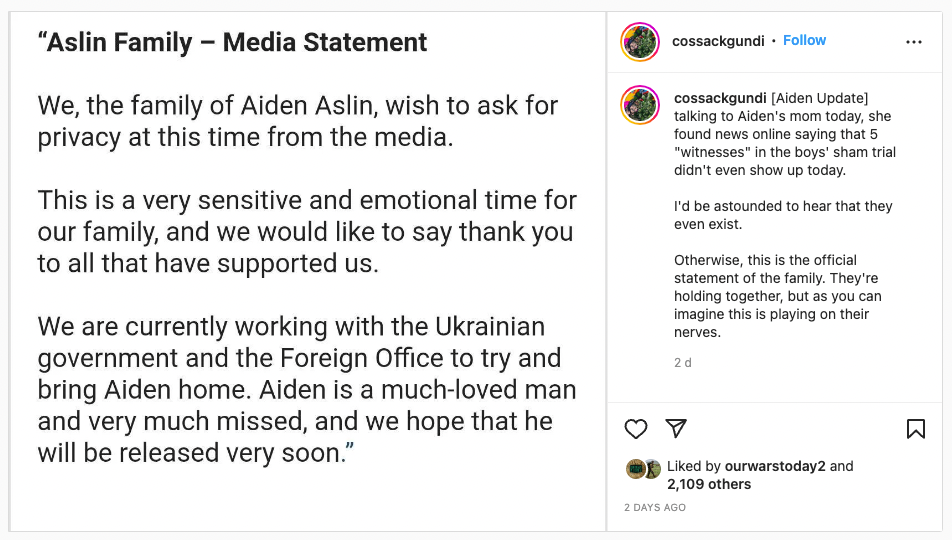 Downing Street has stated that it is "deeply concerned" by the sentences, with Foreign Secretary Liz Truss saying:

"I utterly condemn the sentencing of Aiden Aslin and Shaun Pinner held by Russian proxies in eastern Ukraine. They are prisoners of war. This is a sham judgment with absolutely no legitimacy."

The prominent stature of the Britons raises the possibility that Russia seeks to use them as leverage against the United Kingdom, possibly to seek a prisoner exchange for Russian soldiers accused or convicted of war crimes committed during the now three month-old Russian invasion of Ukraine.