Austal Holds Ceremony For Its Latest Steel Facility In Alabama.
Austal USA held a curtain drop ceremony on Tuesday unveiling its new steel facility in Alabama. The ceremony for the state-of-the-art steel manufacturing facility was attended by representatives from the U.S. Navy, U.S Coast Guard, federal, state and local government, and the Embassy of Australia.
Austal USA began expanding and renovating its Mobile, Alabama shipyard in 2020. The shipyard currently manufactures aluminum ships such as the Littoral Combat Ship and Expeditionary Fast Transport. Speaking to USNI News, former President of Austal USA, Craig Perciavalle, said that Austal will use the new capability to diversify and expand into steel shipbuilding of manned and unmanned ships, while also taking on repair work for smaller U.S. Coast Guard and U.S. Navy ships. 
The new expansion to its Mobile yard adds a 117,000 square foot manufacturing facility that will house the latest state-of-the-art computerized and robotic steel processing equipment. A 60,000 square foot stockyard will be utilized for handling the raw steel and a 19,500 square foot paint facility will provide the ability to paint and blast simultaneously in two separate cells, or both cells can be combined, providing the ability to paint super-modules.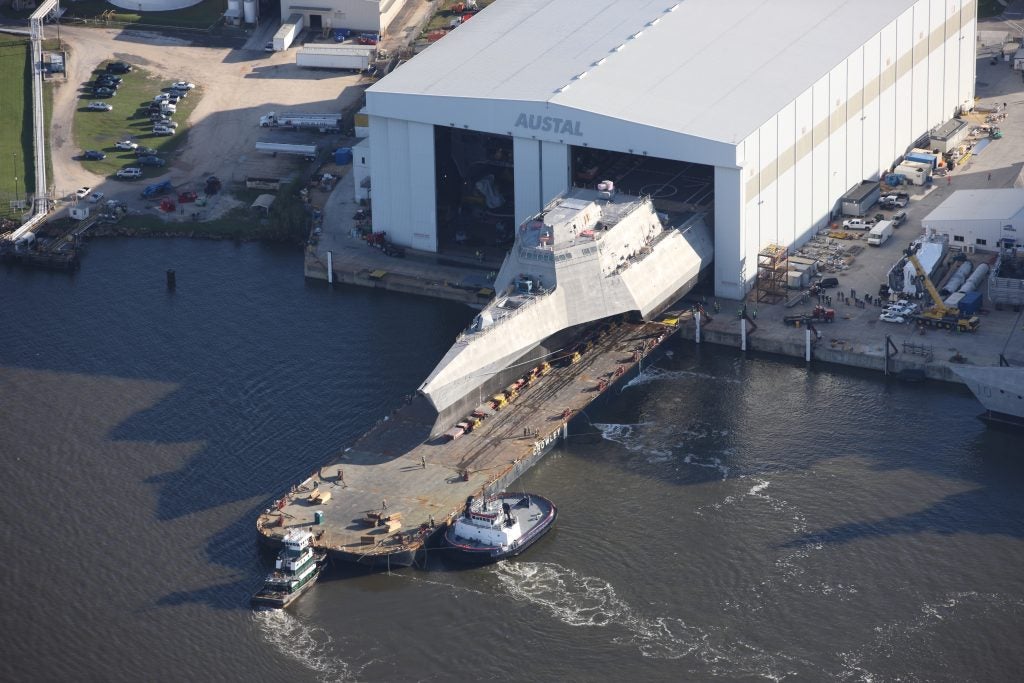 Expansion of the Mobile yard was partially funded by the Defense Department under the Defense Production Act Title III (DPA) Agreement. The DoD offered $50 million to Austal, which the company subsequently matched with its own $50 million investment, bringing the total investment in the yard to $100 million.
On its repair side, Austal USA has made some major investments such as its acquisition of repair facilities formerly owned by World Marine of Alabama in 2020. That deal gave the company a 20,000-ton Panamax-class floating dry dock, 100,000 square feet of covered repair facilities and 15 acres of waterfront property along the Mobile River and the Gulf of Mexico. 
The company has also made a US$80 million long-term lease-purchase of Marine Group Boat Works facilities in the Port of San Diego. The facility which is adjacent to the U.S. Naval Base San Diego will have a full-service ship repair capability, providing maintenance and modernization for a wide variety of ships, including small surface combatants and autonomous vessels, according to a company statement.