The Iranian Revolutionary Guards Corps Navy Receives More Than 100 Combat Speedboats
The Islamic Revolutionary Guards Corps (IRGC) Navy received 110 missile-launching speedboats designed and constructed by Iranian industry on December 11, according to Iran's official news agency IRIB.
Major General Hussein Salami of the Iranian Revolutionary Guards, Rear Admiral Tangsiri of the Iranian Navy, and many other high-ranking military officials attended the ceremony at Bandar Abbas, Iran, which is strategically located on the Strait of Hormuz. Major General Hossein Salami, speaking at the ceremony, said the new military boats entering service with the Islamic Revolutionary Guards (IRGC) navy are the result of a strong plan and strategic logic. Salami stated that Iran must be strong in order to "live freely and independently," and that as a result, Iran must "increase its power day by day" and that they are committed to this goal.
Giving information about the speedboat designed and built by Iranian experts, Islamic Revolutionary Guards Corps (IRGC) Navy commander Rear Admiral Alireza Tangsiri said that the latest military boats can achieve speeds of 75-90 knots (138-166 km/h), and that in the following stage, the speedboats will be able to reach 110 knots.
The Iranian naval force is divided into two separate forces. The first of these is the Islamic Republic of Iran's Navy, which is structured similarly to the navy of the traditional armed forces. The second is the Iranian Revolutionary Guards Army Navy, which conducts tactical operations and asymmetrical attacks with heavily armed small boats using the swarm tactic.
The Iranian Revolutionary Guards Corps Naval Forces, whose general structures are primarily located around the Iraqi maritime border and the Strait of Hormuz, use the Farsi, Sirri, Abu Musa, and Larak Islands as their base areas, as well as the city of Bander Abbas around Hormuz.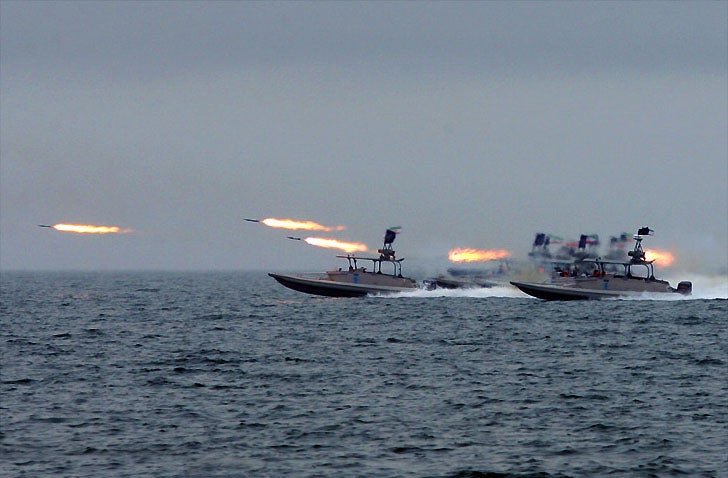 The Iranian Revolutionary Guards Naval Force, which employs a wide range of armed small boats, including the Zolfaqar, Ashura, and Tareq speedboats, as well as Heidar-class and Miyad-class boats designed for rapid swarming attacks in the Persian Gulf's shallow coastal waters, currently has over 2,000 speed boats. These newly acquired speedboats are expected to conduct naval and logistical operations in the Arabian Sea, as well as protect the coast of Makran, a coastal region of Balochistan in southwestern Pakistan.