OCEA Launches First FPB 98 Patrol Boat Built For Ukraine
The first FPB 98 MKI patrol boat, built by the France-based OCEA shipyard for the SBGS Sea Guard, was launched at a ceremony in France on December 9, according to the State Border Guard Service of Ukraine's press office.
The Ukrainian Ambassador to France, Vadym Omelchenko, was in attendance at the ceremony held at the OCEA shipyard in Les Sables d'Olonne, France, along with officials from the OCEA company and representatives from the group sent by the State Border Guard Service to oversee the construction of the boats. Ambassador Vadym Omelchenko thanked the French for fulfilling the contract and stated that Ukraine is glad to work with OCEA, a leading company in its field, in his speech at the ceremony.
According to Vladyslav Shmalyov, Deputy Head of the Sea Guard Service of the Ukrainian State Border Guard Service, the launched FPB 98 Mk. 1 type patrol boat will be subjected to sea tests from December 10 until the end of January, and after the tests are completed, the boat's crew will travel to France and be trained for four weeks by OCEA experts.
Ukraine signed an agreement with OCEA Shipyard in 2020 for the supply and technical support of 20 patrol boats. Within the scope of the deal, it was agreed that 15 of the boats to be acquired for the Ukrainian Armed Forces would be manufactured in France, and 5 would be built with the assistance of French experts at the Ukrainian port of Mykolayiv. While Ukraine financed 15% of the cost of the rapid patrol boats out of its own budget (total cost: 136.5 million Euros), the remaining 85% was covered by loans.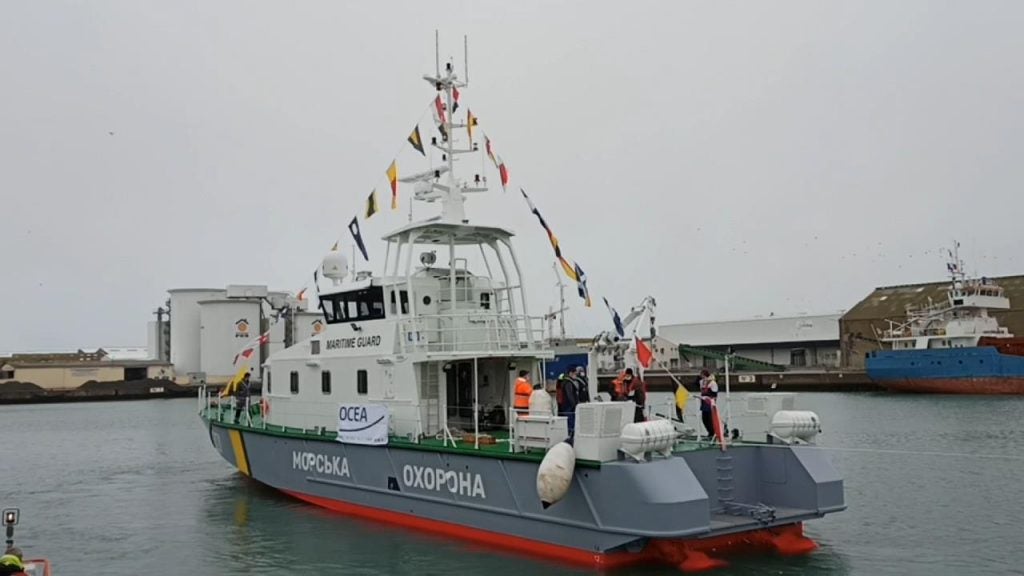 According to the information given by OCEA on their website, the FPB 98, which will operate in the Black Sea and Sea of Azov, is designed to perform a variety of missions, including territorial and deep-sea surveillance operations, smuggling and illegal immigration control, control of vessels at sea, search and rescue, natural resource and blue economy protection, and protection of sovereignty.
The FPB 98 is 32 meters long and six meters wide, with a crew of 14, a top speed of 20-35 knots, and a range of 1,200 nautical miles at 12 knots. It has a displacement of around 100 tons and is 32 meters long and six meters broad. The boats are commonly outfitted with 20mm or 30mm automatic cannons in addition to 12.7mm machine guns. With the delivery of the vessel in the spring of 2022, the FPB 98 MKI patrol boat, which already serves the navies of Algeria, Benin, Nigeria, and Suriname, Ukraine will become the fifth operator of the class.