Modernized Mi-24PU1 Helicopters Are Delivered To The Armed Forces of Ukraine
On Tuesday, October 26, the state enterprise Konotop Aircraft Repair Plant AVIACON reported that they had delivered another batch of repaired and serially modernized Mi-24PU1 helicopters to the Ground Forces of the Armed Forces of Ukraine, according to the press service of the Ukroboronprom company, which operates in various sectors of Ukraine's defense industry. The delivery of the helicopters took place in accordance with the state defense order, according to Ukroboronprom's press service.
The modernization of the Mi-24PU1 helicopters, an enhanced variant of the Mi-24 Russian helicopter, began in 2007, when the Ukrainian Ministry of Defense and the Konotop Company signed an agreement to establish a program to modernize the Mi-24 combat helicopter with the Konotop Aircraft Repair Factory. The modernization was completed in 2014, and the helicopters were put into service in 2016.
The multi-purpose Mi-24PU1 was designed to eliminate armored vehicles, boost ground forces' mobility, and provide fire support on the battlefield, and thanks to modernization, these helicopters are now available for operation 24 hours a day, seven days a week.
Additionally, Ukrainian-made upgraded armament and targeting systems were placed on Mi-24PU1 helicopters during modernization efforts. Protection systems against manual anti-aircraft missile launchers were also added to the upgraded model, as well as improved engines. In addition, for the first time, these helicopters are fitted with "soft fuel tanks" and rotor blades manufactured in Ukraine, by a company named Motor Sich. According to Ukroboronprom's press department, the modified helicopters flew to a permanent base and began performing combat missions after the technical acceptance and performance of reconnaissance flights conducted by military personnel.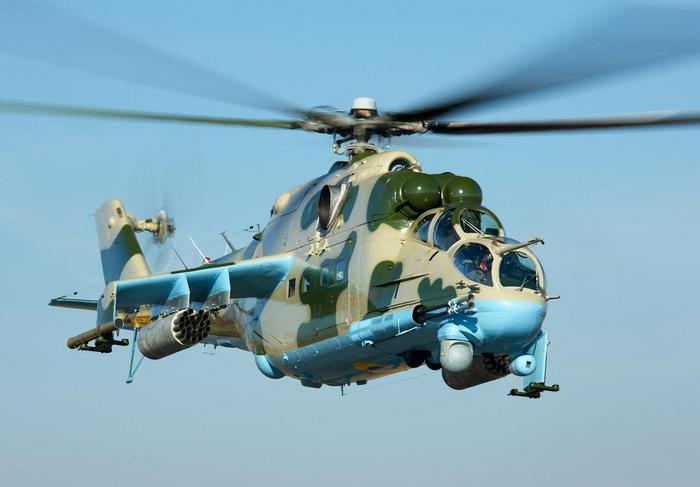 Apart from Mi-24PU1 helicopters, Aviacon, which is the only organization in Ukraine with full-cycle overhaul technology and Mi series helicopter re-equipment and modernization operations, has delivered Mi-8MT, Mi-14, and Ka-27 Type helicopters to the Ukrainian Armed Forces in recent months.