Malabar 2021 Concludes; US, India Reaffirm Military Cooperation
The second phase of the Quad naval exercise Malabar 2021 was conducted from October 12 – 15, 2021. This phase was conducted off the coast of Vishakhapatanam, India in the Bay of Bengal. Meanwhile US Navy Chief of Naval Operations (CNO) visited India from October 11-15.
In the second phase of Malabar 2021, the US Navy participated with Carrier Strike Group CSG 1, consisting of aircraft carrier USS Carl Vinson, cruiser USS Lake Champlain, destroyer USS Stockdale and a P-8A Poseidon maritime patrol aircraft (MPA). The Indian Navy was represented by destroyer INS Ranvijay, frigate INS Satpura, a submarine and P8I MPA. The Royal Australian Navy participated with frigate HMAS Ballarat and replenishment vessel HMAS Sirius. The Izumo class helicopter carrier JS Kaga and destroyer JS Murasame represented JMSDF.
This phase consisted of surface and air expendable mobile anti-submarine warfare training target exercise (EMATTEX), cross-deck helicopter operations, surface gunnery exercise, and replenishment-at-sea. Malabar will enhance integrated maritime operations between the participating nations within the Indian Ocean Region. Earlier CSG 1 had conducted a bilateral exercise with the Royal Australian Navy vessels. The UK Carrier Strike Group (CSG21) has also entered the Indian Ocean and will conduct an exercise with the Indian Navy.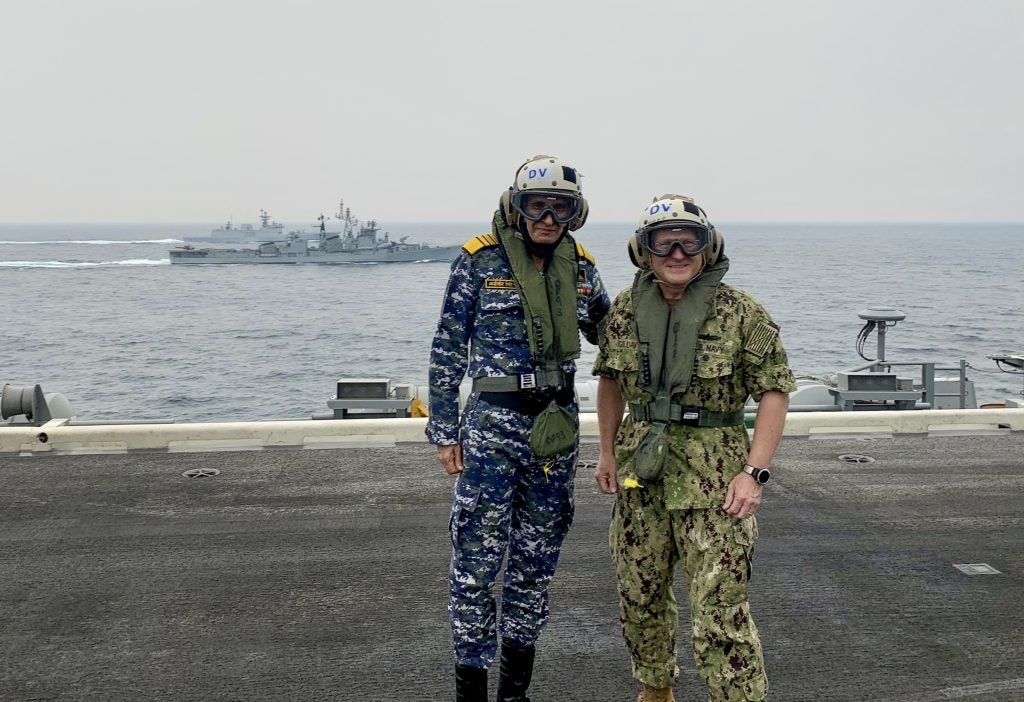 During his visit to India, US Navy CNO Adm. Mike Gilday hosted 12 Indian naval officers including Chief of Naval Staff Adm. Karambir Singh and Vice Adm. A.B. Singh, Commander in Chief, Eastern Naval Command, onboard the USS Carl Vinson on October 14. On October 15, he visited the Indian Navy Western Naval Command in Mumbai and met Vice Adm. Hari Kumar, Flag Officer Commanding in Chief of Western Naval Command. He also visited Mazagon Docks Limited. Regional security dynamics, interoperability and maritime challenges were discussed during the visit. Gilday said the US Navy intends to further enhance its cooperation with the Indian Navy.
The US – India army bilateral exercise Yudh Abhyas is being held from October 15-29, at Joint Base Elmendorf-Richardson, in Anchorage, Alaska. USAF and Indian Air Force are also participating in the biennial Blue Flag multilateral exercise, hosted by Israel. Earlier on October 10 US Space Command Gen. James Dickinson hosted Dr. Ajay Kumar, Defence Secretary, India Ministry of Defence. Discussions on advancing US-India space cooperation in critical areas such as space situational awareness & responsible behavior in space were held. This heightened US-India military engagement in bilateral and multilateral forms comes after the first ever in person Quad leaders meet was held on September 24 at the White House.