Coalition Nations Wind Down Kabul Evacuation Operations
Japan's first ever non-combatant evacuation operation concluded on Friday, with Self-Defense Forces and Foreign Ministry personnel departing Kabul for Islamabad on a JASDF C-130. Kyodo News reports that a Kabul-based Kyodo staff member was the sole evacuee, with the remainder of approximately 500 Japanese and Afghan nationals eligible for evacuation unable to make it to Hamid Karzai International Airport due to Taliban roadblocks and security warnings from allied intelligence services to stay away from the airport, echoing the experiences of other nations attempting to evacuate their citizens even before the Thursday suicide attack on the airport. The Japanese government has since stated that the personnel and cargo aircraft deployed will now be based in "neighboring countries" should further opportunities arise for evacuation.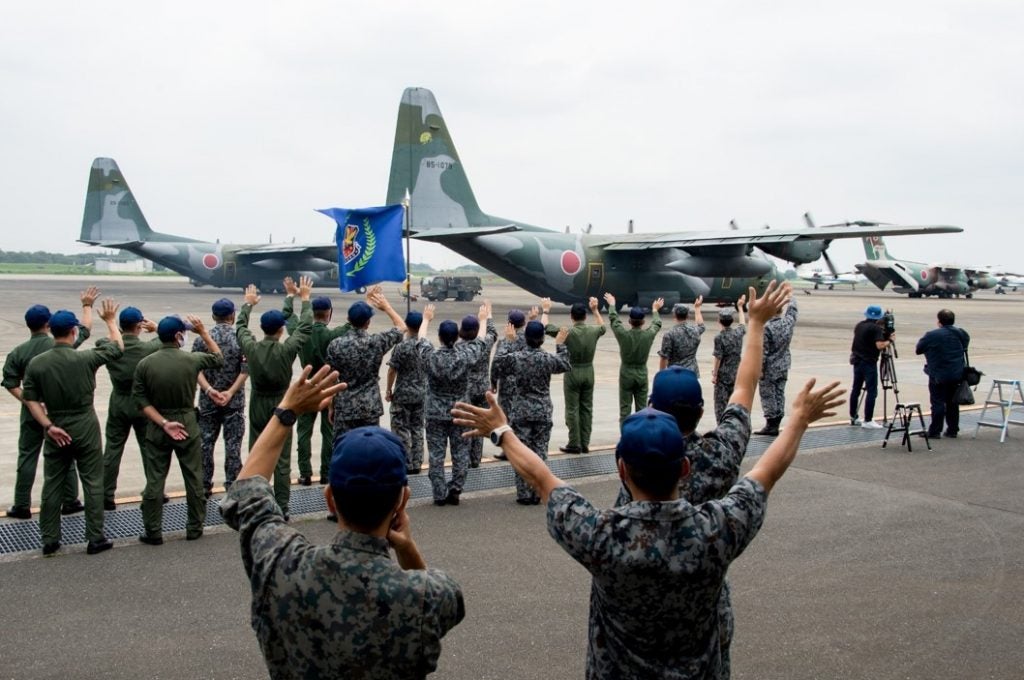 Also ending their evacuation efforts on Friday was Spain, with Prime Minister Pedro Sanchez saying that 2,206 people had been evacuated on 17 flights, with the last two flights arriving in Dubai early on Friday. The majority of the evacuees were Afghans that had worked with the Spanish military or the embassy, as well as with European Union institutions and US forces.

The United Kingdom's Ministry of Defence also stated on Friday that it was now in the "final stages" of its evacuation operation, with document processing facilities inside the Baron Hotel in Kabul now closed "following our pre-planned timetable". British forces will now be focusing on evacuating people inside the airport compound awaiting departure, with the ministry stating that "No further people will be called forward to the airport for evacuation". Defense Secretary Ben Wallace expressed "deep regret" over the inability to evacuate everyone eligible, saying to LBC Radio that between 800 to 1,100 Afghans eligible for relocation to the UK would be left behind, as well as approximately 100 to 150 British nationals, some of which he said were willingly staying.

German forces deployed at Hamid Karzai International Airport were evacuated following the suicide attack, with the last German military aircraft departing at 6:20PM Thursday local time. Defense Minister Annette Kramp-Karrenbauer said that the end of German evacuations had been done in accordance with existing contingency plans, noting that German evacuations through "the last moment possible" had flown out 5,347 people from at least 45 nations since August 16. A German medical evacuation aircraft will remain in Tashkent until Saturday in the event its medical facilities are required.

The Netherlands' final flight carrying military and diplomatic personnel departed the airport on Thursday following the suicide attack. In a letter to parliament sent on Thursday prior to the attack, the Dutch cabinet stated that it had been notified by the US that the Dutch presence at the airport had to leave that day. The letter said that the notification was a "painful moment" for the Dutch government, as people eligible for evacuation would be left behind. While full scale evacuations have ended, Amsterdam says that a C-130 and a small detachment of Dutch troops will remain in the region should circumstances allow for further evacuations.

Australia and New Zealand stated that their forces had also departed the airport prior to the attack, with both countries having collaborated to fly eligible evacuees of both nations out of Afghanistan. The Canadian military had also concluded evacuations earlier on Thursday, with acting Chief of the Defence Staff General Wayne Eyre saying that it was "truly heartbreaking" that more could not be evacuated. Criticism of Ottawa's handling of the evacuations has increased in recent days, and with Prime Minister Justin Trudeau's calling of snap elections, it remains to be seen if or how the handling of Canadian evacuations will affect him on the campaign trail.

While US President Joe Biden has threatened retribution for the Islamic State Khorasan attack that killed 13 Marines and at least two hundred Afghan civilians, US Central Command head Marine Corps General Kenneth J. McKenzie has warned that IS-K plans to continue attacks on US forces and civilians being evacuated. In a press conference on Thursday, he said that Central Command was monitoring an "extremely active threat stream" against the airport.
While Germany says it has received assurances that the Taliban will permit the departure of Afghans with legal documents on commercial flights after the August 31 deadline for the withdrawal of all troops from the airport, Taliban beatings of Afghans on their way to the airport call into question their sincerity. Similarly, that an Islamic State member was able to slip through Taliban checkpoints in a manner that many Afghan civilians could not, also raises concerns of their ability to secure airports on their own.