Biden: No Changes To Afghanistan Withdrawal Plans Despite Taliban Offensive
President Joe Biden says that he does not intend to change plans for the withdrawal of NATO forces from Afghanistan, even as Taliban fighters continue to capture provincial capitals from Afghan security forces.

In a press briefing on Tuesday, he said that while the United States had committed to assisting Afghan security forces following the withdrawal, they had to "fight for themselves, fight for their nation", noting that Afghan security forces numerically outnumbered Taliban fighters. The President said that he believed that Kabul was "beginning to realize they've got to come together politically at the top" in order to turn around the situation, saying that he did not regret the decision to honor the Trump-era "peace deal" with the Taliban and unconditionally withdraw from the country.

The next day, Afghan forces in Kunduz surrendered following days of combat with Taliban fighters, leaving behind weapons and vehicles including an Mi-35 attack helicopter at a military base on the outskirts of the city, the ninth provincial capital to fall to the Taliban. Videos shared on social media show the Mi-35 with its main rotor blades removed, albeit with the removed blades placed underneath the attack helicopter's fuselage.

In response to continued battlefield reverses, the Afghan government has now sacked the chief of the Afghan Army, General Wali Mohammad Ahmadzai, while President Ashraf Ghani flew to Mazar-e-Sharif in the country's north to rally support in the center of trade of northern Afghanistan, even as Taliban fighters attempted to advance into the outskirts of the city. The President met with prominent anti-Taliban figures, including former Northern Alliance commanders Marshal Abul Rahid Dostum and Atta Muhammad Nur, with the former reportedly tapped to lead a counteroffensive in the north. Dostum had earlier sparked controversy with a warning that Taliban fighters in captivity could wind up getting killed again, an apparent reference to the 2001 Dasht-e-Laile massacre, where Taliban prisoners nominally being transferred from Kunduz to Sheberghan prison following their surrender were instead shot dead or left to suffocate in transit by fighters overseen by Dostum, with their bodies buried in mass graves in the titular desert.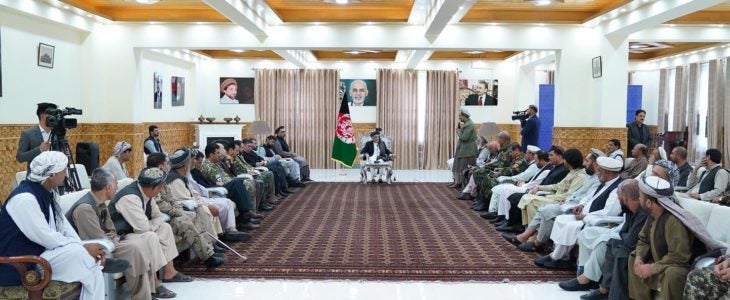 Meanwhile, Pentagon officials that spoke with the Washington Post warned that Kabul itself could fall far faster than previously predicted, with some scenarios envisioning the collapse of the capital's defenses within 30 to 90 days. The predictions are said to be due to the situation worsening beyond what was envisioned in a leaked June intelligence assessment, which assessed that Kabul would be able to hold out for six to twelve months following the completion of the American withdrawal. These estimates leaked as Defense Secretary Lloyd Austin publicly suggesting it would be "possibly two years" before terrorist groups present in Afghanistan would be capable of regenerating an ability to threaten the U.S. homeland.

While the State Department says that Special Representative for Afghanistan Reconciliation Ambassador Zalmay Khalilzad has travelled to Qatar to urge for a "joint international response" that would supposedly deny recognition to a Taliban government established by force, State Department spokesperson Ned Price reiterated Biden's stance that Taliban actions would not result in a decision to halt or reverse the withdrawal. He described arguments that a "force of a couple thousand U.S. military service members" would be able to stay in Afghanistan or resist an offensive of the scale seen in recent days as "hollow", insisting that the United States retained leverage on the Taliban with "other tools at our disposal that fall short of reintroducing U.S. forces".
Editor's Note: the situation in Kabul is fast moving, you can find our latest reporting on the evacuation here.