Multinational Operation "Tui Moana" Concludes in the Pacific
The Pacific Islands Forum Fisheries Agency (FFA) concluded Operation Tui Moana on Friday, 4 June. Tui Moana is a multinational operation that works to counter illegal, unreported and unregulated fishing in the South Pacific. The FFA conducts four operations a year, with Tui Moana being the second of 2021. Tui Moana brought together personnel from seven FFA member Pacific Island Countries as well as the Pacific Quadrilateral Defence Coordination Group (P-QUADS) which includes New Zealand, France, Australia and the United States. Over the course of the ten-day operation, the various vessels sighted 71 contacts, of which 54 were inspected, 8 at sea and 46 on land at dockside. One vessel of interest is still under investigation as a result of the operation.
A variety of assets participated in the ten-day long operation, according to the FFA in correspondence with Overt Defense, including surface assets from Fiji, The Cook Islands, Samoa and Tonga. Several types of ships were deployed, including three Australian-built and provided Guardian Class patrol boats (RFNS Sevenca, VOEA Ngahau Koula and SPV Nafanua II), one Pacific Class patrol boat which also built and provided by Australia (CIPPB Te Kukupa), as well as a Landing Craft Mechanized Eight (VOEA Late). A Royal New Zealand Air Force P-3K2 Orion also participated in the operation.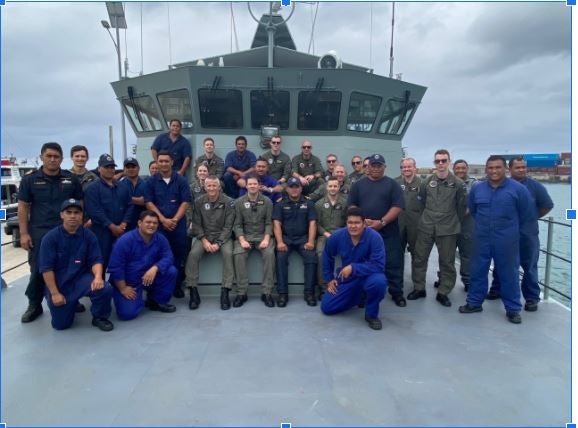 The Director-General of the FFA, Dr Manu Tupou-Roosen, heralded Tui Moana 2021 as: "A significant milestone in our commitment to protecting our economically important fisheries." He also thanked the FFAs members and partners for:
"Standing with us to deter illegal, unreported and unregulated fishing in our waters over such a significant amount of time. The strength of our partnerships has been especially notable and enhanced during the COVID-19 crisis."
Operations of this kind are extremely important to Pacific Island Countries because of their reliance on maritime resources, and especially fisheries economically. This is particularly important because COVID-19 has decimated the tourism sectors of many regional countries, increasing the reliance on these critical natural resources. Operations like Tui Moana are therefore critical to mitigating the risks associated with illegal and unregulated fishing.