Erdoğan And Biden Meet at NATO Summit To Lay The Groundwork For A New Alliance
At NATO headquarters in Brussels, a summit meeting attended by the heads of state and government of NATO countries saw Turkey's President Recep Tayyip Erdoğan meet President Biden for the first time.
The summit was attended by leaders from 30 ally countries, the meeting's agenda included setting the alliance's 10-year roadmap, revising NATO's strategic concept, the emergence of China, the deteriorating situation with Russia in recent years, and the situation following Ukraine's withdrawal from the NATO mission in Afghanistan.
A customary family photo was taken after each of the leaders were individually greeted. In the family photo taken in the courtyard within NATO Headquarters, President Erdoğan stood between US President Joe Biden and British Prime Minister Boris Johnson. The summit is particularly notable for being the first NATO gathering to be attended by US President Joe Biden.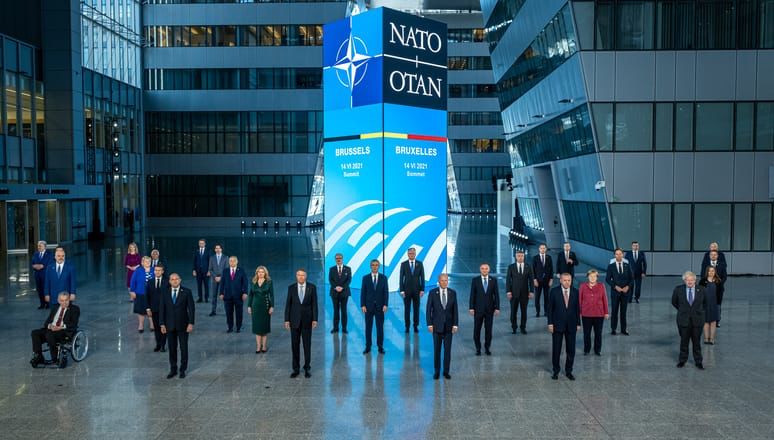 Following that, President Erdoğan and other leaders attended the NATO Summit's main session. Erdoğan had a brief conversation with US President Joe Biden just before the meeting began. This was US President Joe Biden's first face-to-face meeting with Turkish President Recep Tayyip Erdoğan since Biden took office on January 20. Since taking office, Biden has only spoken with Erdoğan on the phone once. This was to inform him that the US would recognize the massacre of Armenians during the Ottoman Empire's last days to as genocide.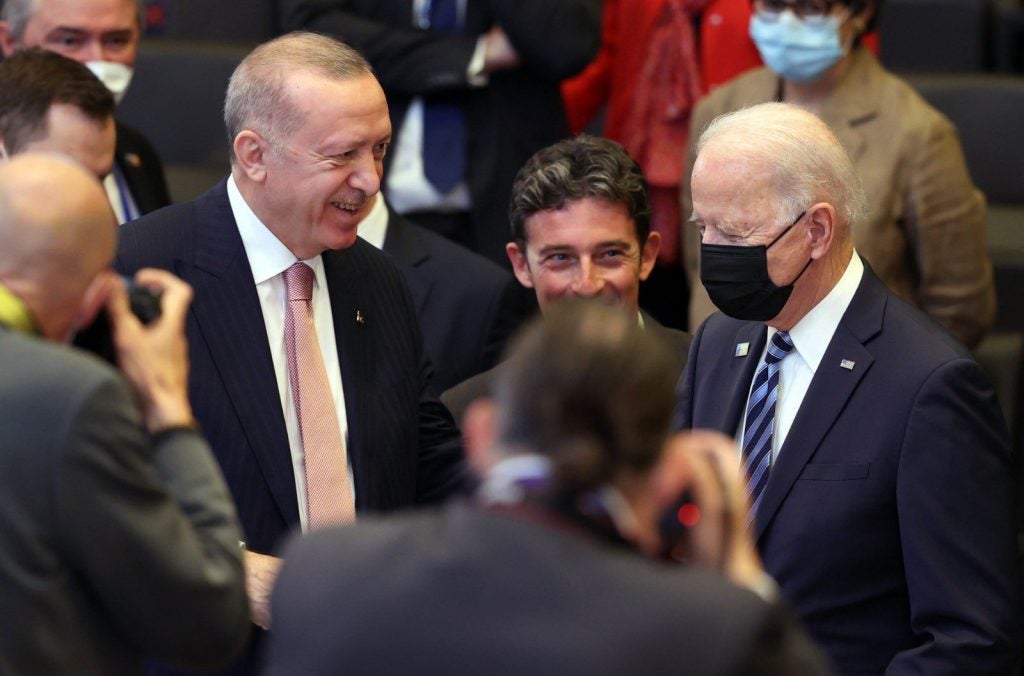 As part of the NATO Leaders Summit, President of the Republic of Turkey Erdoğan met with the Prime Minister of Greece Kiryakos Mitsotakis, Chancellor of Germany Angela Merkel, Prime Minister of England Boris Johnson, President of Lithuania Gitanas Nauseda and President of Latvia Egils Levits, Prime Minister of Hungary Orban, Prime Minister of the Netherlands Rutte, President of France Emmanuel Macron and lastly President of the United States Joe Biden.
Biden and Erdoğan held private meetings which were highlighted by the recent deterioration of US-Turkey relations. The press was barred from the meeting between the two leaders, which began at 19.00. The one-on-one meeting lasted 45 for minutes. On the Presidency's Twitter account, the first photographs of Erdoğan and Biden's meeting were published. The meeting between the delegations began after Erdoğan and Biden's tête-à-tête. The delegations' meeting lasted for 40 minutes.
A surprising book was on the table during the Biden-Erdoğan discussion. Erdoğan gave the book to not only US President Joe Biden but also British Prime Minister Boris Johnson and German Chancellor Angela Merkel. The book 'Turkey's Struggle Against Terrorism' chronicles Turkey's fight against terrorist groups such as the YPG/PKK, FETO, and ISIL. The attacks carried out by terrorist organizations in Turkey are detailed in the three-part book.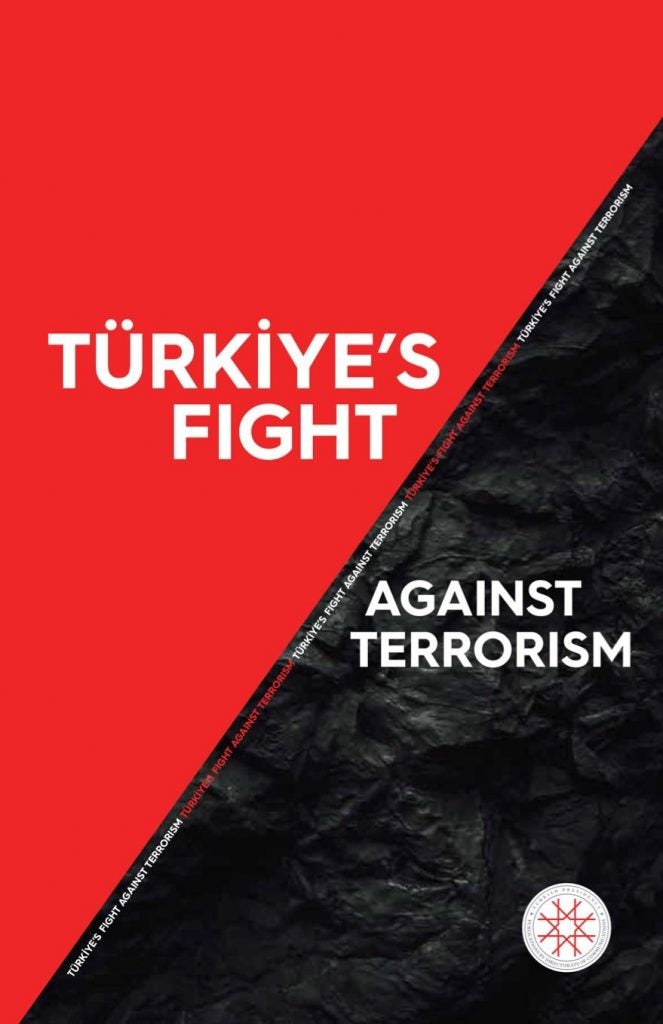 President Biden was the first to react on the meeting. "We had a really good meeting," Biden added, turning to the cameraman who was filming the bilateral delegation discussions between Turkey and the United States. The meeting, Erdoğan also added, was "sincere and fruitful." President Erdoğan said "We addressed with a constructive approach both the issues on which we have divergences of opinion and the opportunities of cooperation in areas that are of shared interest to us. In line with these goals, we will enhance our cooperation with Mr. Biden in the period ahead. We are of the opinion that there are no unsolvable issues in the Turkey-US relations, with the areas of cooperation, quite the contrary, outnumbering the contentious topics. "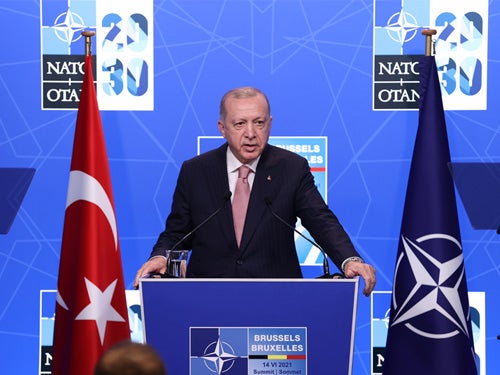 At the press conference, US President Biden also stressed that they had a "good and fruitful discussion" with Erdoğan, saying: "Our countries have big agendas. Our teams are going to continue our discussions and I'm confident we'll make real progress with Turkey and the United States".  Biden stated, when answering journalists' questions at the start of the EU-US meeting on Tuesday, "In this area, there are significant opportunities that we can take advantage of. We had a long discussion (about Turkey's presence in Afghanistan) I'm optimistic about the negotiations, and I'll let the Turks tell you more about them."
Issues with the S-400 and F-35
Of course, at such a meeting to be held here, Turkey's deployment of the Russian S-400 anti-air missile could not be absent from the agenda. When asked if he offered any comments to US President Biden on the S-400s
President Erdoğan said: "whatever our previous views on the S-400 were, I voiced the same sentiment to the President, and I did the same with the F-35 issue. It is my hope that I have articulated the actions that we can take together in the defense industry. All of this, of course, does not end today. Our Foreign Ministers and Defense Ministers will hopefully ensure this process in the coming phase by meeting with their negotiators."
"Our opinion on the Patriots [missiles] was a well-known view, and the stance of the United States on this matter was also clear," Erdoğan continued in the statement. "What went wrong? The Patriots were not given by the United States. We've just completed such a process, and we've stated that in order to do what we can in the defense industry to address these challenges, our Defense and Foreign Ministers should meet and discuss them. They will hold a meeting after this one, so let us take our actions," he concluded.
Afghanistan Issue
In answer to a question about Afghanistan, Erdoğan said that he conveyed his thoughts about Afghanistan to Biden in a very clear manner. "If we are asked to not leave Afghanistan and provide assistance, then the support the US will give us in diplomatic, logistical and financial areas is of great importance." Underlining that it is impossible to disregard the Taliban reality, President Erdoğan added that he also shared with Mr. Biden his thoughts about cooperation with Pakistan and Hungary in Afghanistan by saying:
"We may continue our discussions with them in a variety of ways. Another difficulty is that in Afghanistan, we told them about our plan to bring Pakistan with us and that we would also bring Hungary. With all of this, we want to provide the Afghan people them with support in Afghanistan without any obstacles, and there is currently an agreement. There are no problems here."
End of Support Given to PKK/PYD
President Erdoğan also stated that it has become evident that one terrorist organization cannot defeat another, and that the continuous presence of the DAESH menace under different identities demonstrates that complacency and double standards have no place in the fight against terrorism. President Erdoğan said: "We have brought Turkey's priorities, sensitivities and legitimate expectations, regarding the fight against terror in particular, to the attention of our allies, but I regret to reiterate from here that the warped mentality which makes differentiation among terrorist organizations and categorizes terrorists as good or bad still exists. It is obvious that such a wavering stance cannot eliminate terror, but on the contrary will encourage it."
At a press conference following the NATO Summit, NATO Secretary General Jens Stoltenberg said, "Today, we open a new chapter for our Alliance. We addressed key issues for our security and took far-reaching decisions." Stoltenberg noted that the meeting went extremely well and that US President Joe Biden sent a strong message of commitment to NATO. In the statement released after the summit, a remark saying, "We have increased our contributions to our tailored assurance measures for Turkey, and we remain committed to their full implementation," was included.
Also in the statement, which stated that the Assad regime in Syria used missiles against its own people, was a small section saying; "we remain vigilant over missile launches from Syria which could again hit or target Turkey.  We continue to monitor and assess the ballistic missile threat from Syria." Security and stability in Syria cannot be reached without a genuine political process in accordance with UN Security Council Resolution 2254, according to the statement.
The statement also included the remark "We reiterate our appreciation to our ally Turkey for hosting millions of Syrian refugees." It also asked for a truce throughout Syria and the UN to be reauthorized to ensure that humanitarian help to the Syrian people is delivered for at least 12 months.
Also on Al Jazeera yesterday, Fahrettin Altun, the presidential communications director in Ankara, acknowledged NATO as being "indispensable for our nation's security and for peace in our region." Ankara, he said, is ready to contribute to the organization in order to "ensure the collective security for our alliance."