China Denies It Poses "Systemic Challenges" As It Mounts Record Intrusion Into Taiwanese ADIZ
Taiwan's Ministry of National Defense reported an incursion by 28 People's Liberation Air Force aircraft of various types into its southwestern Air Defense Identification Zone on June 15. Tuesday's incursion is now the largest single day presence of PLAAF aircraft in the Taiwan Strait this year.

According to an official statement by the Ministry, PLAAF aircraft detected included two H-6 bombers; one Y-8 anti-submarine warfare aircraft and four J-16 strike fighters flying in a single formation that passed through the Bashi Channel separating Taiwan from the Philippines, flying close to the southeastern edge of Taiwan's ADIZ before flying back along the same route. Two other H-6s and a single Y-8 electronic warfare aircraft flew similar paths. Other aircraft present included a flight of 10 J-11 fighters, another flight of six J-16s and 2 KJ-500 airborne early warning and command aircraft. The various aircraft were tracked by ROCAF air defense batteries and aircraft on regular patrol duties, with radio warnings issued. One of the warnings said that "if anything were to happen, you are responsible for the consequences".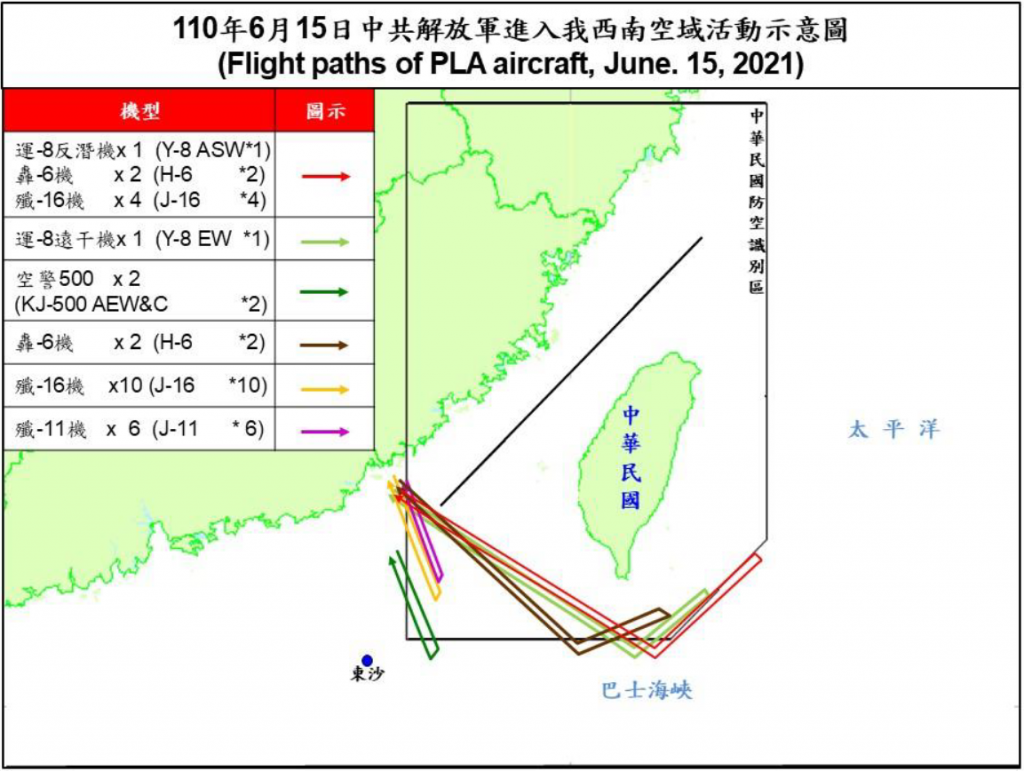 Tuesday's record intrusion comes after China's mission to the European Union accused NATO of "slandering" Beijing, after a joint communique by NATO leaders following the organization's 2021 summit said that "China's stated ambitions and assertive behaviour present systemic challenges to the rules-based international order and to areas relevant to alliance security". A statement issued by the mission said that the communique misjudged the current international situation, manifesting a "Cold War mentality".

Beijing's diplomats had already started their week on the defensive, after the joint communique issued by G7 leaders on Sunday criticized China for its genocide targeting Xinjiang's Uyghur minority, its crackdown on pro-democracy protesters in Hong Kong, its activities in the South and East China Seas, as well as urging for an transparent investigation into the origins of the COVID-19 virus. A spokesperson for China's embassy to the United Kingdom accused G7 leaders of using the Uyghur genocide to "engage in political manipulation and interfere in China's internal affairs" on Monday, accusing the leaders present at the three-day summit of spreading "lies, rumours and groundless accusations".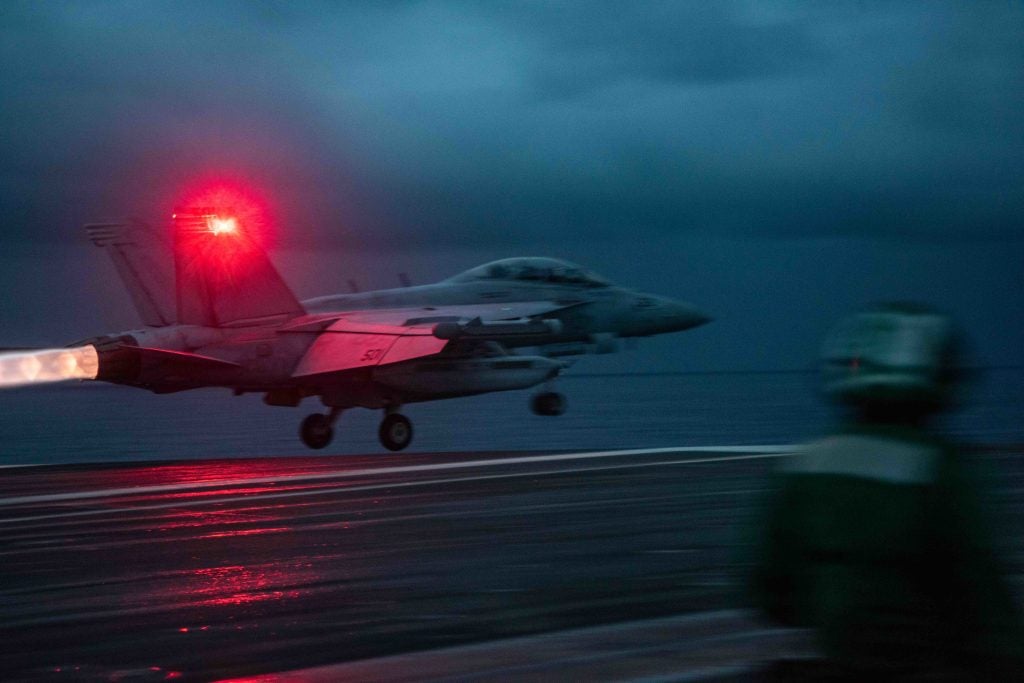 While Beijing rarely undermines its own retorts to criticism in such rapid and noticeable fashion, any schadenfreude will have to be tempered by the fact that much work needs to be done to implement the recommendations by both the G7 and NATO communiques on addressing Chinese aggression. In the meantime, the US Navy has announced that the USS Ronald Reagan entered the South China Sea on June 14. The Ronald Reagan Carrier Strike Group is carrying out routine maritime security operations in the South China Sea, with both regular flight operations and training exercises carried out.