Turkey's TCG Anadolu L-400 to be Integrated With TB-3 Bayraktar UCAV's
On 26 January, 2007, Turkey signed a joint agreement to join the F-35 Joint Strike Fighter Program (JSF).
Turkey, which at first committed to buying 100 F-35A's, started to work on the TCG Anadolu, an amphibious assault ship, in 2014 in order to deploy the Lockheed Martin F-35B, the variant of the fighter which is capable of vertical take-offs and landings, on the vessel. Turkey also wanted to fulfill the needs of the Turkish Navy for a vessel which is suitable for intercontinental duties and can perform active duties in the Mediterranean, Aegean and the Black Sea regions.
Turkey received possession of four F-35 fighter jets in 2018, but the planes were not shipped to Turkey and were instead kept in the United States. Pilots from Turkey also took part in training programs in the United States. Following that, Turkey was given ownership of two more F-35 fighter jets.
Afterwards, due to the crisis between Turkey and the United States over the S-400 air defense systems purchased from Russia, Turkey was removed from the F-35 project by the United States, and work on deploying the latest Unmanned Combat Air Vehicles (PUSAV) on the TCG Anadolu L400 began.
Described as the flagship of the Turkish Naval Forces, TCG Anadolu has a length of 232 meters and a width of 32 meters. Anadolu, with a height of 58 meters, has a 1,1010 square meter heavy load garage for heavy vehicles such as tanks and containers. The ship also has a 1,165-square-meter ship pool, an 880-square-meter light cargo garage, six landing areas, a flight deck with a 5,440-square-meter flight ramp, and a 900-square-meter hangar. The Anadolu, which is said to be nearing completion, could join the fleet in 2022, according to reports.
President of Defense Industries, Ismail Demir, said they have been collaborating with Turkish defense company Baykar Defense on deploying the 'TB-3 Bayraktar' UCAV on Turkey's future Landing Helicopter Dock (LHD) Anadolu instead of the F-35B aircraft which has vertical take-off and landing capabilities.
Furthermore, İsmail Demir claimed in an interview two months ago that at least ten UCAV's could be integrated into a command and control center onboard the vessel and used simultaneously during an operation.
"After completing the project, between 30 and 50 folding-winged Bayraktar TB3 drones will be able to land and take off using the deck of Anadolu." said President of Turkish Defense Industries İsmail Demir. This would give Turkey a significant capability and make the Anadolu one of the first dedicated 'drone carriers'.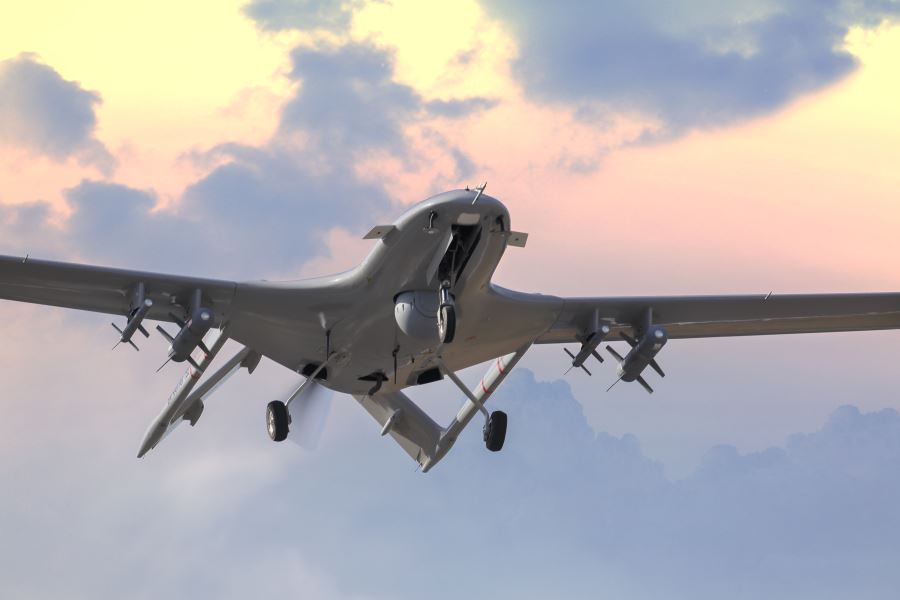 Baykar Defense Technical Manager Selçuk Bayraktar, who was presented with the Karabakh medal by the President of Azerbaijan İlhan Aliyev, spoke to Azerbaijan İctimai TV. Bayraktar stated that they have designed an aircraft that is unique in its class. "We're working on an aircraft called the Bayraktar TB3 that can land and take off from an aircraft carrier. It's the first of its kind in its class. It has foldable wings, can land on an aircraft carrier, and weighs 1200 kilograms, allowing it to carry heavier ammunition."
Baykar Defense General Manager Haluk Bayraktar made several remarks as part of the ongoing process. He shared their 3D rendering of the TB3 UCAV deployed on the Anadolu amphibious assault ship for the first time at the Gebze Technical University Aviation and Space Summit.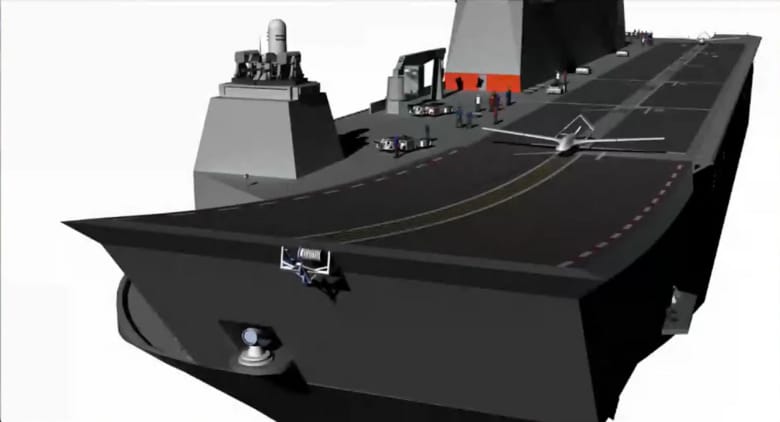 "This is the first time I'm showing this, and I'm just showing it as a picture," Bayraktar explained." A rendering of the Bayraktar TB 3 landing and takeoff concept on our Anadolu amphibious landing ship, produced by Sedef Shipyard. It is moving quickly, it will be a fantastic project, and I am confident that it will make a huge contribution to our naval forces."
The Bayraktar TB3 aircraft has a launch system for take-off, as seen in the image. A protrusion from the aircraft for the satellite communication terminal SATCOM can also be seen. The Bayraktar TB3 aircraft can operate at long-range, out-of-line-of-sight situations thanks to SATCOM.
Presidential Spokesperson İbrahim Kalın told Erdinç Çelikkan of the Hürriyet newspaper yesterday:
"(On the S-400 and F-35 issue) Turkey's unilateral removal from the F-35 program is against the agreement and the concord. We expect a step back from here. Biden knows the historical process of the S-400 issue. We do not think that this decision has an element that will endanger NATO's security system or the interests of third countries. We are not convinced by the arguments presented by the Americans. The reasons they put forward that these (S-400's) will pose a security risk against F-35s are not satisfactory for us. We are renewing this offer. If we are strategic partners, we can solve it through negotiation. If the conditions are suitable, we can get Patriots as well as the S-400s. Our expectation is that in the S-400, CAATSA and F-35 issues, unfair and contrary decisions will be reversed."
We may deduce from this rhetoric that the government's interest and need for the F-35 remains unchanged.
While the LHG vessel TCG Anadolu has been extensively discussed before the completion of its construction process, it is unknown if these drones will be able to replace the F-35s fully. Whatever the case may be, it is clear that they want to bring a new concept to modern naval warfare.