The UK Announces That F-35Bs Will Take Part in Operation Shader Against ISIS.
The United Kingdom, along with its NATO allies, has reiterated its commitment to defeating ISIS and enhancing regional stability. The UK's contribution to the Global Coalition against ISIS is Operation Shader. As part of the US-led alliance, the UK will deploy F-35B Lightning jets for the first time to combat ISIS in both Iraq and Syria.
Other British aircraft have previously carried out operations in both countries against ISIS, but this is the first time the F-35B multi-role fighter aircraft has been deployed.
The F-35B fighter jet is a fifth generation of multipurpose warplanes that can conduct intelligence, surveillance, and reconnaissance missions thanks to sophisticated sensors, mission systems, and stealth technology. The British government describes the F-35B fighters as a "formidable power", part of the air wing of aircraft carrier HMS Queen Elizabeth and task group (CSG21).
The continuation of operations against ISIS will mark the first time UK fighter planes have operated from an aircraft carrier since 2010. RAF's 617 'Dambuster' squadron will take part.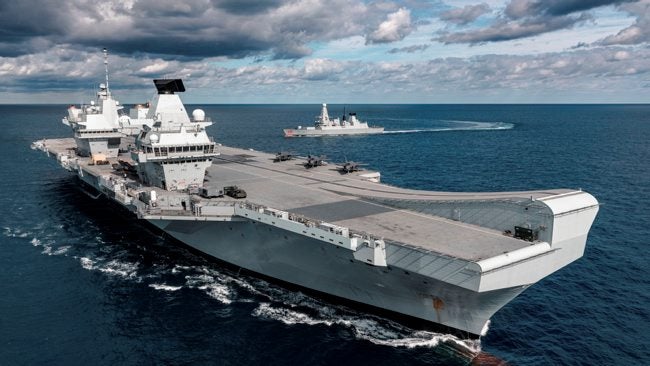 The F-35B fighter planes, which have begun to be deployed on the aircraft carrier, will play an important role in "Shader", Chief of Joint Operations, Vice Admiral Sir Ben Key said in a statement:
"This is a joint Royal Air Force and Royal Navy deployment which is committed to confronting persistent threats around the world and make a meaningful contribution to global security. The F-35B Lightning jets, which will operate from HMS Queen Elizabeth throughout the deployment, will make a significant contribution in degrading IS."
Minister for the Armed Forces, James Heappey MP noted that; "The F-35B Lightning jets will pack a potent punch against IS and help prevent them from regaining a foothold in Iraq. This is a prime example of the UK Armed Forces stepping forward with our allies to confront persistent threats around the world. It is Global Britain in action."
HMS Queen Elizabeth has recent embarked on her maiden deployment and is joined by vessels and assets from a number of allied nations, including 10 F-35B fighter planes from the US Marine Corps squadron VMFA-211. The USMC F-35s are slated to take part in exercise "Joint Warrior", currently underway, but were not mentioned in the UK's Operation Shader statement.
It was not stated when British operations against ISIS would be resuming but HMS Queen Elizabeth is currently taking part in Join Warrior and is then set to sail from Portsmouth in late May transiting the Mediterranean before passing through the Suez Canal and onto the Indo-Pacific region.