Satellite Imagery Raises Concerns Over Situation in Western Tigray
As Ethiopia's northern Tigray region has been embroiled in a large conflict for four months now, little information has exited the region, causing many observers to turn to satellite imagery to track the course of the fighting in the region which has not seen widescale access to the internet since the beginning of the conflict.
In recent months there have been many accusations of war crimes throughout the Tigray region as videos slowly trickle out of the area depicting executions and destruction to civilian property. Tigrayan locals in refugee camps across the border in Sudan contend that Amhara militiamen and Ethiopian soldiers participated in war crimes in western Tigray, while the government maintains that its forces have not committed crimes.
Now, Google Earth Pro has updated its imagery for parts of Tigray, allowing us to take a look into the veracity of claims depicting ethnic cleansing in the ethnically disputed western Tigray region on the border with Sudan. The imagery doesn't show all of the region, and was taken on November 21st and December 6th.
Using open-source satellite imagery, multiple internet sleuths have discovered many destroyed villages on the road between Abdurafi and and Maikadra. We ourselves have found several villages which appear to have been destroyed. Unfortunately, satellite imagery in this area is seldom updated, leaving many areas without imagery for years. However, the new imagery shows marks consistent with burn scars in an area with active fighting which does show buildings nearby with visible battle damage.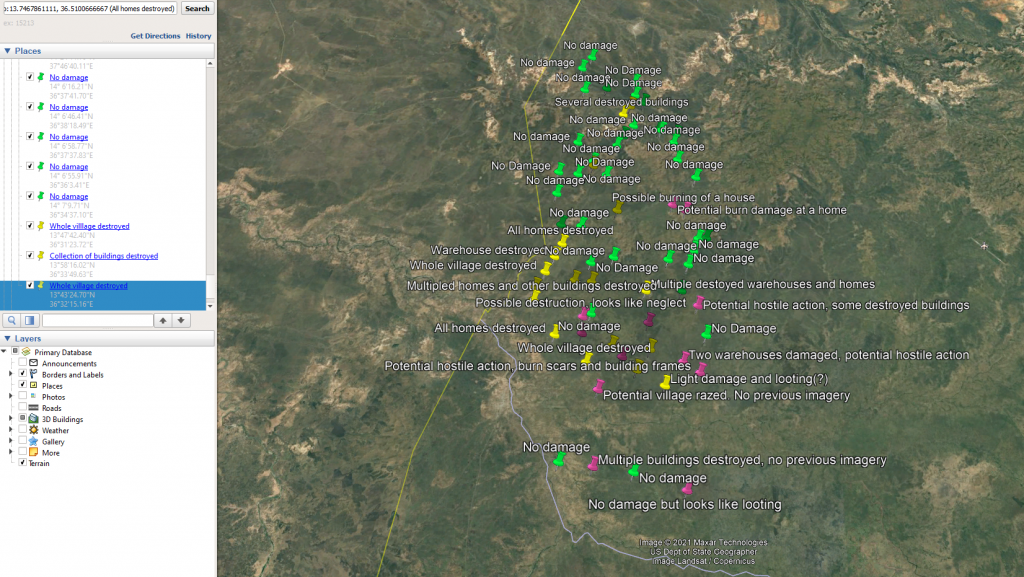 Ultimately, satellite imagery can only tell part of the story, but it is still a valuable tool for discovering potential war crimes. However, investigation by on the ground journalists is absolutely necessary to discover the true extent of the damage, and confirm that they are indeed a result of hostile action. Right now, it's very hard to dispute that so many buildings being burnt down in a region in active conflict could have been done deliberately, but until journalists visit themselves, satellite imagery alone is not enough to determine the perpetrators.