Consecutive Records Set For Chinese Air Force Intrusions Into Taiwanese ADIZ
Taiwan's Ministry of National Defense reports that the People's Liberation Army Air Force has stepped up its intrusions into the Taiwanese Air Defense Identification Zone (ADIZ) this past weekend, setting consecutive records for the largest single day intrusions into the ADIZ.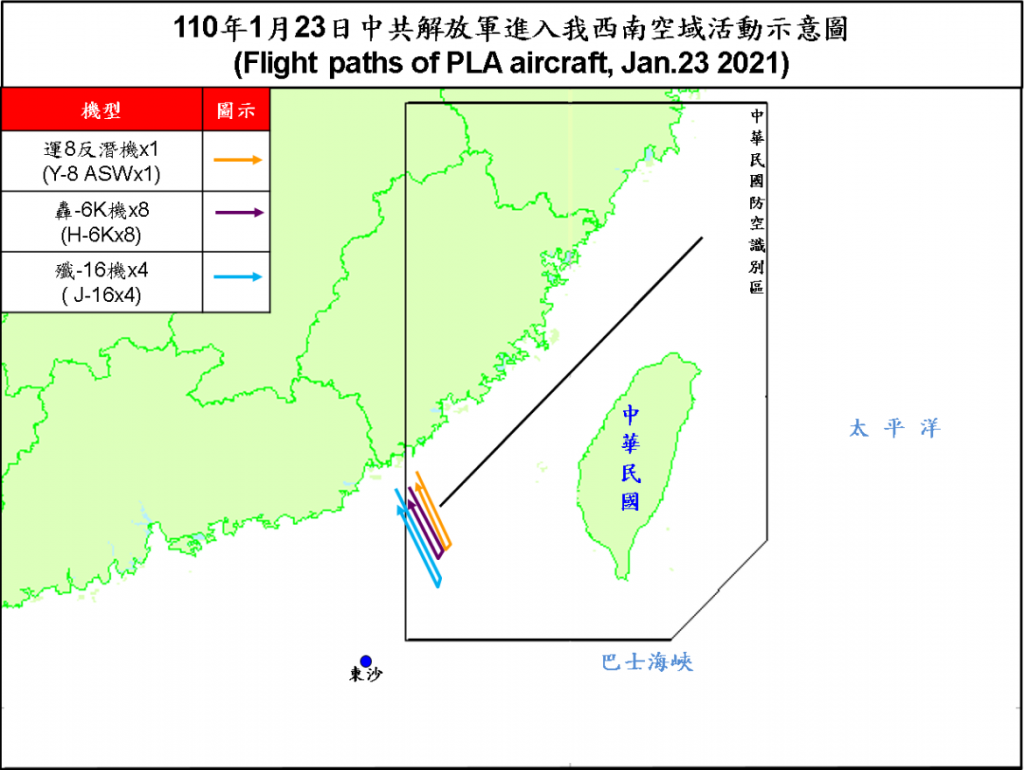 On January 23, the Ministry of National Defense reported the intrusion of 13 Chinese PLAAF aircraft into the ADIZ, the largest intrusion of the year as of that day. Eight Xian H-6K bombers, four Shenyang J-16 fighters and one Shaanxi Y-8 anti-submarine warfare aircraft were detected intruding into the southwestern corner of the ADIZ.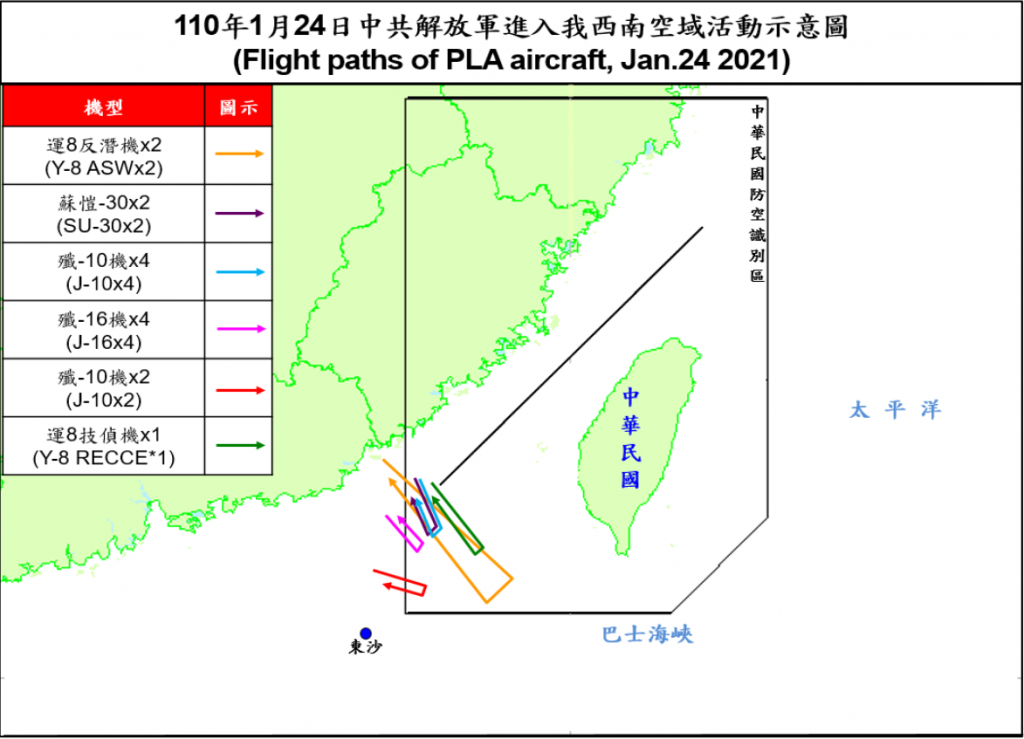 The record would be surpassed the very next day, with the Ministry reporting the intrusion of 15 PLAAF aircraft. Two ASW Y-8s and one reconnaissance Y-8, two Su-30 fighters, four J-16 fighters and six J-10 fighters were tracked entering the southwestern ADIZ. On both days, ROCAF fighters were scrambled, radio warning messages were issued, and surface-to-air missile batteries were alerted in response to the intrusions.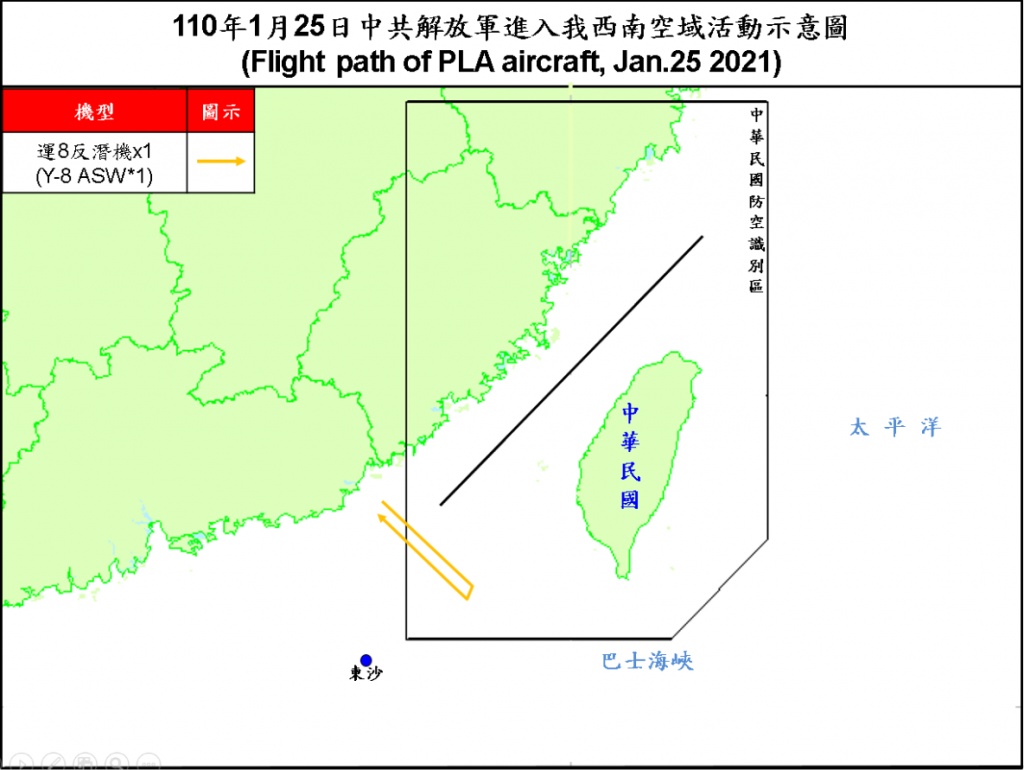 Compared to the weekend's flurry of activity, a single ASW Y-8 was tracked entering the southwestern ADIZ on Monday. Intriguingly, flight tracker software also reports the presence of an American U-2 off the eastern coast of Taiwan around the same time as the Y-8. The heightened activity comes shortly after Taiwan's representative to the United States was officially invited to President Biden's inauguration, with a member of the Taiwanese Foreign and National Defense Committee, senior Democratic Progressive Party lawmaker Lo Chih-Cheng telling Reuters on Saturday that Beijing was "sending a message to the Biden administration" with the record intrusions.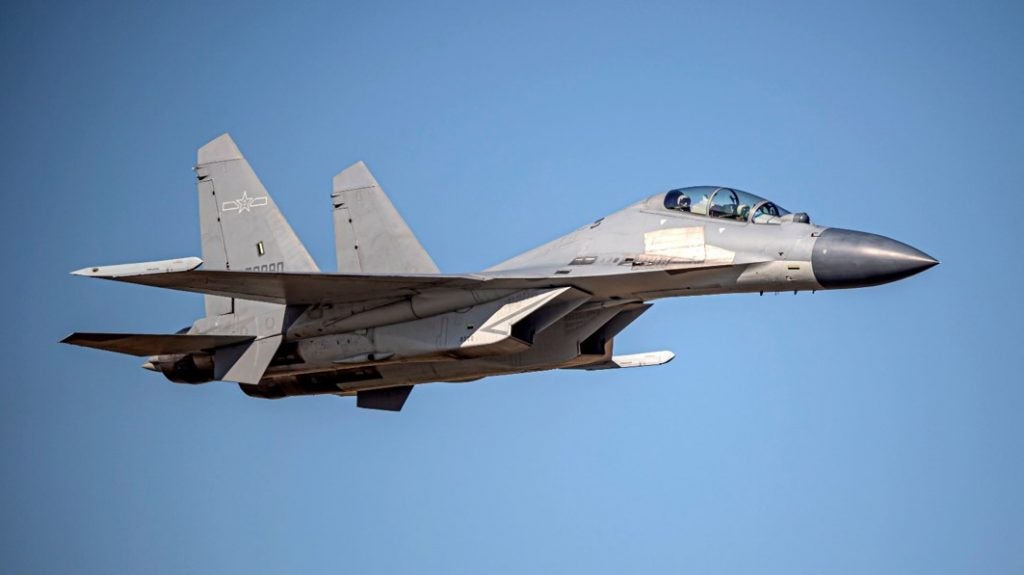 In response to the Saturday intrusions, the US State Department issued a statement the same day saying that it "notes with concern the pattern of ongoing PRC attempts to intimidate its neighbors, including Taiwan", urging for Beijing to "cease its military, diplomatic, and economic pressure against Taiwan and instead engage in meaningful dialogue with Taiwan's democratically elected representatives". The statement notes that the US will maintain its commitments to Taiwan, describing them as "rock solid".
Additionally, the US Navy has since announced that the USS Theodore Roosevelt Carrier Strike Group entered the South China Sea on Sunday. The Carrier Strike Group will be carrying out routine maritime security operations in the South China Sea, which include flight operations with fixed and rotary-wing aircraft, maritime strike exercises, and coordinated tactical training between surface and air units. According to the Navy, the Carrier Strike Group's presence there "directly supports the Chief of Naval Operation's navigation plan to master all-domain fleet operations and exercise with like-minded navies to enhance our collective strength".