U.S. Army Special Operations Orders Nine More Chinooks
The U.S. Army Special Operations Aviation Command (USASOAC) has placed an order worth $265 million with Boeing for nine more MH-47G Block II Chinook helicopters. This raises the number on contract to twenty-four of the specialist assault helicopter, the first of which will be delivered this year.
Operated by the elite 160th Special Operations Aviation Regiment (SOAR) – nicknamed the 'Night Stalkers' – the MH-47G Block II Chinook is the most sophisticated heavy assault helicopter operated by USASOAC.
Andy Builta, Vice President and H-47 program manager at Boeing said that:
"The G-Model is a critical asset for the Army, our nation, and the defense industrial base. We're honored that the Army's special operators trust us to deliver it."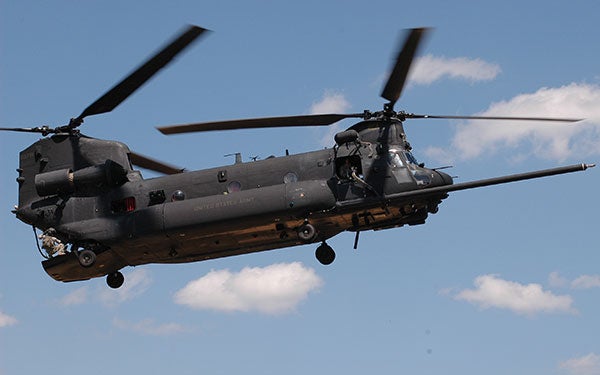 The aircraft features an improved structure and weight reduction initiatives like lighter fuel pods that increase performance and efficiency. It also boasts a refuelling probe and a cutting edge electronic suite that features a forward-looking infrared (FLIR) and electro-optical camera mounted under the helicopter's chin, as well as a AN/APQ-174B 'Silent Knight' multi-mode radar that allows the pilots to fly at very low altitudes in poor weather conditions.
The aircraft generally are armed with M134 Miniguns in the windows located behind the cockpit for defense, and suppression with a range of protective countermeasures such as laser warning systems and XM216 Dark Flares which are invisible to naked eye also aboard.
Earlier models of the MH-47 have proven to be highly critical to USASOAC missions in the higher mountainous regions of Afghanistan in the past and this order confirms that the MH-47G can expect to continue to be the prime heavy mover for the U.S. special forces community into the future.