Pentagon Suffers Two New High-Profile Resignations
Another two high-ranking officials resigned late last week at the Pentagon after the White House withdrew their nominations for vacant positions within the current administration. In the meantime, a third nominee's prospects for approval by the senate are looking dim due to controversies surrounding past statements and former colleagues from the military dropping their support.
The most recent in a series of resignations is that of Katie Wheelbarger on 18 June. She had been occupying the role of Principal Deputy Assistant Secretary of Defense for International Security Affairs since 2018. She was nominated to become Deputy Undersecretary of Defense for Intelligence on 13 February this year, the second-highest-ranking intelligence position in the military.
Two days earlier, Elaine McCusker, acting United States Under Secretary of Defense (Comptroller) since the summer of last year, also announced her resignation from her role under a similar set of circumstances.
Despite a tense atmosphere surrounding Wheelbarger's departure, Defense Secretary Mark Esper had warm words to say addressing her resignation. He said in a statement:
"Katie brought a wealth of experience and the utmost professionalism to the Department throughout her service. Her leadership in support of the National Defense Strategy is evident in the proud accomplishments of her team. She is someone I got to know well over the last three years and, with sincere appreciation for her many contributions and years of service, I wish Katie the very best in what I'm sure will be a very bright future."
The administration swapped Wheelbarger with Bradley Hansell, a former White House official viewed as a more loyal ally of the Trump administration. Upon resignation, she urged colleagues to be "guided by the U.S. Constitution". McCusker, on the other hand, saw her nomination axed after leaked email showed her concern over the President's then plans to withhold military aid from Ukraine. McCusker's replacement is yet to be announced.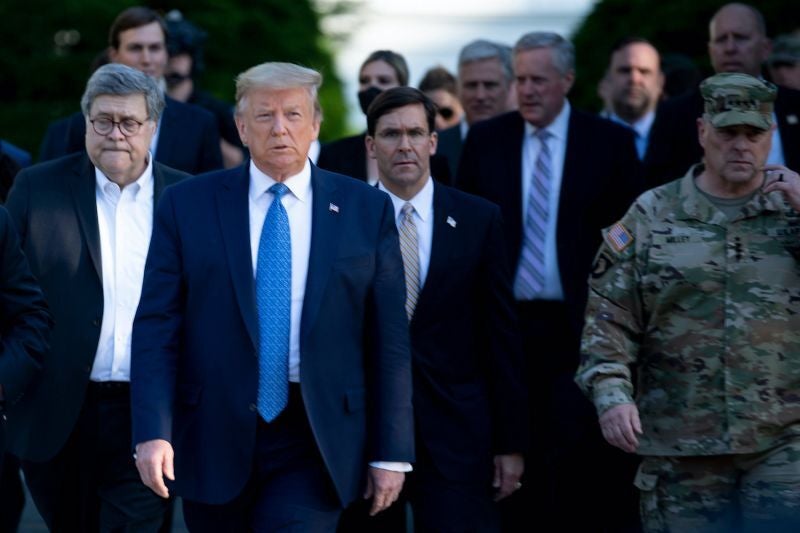 Retired Army General, and staunch Trump loyalist, Anthony Tata whose nomination made it to the Senate, is facing an uphill battle for confirmation as he faces opposition from Democratic senators and dwindling support from former colleagues. Former leader General Joseph Votel and former SOCOM chief General Tony Thomas withdrew their backing of Tata's confirmation after learning about comments he made calling former President Barack Obama a "terrorist leader" and Islam "the most oppressive, violent religion in the world".