Jamaica Orders Additional Thales Bushmaster MRAPs
Jamaica Defense Force (JDF) has ordered an additional six Bushmaster Protected Vehicles from French multi-national defense and aerospace company Thales Group. The additional vehicles, divided into three troop carriers and three ambulance versions, bring the total number of Bushmaster vehicles operated by the JDF to 18. The JDF is hoping this 50% increase will bolster its crime-fighting capabilities, while Thales hailed the order as an endorsement of the Bushmaster's performance after five years in service with the JDF.
The 4×4, 11 tonnes, anti-blast and anti-ballistic armored mobility vehicle capable of carrying 4 tonnes of payload, failed to be selected for the U.S. Military's Phase MRAP (Mine-Resistant Ambush Protected) program, but found global success nonetheless, serving in the militaries of 8 different countries. It first served in Afghanistan with Dutch and Australia's forces. Jamaica, however, deploys the vehicles primarily for crime-fighting purposes.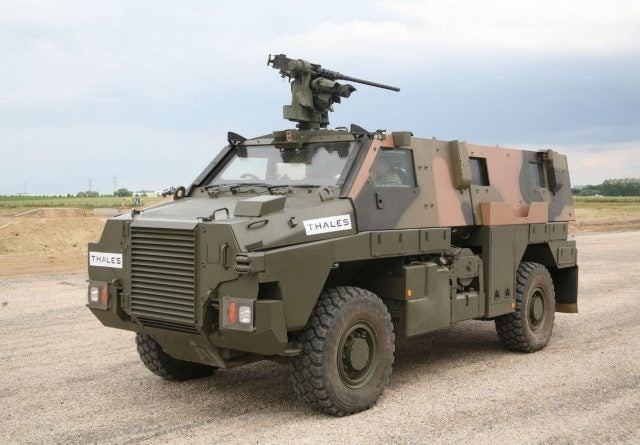 The Bushmaster is designed to protect and transport up to ten people in extreme environments and hostile territory, both on and off-road. In addition, the new units ordered by the JDF are equipped with fully integrated Auxiliary Power Units (APUs). This allows for functions such as supplementary air conditioning to run when the engine is off, enabling static vehicles to remain at a comfortable temperature in Jamaica's hot climate. The ambulance variant of the vehicle is designed to enable soldiers to quickly evacuate and treat injured members of law enforcement in the safety of the Bushmaster instead of sending a regular vehicle lacking in armor to dangerous locations.
"Thales' Bushmaster protected vehicle will lead to enhanced safety and security for Jamaican citizens, helping crime fighters in their crucial mission." Ruben Lazo, Vice President, Thales in Latin America.
The original 12 Bushmaster vehicles were ordered back in 2013 and delivery to Jamaica began in 2015. This is not the first time the MRAP was utilized in civilian settings, and since 2013 a fleet of fifteen have been utilized by the South Australian Forestry Corporation in firefighting roles.