Israeli Eitan Reaches Serial Production
The latest addition to the Israeli Army's ground combat fleet, the Eitan wheeled armoured fighting vehicle, is entering serial production following an announcement this week by the Israeli Defense Ministry.
The Eitan (Steadfast in Hebrew), developed and manufactured by IAI, IMI and Rafael, is to replace the M113 'Bardehlas' APC in use with front-line units under the IDF's (Israeli Defense Force) Gideon Plan to modernise and streamline the Israeli military. The 8×8 Eitan can travel at speeds of up to 90 kilometers an hour and carries a three-man crew along with an infantry section of nine. Its operational weight is classified but is believed to be between 30 and 35 tons.
The vehicle is initially being produced in three variants; an infantry combat vehicle (ICV), a dedicated APC and a command and control variant. The ICV variant features the Zrikhon unmanned turret housing a 30mm cannon and 7.62x51mm coaxial medium machine gun. The 30mm and coax are designed to be able to elevate to engage targets in multi-story buildings, a lesson from Israel's long history of urban combat.
Trials continue with integrating Spike MR (known in the IDF as NT-Gil) after successful test firings from both Namer and Eitan platforms in 2019, and production Eitan ICVs are expected to feature the Spike launcher to increase anti-tank capabilities. The standard APC variant will feature a remote weapon station mounting either .50 heavy machine gun or 40mm automatic grenade launcher along with a separate commander's pintle mount 7.62x51mm medium machine gun.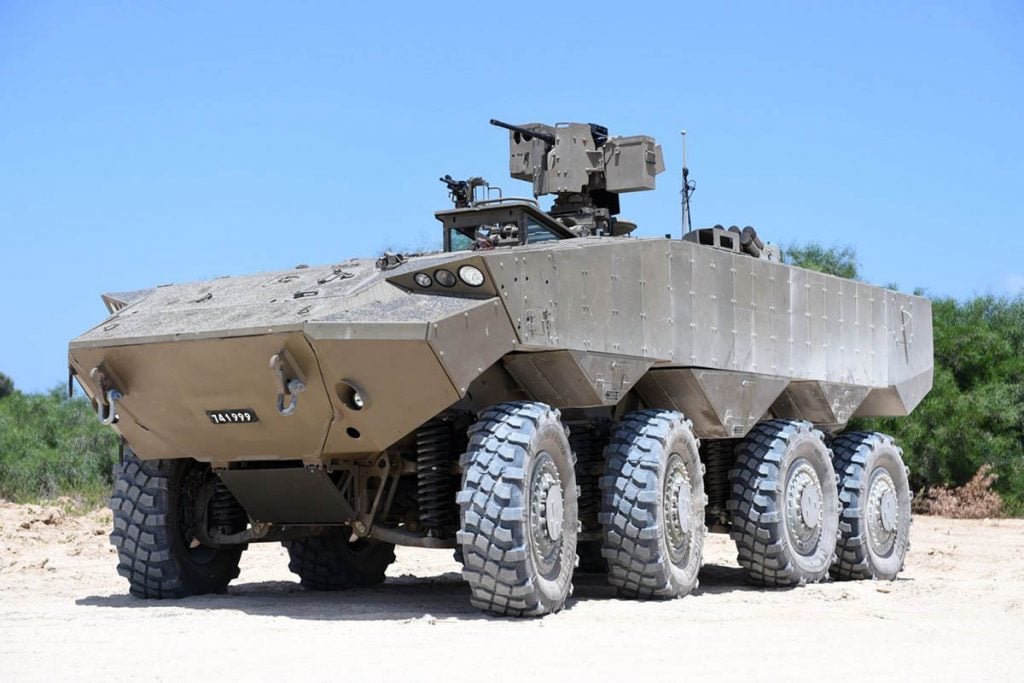 The development of the vehicle was spurred on by the deaths of a number of Golani Brigade soldiers travelling in an M113 which was struck by a Hamas RPG-29 during Operation Protective Edge in 2014, although plans to replace legacy M113s pre-date the incident. The Eitan is protected by Elbit Land Systems' hard-kill Iron Fist – Light Decoupled (IF-LD) Active Protection System (APS) as reported last year by Overt Defense.
The Israeli Defense Ministry's Armoured Vehicles Directorate noted that the new vehicle "will provide combat soldiers with quick mobility and enable them to adapt to all relevant combat scenarios. In addition, the Eitan will be the world's most well-protected APC, equipped with advanced combat capabilities." The first production Eitans should be in service by the end of 2021.