First US Navy CMV-22B Osprey Delivered
On February 7, the first CMV-22B Osprey was formally delivered to the US Navy. The delivery ceremony was held at Bell's Osprey plant in Amarillo, Texas.

The CMV-22B is a specialized version of the Osprey intended to replace the C-2A Greyhound in the Carrier Onboard Delivery (COD) role. Modifications to its design include an increased payload capacity of up to 6,000 pounds and the ability to internally carry the F135 engine used by the US Navy's F-35Cs. Larger sponson fuel tanks and additional wing tanks increase the range of the CMV-22B compared to other Ospreys, with Bell claiming a range of over 1,150 nautical miles. Additionally, the CMV-22B is equipped with a beyond line-of-sight high frequency radio, a public address system for passengers and an improved lighting system for cargo handling.

James F. Geurts, assistant secretary of the Navy for research, development and acquisition, commented on the delivery:

"There is nothing more important than delivering capabilities to the Fleet with speed.

I am proud how the program and industry team have leveraged non-traditional approaches such as using existing MV-22 testing data to shrink the time in the CMV-22 acquisition cycle. The speed to get to this delivery milestone is a testament to the rigor and energy they put into the acquisition strategy and risk reduction initiatives during test and design."

Chris Gehler, Bell V-22 Vice President and Bell Boeing Deputy Program Director, commented on the delivery as well:

"This CMV-22 first delivery marks a new milestone with our U.S. Navy customer providing unmatched versatility in an aviation platform.


Bell Boeing, our dedicated employees, and Team Osprey are proud to support our US government customer in bringing this unique capability to the fleet."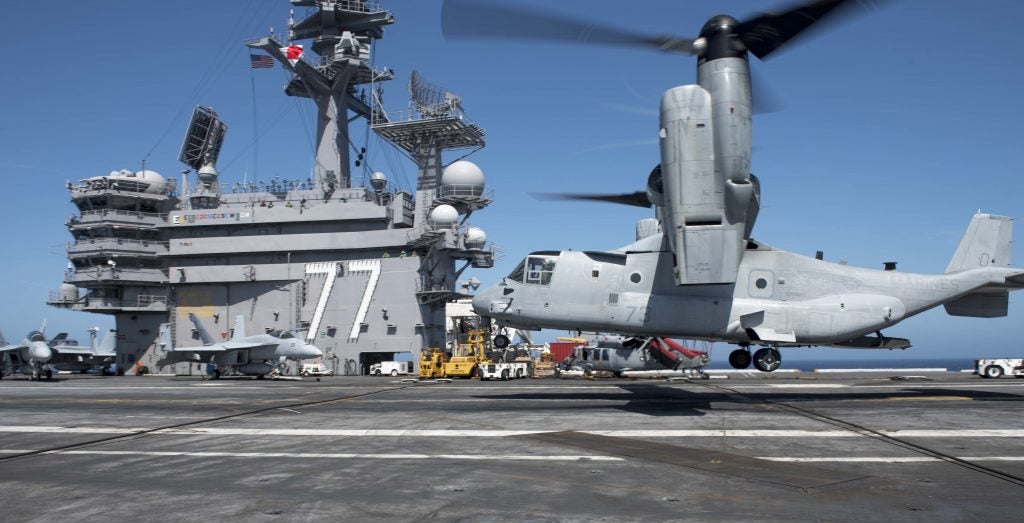 The CMV-22B first flew in December 2019, and the first of two developmental test CMV-22Bs arrived at Naval Air Station Patuxent River on February 2 for continued developmental testing. US Navy maintainers and aircrew are currently embedded with US Marine Corps MV-22 squadrons within Marine Aircraft Group (MAG) 16 to gain experience with Osprey operations.

The US Navy currently plans for the CMV-22B to reach initial operating capability by 2021, and fielding with carrier strike groups by the mid-2020s. Squadrons operating the CMV-22B will be initially based at Naval Air Station North Island in San Diego, and Naval Air Station Norfolk after that.