New Suspension for Bradley Trials Platform
A new suspension system is being tested by the US Army at the Yuma Proving Ground (YPG) which may go some way to alleviating the challenges faced by the already overweight Bradley infantry fighting vehicle (IFV). Incremental additions in armour, fire control, communications suites and sensors over the last two decades has increased the fighting weight of the vehicle from 25 to 33 tons and reduced the cross-country speed of the vehicle.
The experimental suspension being trialed is rumoured to be from Horstman Holdings who have designed hydro-pneumatic track systems for a number of programs including for the US Army's Future Combat Systems (FCS). Such a system reduces weight and increases ground clearance by offering the capability of raising or lowering the vehicle dependent on terrain.
The latest Bradley variant, the M2A4, is to be fitted with the Iron Fist active protection system (APS) powered by a new auxiliary power unit (APU). A3 and earlier Bradley variants not equipped with the new APU simply cannot deploy the APS due to their already over-stretched power packs. Only 641 Bradleys are currently being upgraded to the A4 configuration and thus only a small percentage of the fleet will be APS equipped in the near future.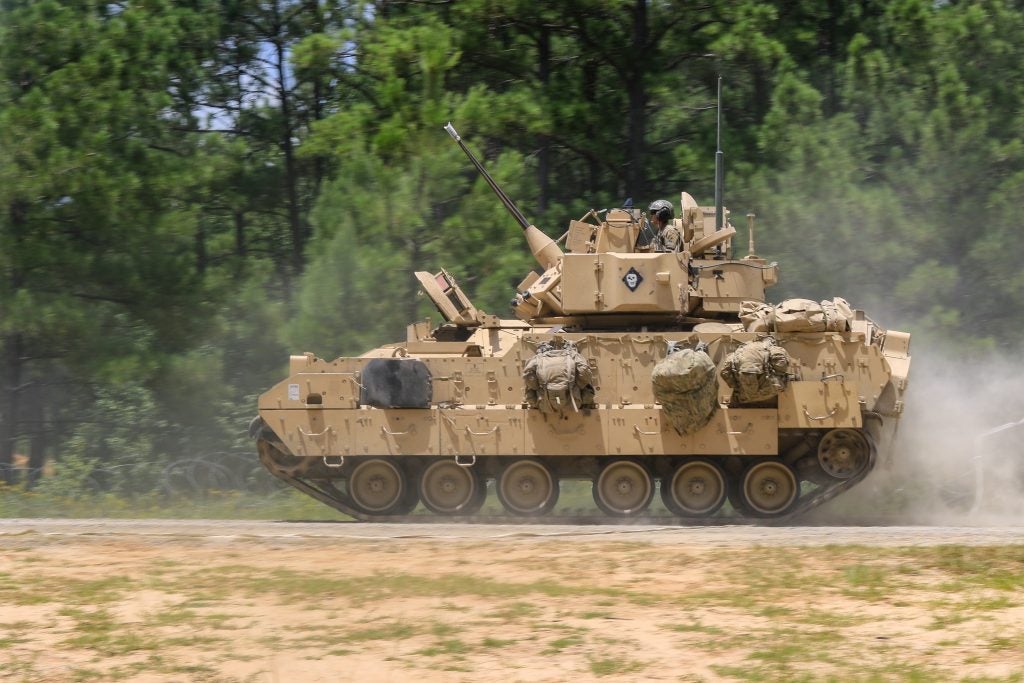 With the OMFV or Optionally Manned Fighting Vehicle program to replace the Bradley in a state of flux (as detailed here at Overt Defense), this means that in any large scale conflict with peer or near-peer enemies, most Bradleys will be at greater risk from enemy ATGMs (anti-tank guided missiles) like the 9M133 Kornet and handheld RPG-29s and similar with tandem-charge warheads designed to defeat explosive reactive armour (ERA).
The hydro-pneumatic system could also be employed by new OMFV contenders and the YPG development work may actually be aimed more toward a future platform than improving the lot of the current Bradley fleet – representatives from YPG have remained tight-lipped and indeed the trials only came to light from a US news programme (available here).