Russia Reveals Updated Marker Unmanned Ground Vehicle
The Russian Federation's Foundation for Advanced Studies (Fond Perspektivnykh Issledovaniy – FPI) revealed a new version of the Marker unmanned ground vehicle (UGV). It boasts a different track configuration and a larger body able to carry larger weapon configurations.
According to a report by Jane's, the updated model of the Marker UGV drives on five roadwheels, an idler, a drive sprocket, and two roller returns. The engine and cooling system are fitted at the front of the vehicle, while the large payload bay area is located at the rear of the UGV. The cluster launch module on the unit, testing in October 2019, is designed to launch a group of small-sized reconnaissance unmanned aerial vehicles (UAVs) to perform scouting tasks individually or in a group.
The UGV's modular multispectral vision and data processing system features neural network algorithms enabling it to conduct operations autonomously. This is achieved through a suite of mission systems that include a laser warning system, thermal sensors, day/night infrared (IR) cameras, a laser rangefinder, target detection, an early warning system, identification, and equipment tracking.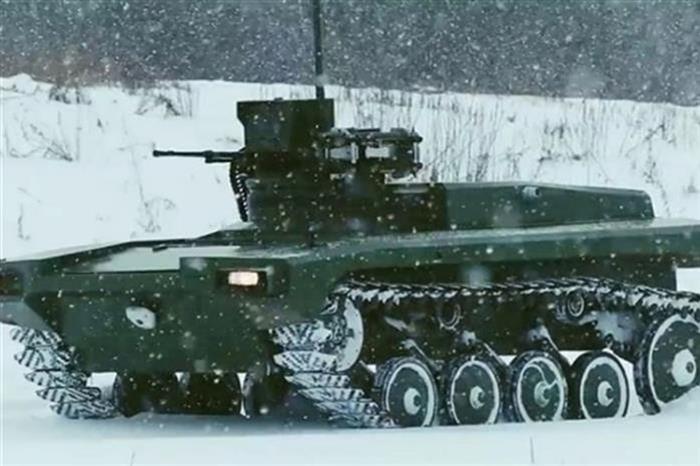 It is believed that Russia is developing five UGVs, two tracked configurations already tested and a wheeled version remains in development.
On the 9 July 2019, two prototypes of the Market UGV underwent first stage testing. The test trials for coastal areas were successfully completed on the tracked chassis on the 25th of the same month at a test site for robotic systems in the city of Magnitogorsk.
The UGV proved its automatic routing capabilities in urban settings and rough terrain in its first phase, while the second stage that took place at the end of July tested its manoeuvering, targeting and firing capabilities. The UGV will be tested further in the first quarter of 2020 to see how well it fairs at engaging targets in its automatic mode.