Naval Group Commences Construction of Amiral Ronarc'h
On October 24th, Naval Group commenced construction of the Amiral Ronarc'h defense and intervention frigate (Fregate de defense et d'intervention, or FDI) with a steel cutting ceremony held at its shipyard in Lorient. The ceremony was attended by the Minister for Armed Forces, Florence Parly, the Head of the French Armament Directorate (DGA), Joël Barre, the Chief of Staff of the French Navy, Christophe Prazuck, the Chief of the Hellenic Navy, Nikolaos Tsounis and Naval Group CEO, Hervé Guillou among others.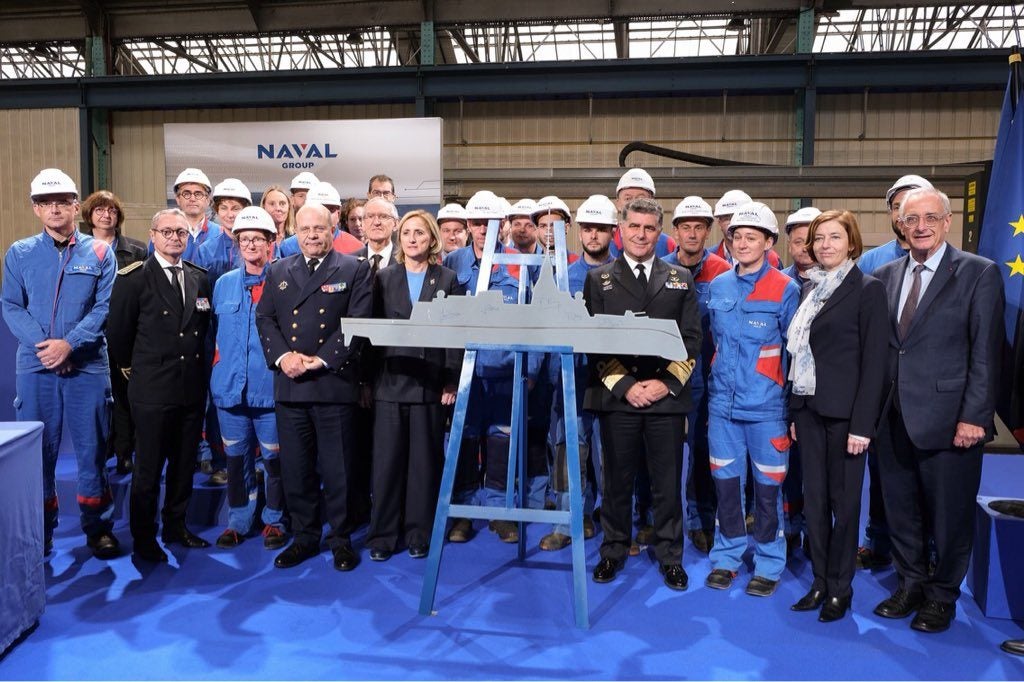 The Amiral Ronarc'h is the first of a class of five frigates, and is currently planned to be completed and delivered to the French Navy in 2023. It will be followed by the Amiral Louzeau, which will be delivered by the end of 2025. The remaining members of the class, the Amiral Castex, Amiral Nomy and Amiral Cabanier, will be delivered by the end of 2030.
The Amiral Ronarc'h is named in honour of the WWI French Admiral, Pierre Alexis Ronarc'h.

The FDI class are high sea vessels, with a displacement class of 4,500 tons. They are intended for multiple missions, including anti-surface, anti-air and anti-submarine warfare. Special forces projection is possible as well. They are armed with a variety of weapons to accomplish these missions, including Aster 15 and 30 surface-to-air missiles, Exocet MM40 Block 3C anti-surface missiles, MU90 light anti-submarine torpedoes, a Leonardo 76mm Super Rapid cannon and remotely controlled NARWHAL 20mm autocannons.

According to Naval Group, the FDI class will be the first French Navy ships to be natively protected against cyberwarfare, with computing power centralized in two redundant data centers overseen by a "cyber management system" capable of detecting intrusions and assessing their extent to facilitate countermeasures. Similarly, the FDI class features a dedicated system for asymmetric warfare located behind the bridge. The system operates independently from the main operations room, and is specialized for handling asymmetric threats such as small UAVs or unmanned boats.

Naval Group has intentions to export the Belharra class frigates, which the FDI class is a variant of. The Greek Minister of Defence, Nicolaos Panagiotopoulos and the French Minister for Armed Forces, Florence Parly, had signed a letter of intention on October 10th for the Greek purchase of two Belharra class frigates, with an option for more.