Secretive Delta Force Pandur APCs Seen in Syria
Amidst the controversy of this recent events in Syria, a piece of footage recorded by a journalist for Germany's Der Spiegel, Alexandra Rojkov, emerged on Twitter. It showed in excellent clarity four Austrian Steyr-Daimler-Puch Pandur I armoured personnel carriers displaying prominent American flags. These rarely seen vehicles are operated by the US Joint Special Operations Command (JSOC), and more specifically the 1st Special Forces Operational Detachment – Delta (Airborne), better known to the public as the secretive Delta Force.
Developed for a 1999 Special Operations Command (SOCOM) contract by AV Technology International, a joint venture between the US-based AV Technology and Steyr-Daimler-Puch who designed the base vehicle, the Pandur I in JSOC service is known as the Armored Ground Mobility System (AGMS) although operators refer to it simply as the Pandur. Although primarily operated by Delta, it has also occasionally been employed by the Navy's Naval Special Warfare Development Group or SEAL Team 6.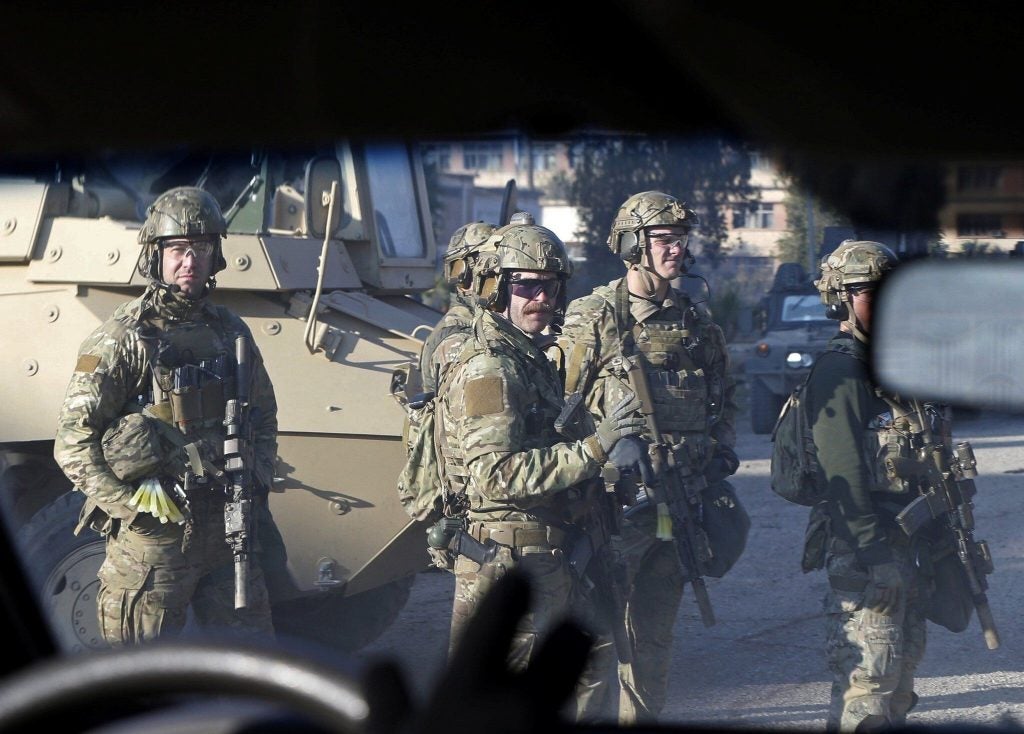 JSOC took receipt of an eventual 23 AGMS platforms (several have since been written off in action and others essentially rebuilt). The vehicle proved its worth in Iraq with a number of Pandurs driven across the border days before the initial 2003 invasion and later featuring heavily in Delta's 'industrial-strength' counter-terrorism campaign targeting al Qaeda in Iraq and Iranian al-Quds Special Groups.
The AGMS features a number of modifications from the base model Pandur I. Most noticeably is the addition of applique armour and a raised driver's 'cockpit' protected by bullet and blast resistant glass, allowing for greater situational awareness. Less obviously, the vehicles have been fitted with under-body blast protection and blast seats for crew and passengers along with a myriad of counter-IED (improvised explosive device) systems.
The standard armament has included an M240 medium machine gun with OPK-style shield but more recently .50 Browning M2 heavy machine guns have been seen in CROWS remote weapon stations and one vehicle in Syria sported a TOW II anti-tank guided missile (ATGM) system, likely used as a counter to Islamic State suicide car bombs. The TOW-armed AGMS appears to feature in the Der Spiegel video.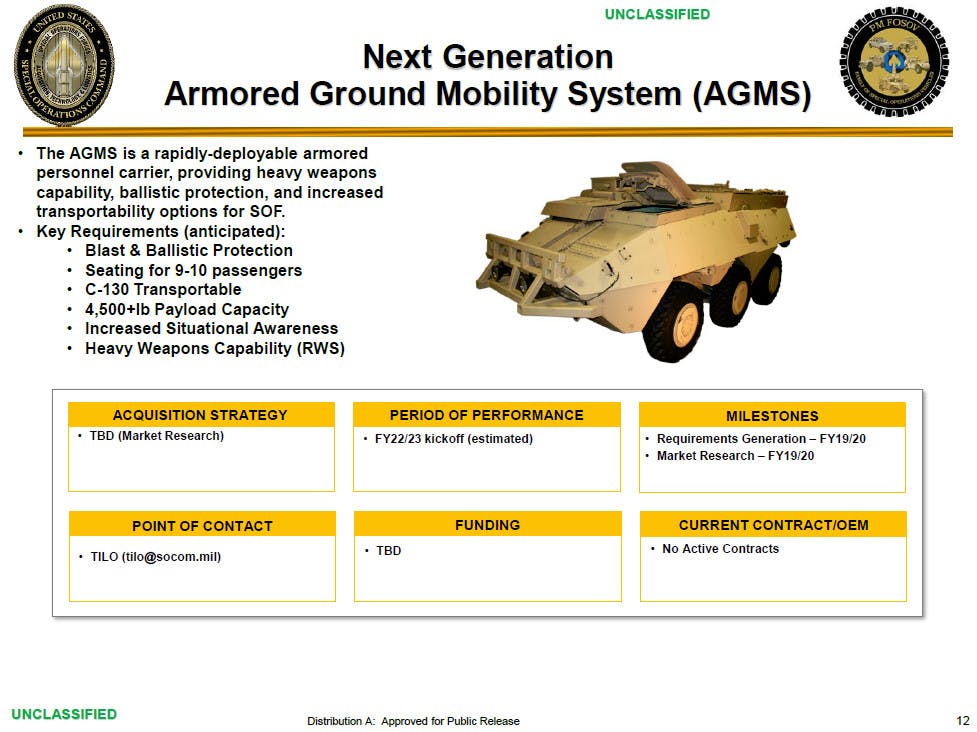 The vehicles in the video seem to be conducting a presence patrol near Qamishli, likely in response to an earlier Turkish artillery strike which came dangerously close to a US combat outpost. Similar operations have been conducted in the past in Syria by Strykers operated by the Ranger Regiment along with 5th Special Forces Group Oshkosh M-ATVs.
Indeed Syria may be one of the last missions for the venerable platform as SOCOM announced earlier this year a requirement for the Next Generation Armored Ground Mobility System with trials of a new AGMS scheduled for an estimated 2022/23 start date. Greater payload capacity appears to be one of the key requirements, not surprising as operators have previously noted to the author the cramped cargo space and difficulty in transporting wounded on stretchers/litters.