Oshkosh JLTV Gets 'Suicide Drone' Capability
Oshkosh Defense have debuted their Joint Light Tactical Vehicle (JLTV) with Israeli UVision loitering munition launcher at Modern Day Marine Expo 2019 at the Quantico Marine Corps Base. The combination gives the JLTV the ability to strike targets up to 40 kilometers distant.
The UVision launcher carries six Hero-120, demonstrated being mounted to the rear bed of a two-seat Utility JLTV variant. Each Hero-120 packs a 3.5 kilogram warhead in standard configuration and offers a loiter time of up to 60 minutes. The warhead comes in a range of options including Airburst Fragmentation for infantry targets in the open, Point Detonation for buildings and strongpoints and a top-attack High Explosive Anti-Tank for targeting armoured fighting vehicles.
Another variant, the Hero-400ES multi-canister launcher was also displayed mounted upon the JLTV platform. The Hero-400ES offers an "all-electric precision Electro-Optical/Infra-Red (EO/IR) guided munition" with double the loiter time of the Hero-120.
UVision USA noted that the integration with the JLTV was driven by the "rapidly changing needs of modern battlespaces" and claimed; "Once integrated with a Hero loitering weapon system, this fast, agile and powerful Joint Light Tactical Vehicle, with C4ISR capabilities, is the most ideal for complex missions to deploy to the battle."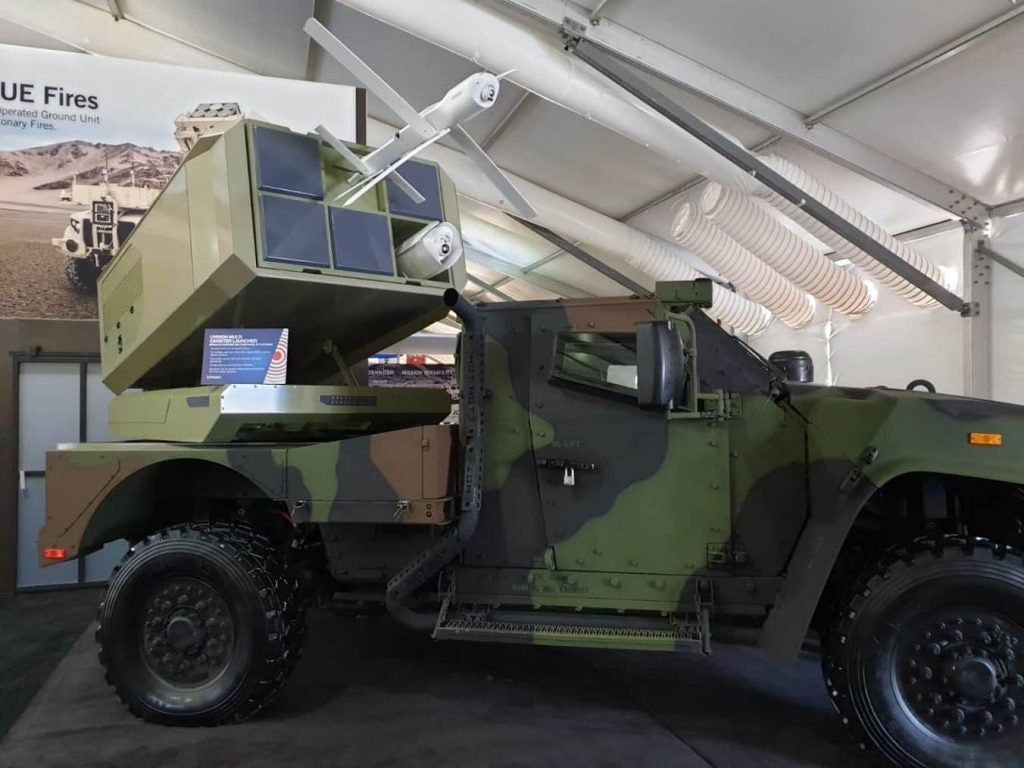 Alongside the loitering munition variants, Oshkosh displayed a General Purpose JLTV complete with Javelin Integration Kit and Kongsberg Protector Remote Weapon Station capable of mounting the 30mm M230 cannon. Following the current trend of UAV (unmanned aerial vehicle) integration with both armoured and light vehicles as seen at DSEI this year, the demonstration model also featured a Black Hornet Vehicle Reconnaissance System launcher platform.
In related news, the USMC have announced that their plan to replace all HMMWVs (High Mobility Multipurpose Wheeled Vehicle or Humvee) within the Corps with JLTV platforms will go-ahead with an estimated 15,390 JLTVs to be acquired, a three-fold increase upon their original order after declaring the JLTV operational last month as previously reported by Overt Defense.