BAE Wins Bradley APS Integration
BAE Systems Land this week won the Pentagon contract for the integration of Israeli Iron Fist Active Protection Systems (APS) on the Bradley family of infantry fighting vehicles (IFVs). The integration package will amount to some $13.7 million USD with all upgrades to be completed by June next year.
BAE Systems has performed all major system upgrades to the Bradley series over the last three decades and will complete the work at their facilities in San Jose, California. Variants of both the M2 IFV and the M3 Cavalry Fighting Vehicle will receive the Iron Fist system. Abrams main battle tanks (MBT) are being fitted with a competing Israeli system, the Rafael Trophy.
The weight considerations are considerable with Trophy adding a reported 7,200 pounds (3265kg) to the MBT whilst Iron Fist adds some 1,543 pounds (699kg) to the Bradley platform. The draw on the power supply of the hosting platform is another significant consideration with the Director, Operational Test & Evaluation reporting in 2018 that;"the fielded Bradley A3 does not generate sufficient power to operate the APS. Power components from the Bradley A4, currently under development, were integrated into the APS test asset."
This issue led to "power failures to the launcher" but has been solved with the on-going A4 upgrade although recent budget cuts have seen the expected number of Bradley A4 IFVs reduced from 167 vehicles to 128.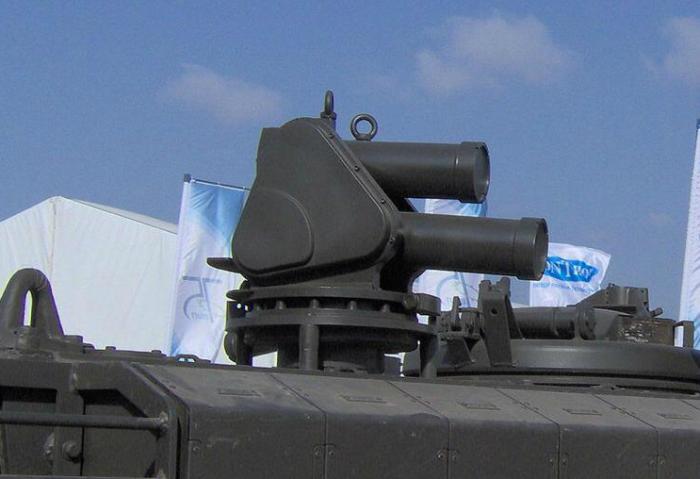 The Stryker platform is currently without an agreed APS solution mainly due to the weight of existing systems and what the Army reporting that; "… damaging effects to the Stryker vehicle base armor occurred regularly even with successful intercepts. An upgrade to the baseline armor will be necessary if this APS is to be employed on a Stryker vehicle."
Both the Trophy and Iron Fist (and the Iron Curtain system which failed Army testing) are designed to; "improve the survivability of ground combat vehicles against anti-tank guided missiles, rocket-propelled grenades, and recoilless rifle threats by using a kinetic "hard kill" mechanism to intercept and disrupt/defeat the incoming threat," according to the US Army.