Big Budget Increase for Aussie Special Operations
Australia's Special Operations Command (SOCOMD) is set for a major cash infusion with news that the first $500 million AUD of an expected $3 billion AUD has been approved to increase and improve Australian special operations forces (SOF) capabilities. Under Project GREYFIN, SOCOMD and its component units will receive regular cash injections over a 20 year period.
In a joint statement by the Australian Prime Minister, Scott Morrison, and Defence Minister Linda Reynolds, the government announced the funding on August 12; "This first stage of funding enables our Special Forces to engage with intelligence, science and technology, and innovation organisations to ensure future threats and opportunities are assessed, to make sure we are delivering them the capability they need in the future."
Hinting that the funding will be at least partly allocated to countering the so-called 'Grey Zone' threat, Morrison also noted; "Global threats will continue to evolve in ways which threaten Australia's interests. This funding will ensure our special forces have cutting-edge capabilities to stay ahead of those who might threaten Australia's interests."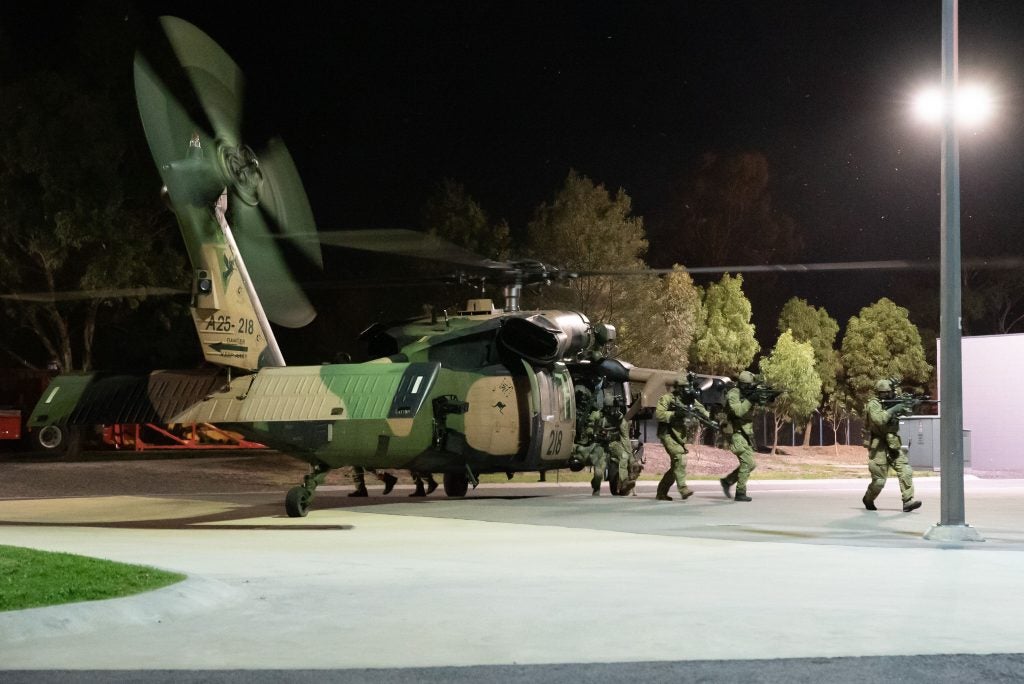 The procurements will initially focus on new body armour and weapons, dive, parachuting and climbing equipment along with communications and medical technologies. GREYFIN is separate to the planned purchase of up to 16 SOF light helicopters for use by 6th Aviation Regiment (co-located with 2 Commando Regiment) which are due for delivery in the next two years. A preferred platform has yet to be announced under Project LAND 2097 Phase 4.
GREYFIN will also likely see an increase in ISR (intelligence, surveillance and reconnaissance) capabilities alongside capability enhancements in infiltration methods and equipment. Former SASR officer and Federal MP Andrew Hastie noted the requirement for "… discreet insertion and ­extraction capabilities for our force elements," and that an increase in SOCOMD ISR was needed; "… drones are a big part of it."
SOCOMD is widely considered on-par with US, European and UK SOF but GREYFIN seeks to match the expeditionary capabilities of US units, allowing SASR for instance to deploy with their own ISR and helicopter support unilaterally within the Asia-Pacific region. Hastie added; "The Americans are able to do that because they can pack up special operation capability, deploy it on the other side of the world within in 18-24 hours, do a job, and then bring it back again. They integrate air, naval, intelligence and space capabilities to deliver a joint strategic effect."
A key requirement for the helicopters of Project LAND 2097 is the ability to be flown into theatre by Australian C-17A transport aircraft (with the specification mentioning the requirement for four helicopters to be able to be transported by each C-17A) to "insert, extract and provide fire support for small teams of Special Forces undertaking tasks ranging from tactical observation through to counter-terrorism missions, or hostage recovery".
They will also be optimized to mount ISR systems and are envisioned to allow the rapid transition from armed roles to reconnaissance to troop carrier in much the same way as currently in-service AH-6J Little Bird platforms flown by 160th Special Operations Aviation Regiment (SOAR) in support of USSOCOM and Joint Special Operations Command (JSOC) which work closely with Australian SOCOMD units. The current front runners for the Australian requirement include Airbus H145M, Bell 407GT, Boeing Defense & Security AH-6i Little Bird and Leonardo AW109 Trekker (coincidentally variants of two of which are flown by 160th SOAR elements).