German Eurofighter Typhoons in Fatal Mid-Air Collision
Two Eurofighter Typhoons of the German Air Force collided in-flight north of the Fleesensee lake near Rostock in northeastern Germany on June 24, resulting in the death of one pilot and the loss of both aircraft.
The two single-seater jets belonging to the German Air Force's 73 Squadron were partaking in exercises as part of a formation of three when two aircraft came "in contact" with each other around 20 minutes into the flight at just after 2 PM local time, according to the German Armed Forces.
The accident occurred at an altitude of over 9800 feet. Pilots of both aircraft activated their ejection seats and were observed by the pilot of the third aircraft as they descended.
"All three aircraft were unarmed, and after 20 minutes for unknown reasons, two of the three Eurofighters touched each other in the air," BBC News quoted German Air Force commander Ingo Gerhartz as saying.
"According to the third pilot, who is of course still in shock, he could see the two parachutes attached to the eject seats and he confirmed that both parachutes could be seen."
It later was announced that one of the pilots, a 27 year-old with around 400 hours flight experience, did not survive the accident, and the other, an instructor with over 3700 flight hours, was rescued alive with minor injuries as the rescue team found him dangling from a tree by his parachute.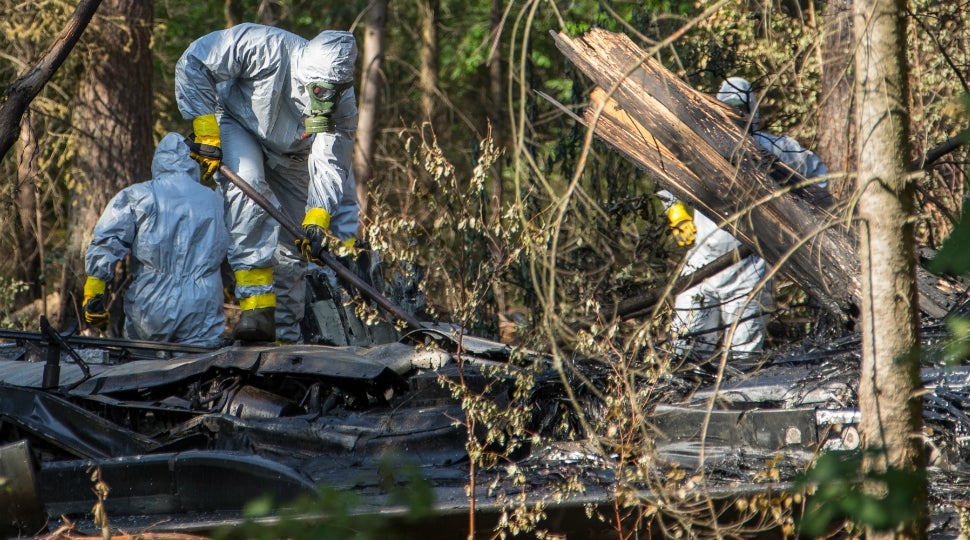 One aircraft crashed in a forested area, while the second came down in near a village 10 kilometers (6 miles) from the other. The flight data recorders of both aircraft were recovered the following day. According to the German Air Force, the aircraft were delivered in 2010 and had a total flight time of around a thousand hours.
The three aircraft were engaged in combat exercises in which two aircraft attempt to intercept an evading opponent, represented by the third aircraft, as they manoeuvre to a position to engage.
In the following search and rescue and salvaging operation, around 500 servicemen and women were involved. The German Armed Forces have launched an investigation to determine the exact cause of the accident.