Marine Corps Developing Advanced Air Launched Drone
The USMC has gotten a lot of work out of their MV-22 Osprey fleet since its entry to service over a decade ago. A new drone, under development with the Marine Corps Warfighting Lab, may allow them to get more utility out of the capable VTOL transport. The Air-Launched Fast Autonomous Reconnaissance System (AFARS) may prove the key to extending the eyes of the commander on the ground and enhancing the survivability of the Osprey in high-threat environments.
AFARS is, in its current design iteration, is six feet long with a 4.4 pound payload. Range is state to be 165 nautical miles maximum or 100 nautical miles with a ten minute loiter over a target. It is expected that the AFARS will carry an Electro-Optical/Infrared payload, and may in a production version carry electronic emissions sensors. The data-link has a range of fifty miles, enabling sufficient early-warning of ground based threats for the aircraft and crew. Recovery method of the drone has not been publicized.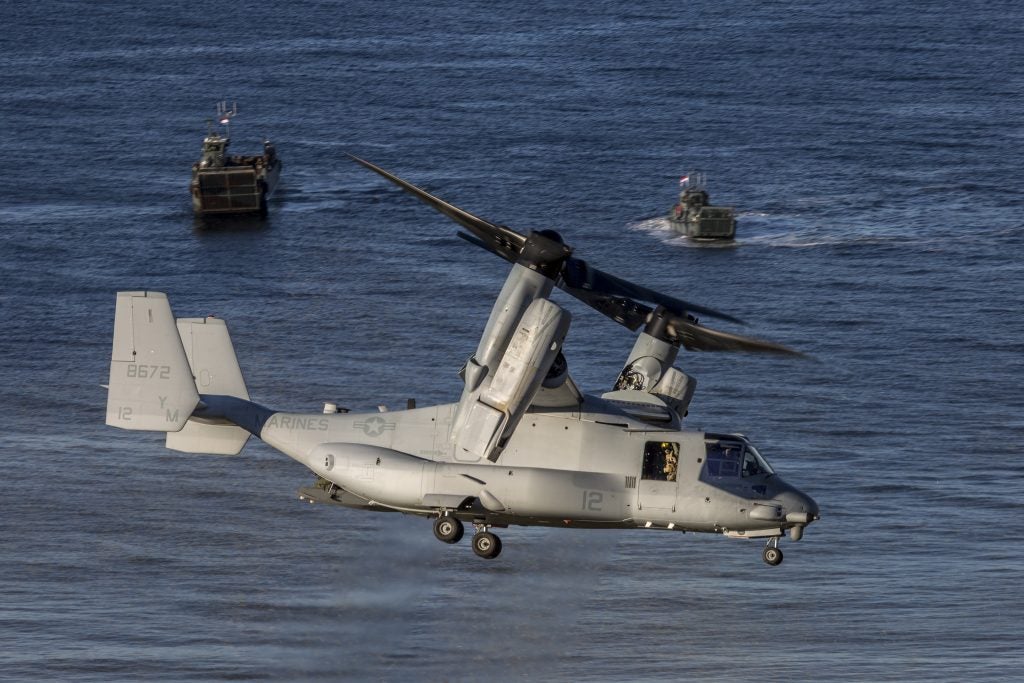 This is one of several programs in the decade since the Osprey entered service to aim to enhance the survivability of the tilt-rotor aircraft. All of the aircraft have been fitted with the an IR missile warning system, and the USAF Special Operations aircraft carry the AN/AAQ-24(V) DIRCM (Directional Infrared Countermeasure) system, which consists of turreted laser emitters that distract or damage the seeker heads of infra-red guided missiles. The USMC experimented with a belly mounted 7.62mm GAU-17 minigun in a remote turret for self-defense on landing, but the installation has serious issues with damaging the host aircraft it was supposed to protect.
Protecting the Osprey has always been a challenge for the USMC and USAF alike. It is too fast for helicopter escort, by AH-64 or AH-1Z, and too slow for most fixed wing support, like F-16C or F/A-18C. The Air Force has often paired their Ospreys with A-10s, as both aircraft have similar cruising speeds, but the USMC has lacked an aircraft that can effectively escort the tilt-rotor aircraft. AFARS will not obviate the need for an escort, but may enable the Marine Corps' Ospreys to be more survivable when a fixed wing escort is not available.