Spain Gives Go-Ahead for Construction of Five F-110 frigates
The Spanish government has ordered the procurement of five multi-role F-110 frigates for the Spanish Navy. The deal with the state-owned shipbuilder Navantia is expected to cost 4.31 billion Euros ($4.83 billion USD). The F-110s are the next generation of the twenty-two year old F-100 frigate design. Like its predecessor, the F-110 will incorporate the American AEGIS combat system.
Delegate Javier Losada told news outlets that the order was the largest ever for the Ferrol shipyard, owned and operated by Navantia. Losada is a national government delegate for the Galcia region where the Ferrol yard is located. The construction of the ships is expected to bring both income and jobs to the area. Officials have estimated that the program will create 7,000 direct and indirect jobs both in the Galicia region and across Spain as a whole.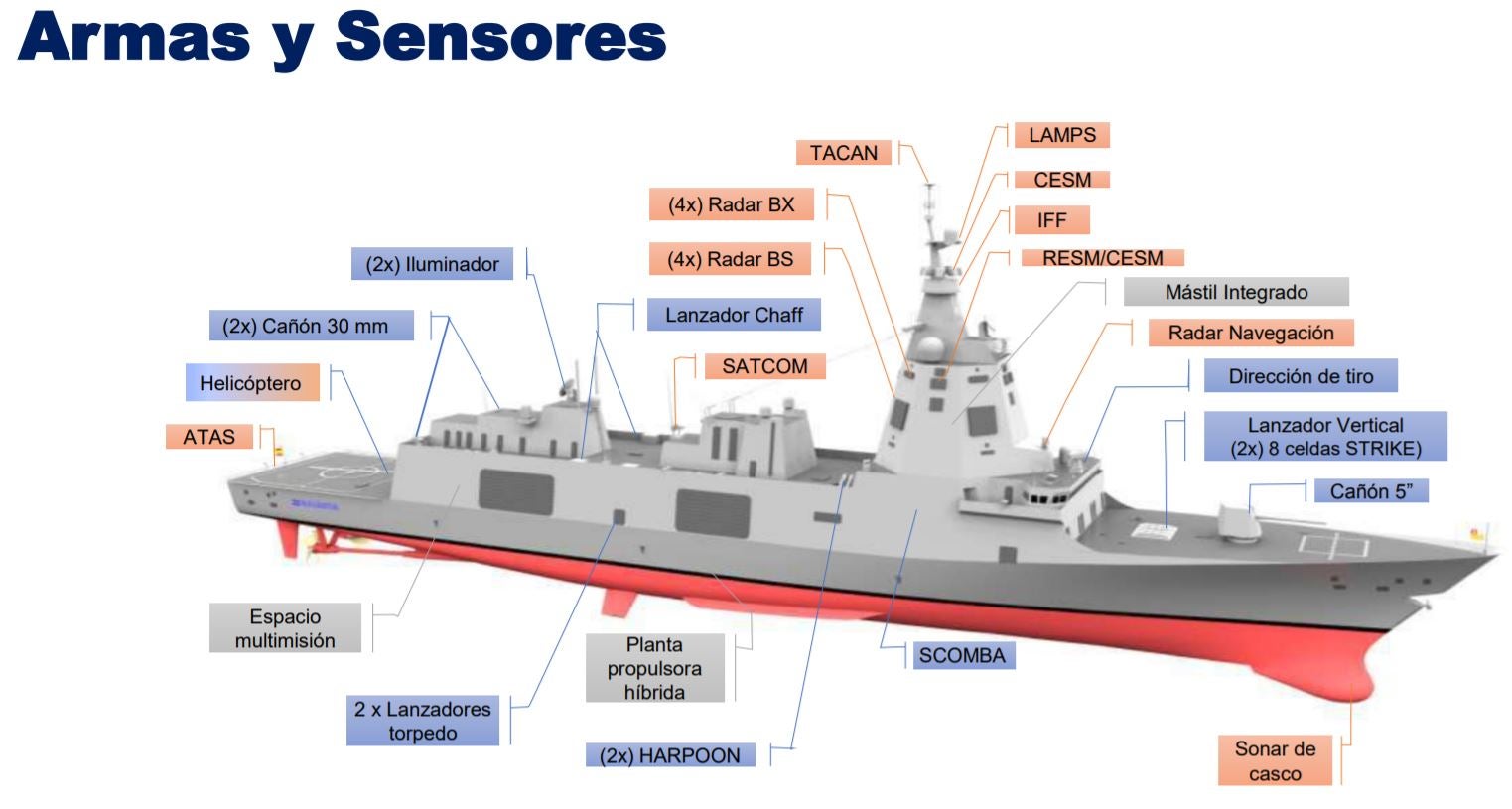 The new F-110s will likely have two eight-cell Mk.41 strike length VLS for sixteen total cells, as well as light weight torpedo launchers, a 5" main gun (probably the Mk.45 Mod 4 with a 62 caliber barrel, identical to those on later Arleigh Burke destroyers), and two 30mm auto cannons. Coupled with the AEGIS system and both S and X band AESA search radars, the F-110s suggest potent AAW capabilities. Interestingly, despite having an X-band phased array suite, the F-110s will also have X-band mechanically trained illuminators. Also included in the ship's sensor suite are a towed array sonar, and helicopter handling equipment, both of which are standard for modern guided missile frigates.
There may be some concerns about the survivability of the class however. The sinking of the HNoMS Helge Instad late last year showed there to be serious flaws in the ability of the F-100 derived ships to survive serious damage. While the Instad suffered an unusually serious collision, it was not worse than the damage taken by the Oliver Hazard Perry (OHP) class frigates Stark and Samuel B. Roberts, both of which survived to return to service. There are, naturally differences, but the instances of severe battle damage to small surface combatants are few and far between in recent years.
The F-110s will be replacing the Spanish Navy's existing OHPs, known locally as the Santa Maria class frigates. The first is expected to be delivered in 2026 with one each until 2031.