INCOMING: USMC Awards Rheinmetall Contract for 40mm Practice Grenades
The US Marine Corps has awarded a nearly $60 million contract to Rheinmetall for MK281 MOD3 40mm day/night practice ammunition for the Mk19 grenade machine gun. The German company's US arm, American Rheinmetall Munitions, will produce the new ammunition at their Arkansas plant.
The contract was awarded on the 26th September, with Rheinmetall releasing a statement confirming it a month later. The initial value of the contract is $25 million, with an option to expand to $59 million.
Here's Rheinmetall's full statement on the contract:
"The United States Marine Corps has just contracted with Rheinmetall to produce and deliver 40mm practice ammunition. The ammunition, specifically the 40mm x 53 MK281 MOD3 High Velocity Practice Day/Night Marking Cartridge, will be produced in Camden, Arkansas and shipped from American Rheinmetall Munitions (ARM), a Rheinmetall subsidiary based in Stafford, Virginia. Total order volume amounts to US$59 million (€51 million). Now booked, the initial order volume is worth US$25 million (€21.7 million). Production will commence no later than the third quarter of 2019; annual delivery volume is expected to be as high as 700,000 cartridges.

Rheinmetall's MK281 is a non-dud producing, non-toxic training cartridge fired from a MK19 machinegun. The cartridges use unique target marking technologies that enable both day and night training. The MK281 design reduces customer costs by eliminating unexploded ordnance and range fires. Furthermore, it permits users to practice fire-and-manoeuvre operations in a safe, dud-free environment.

ARM has been producing and supplying first-class, high-performance practice and service ammunition for American military and law enforcement customers for over a decade."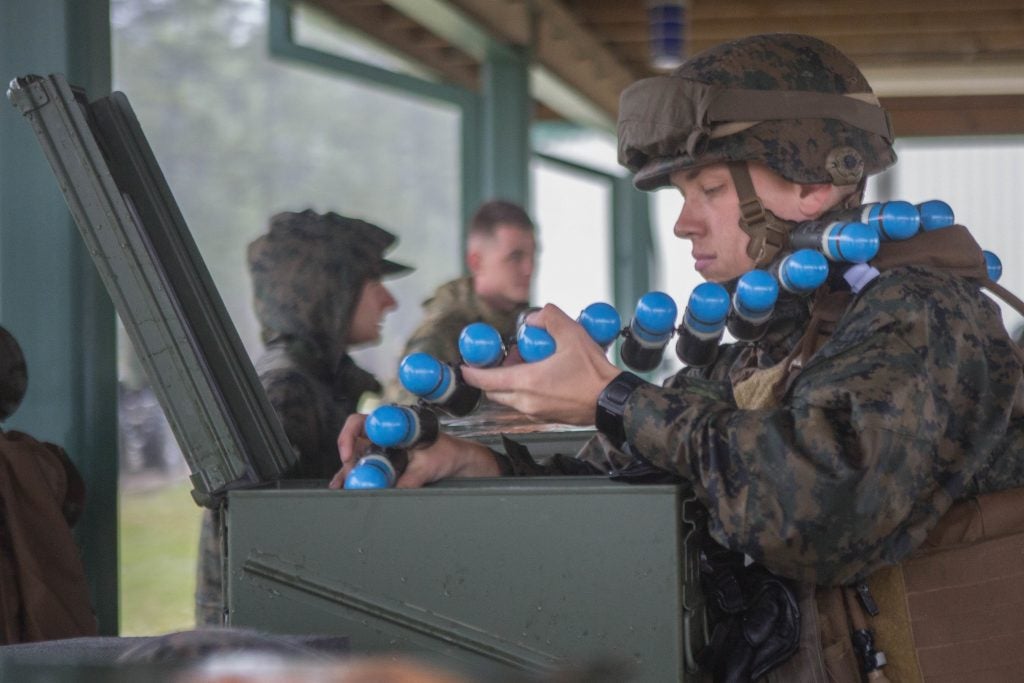 Here's the Department of Defense's official award notice:
"American Rheinmetall Munition Inc., Stafford, Virginia, is awarded a ceiling $59,703,284 firm-fixed-price, indefinite-delivery/indefinite-quantity contract for the purchase of up to a maximum of 2,135,026 MK281 MOD 3 40MM high velocity day/night practice cartridges.  MK281 MOD 3 cartridges are for training Marines under day and night/low-light conditions.  The MK281 MOD 3 cartridge uses a projectile containing a non-toxic chemiluminescent mixture that becomes visible upon impact at night and low-light conditions.  Work will be performed in Camden, Arkansas, and is expected to be complete by Sept. 25, 2022.  Fiscal 2017 procurement (Marine Corps) funds in the amount of $10,187,989; fiscal 2017 overseas contingency operations (OCO) (Marine Corps)) funds in the amount of $480,991; and, fiscal 2018 OCO operations and maintenance (Marine Corps) funds in the amount of $795,997 will be obligated on the first delivery order immediately following contract award and no funds will expire the end of the current fiscal year.  This contract was awarded on a sole-source basis in accordance with Federal Acquisition Regulation 6.302-1 – only one responsible source and no other supplies or services will satisfy agency requirements.  The Marine Corps Systems Command, Quantico, Virginia, is the contracting activity (M67854-18-D-5225)."