Boeing & SAAB wins U.S. Air Force T-X Pilot Training Program Contract
Boeing and SAAB have been awarded a $9.2 billion order for 351 jets, 46 simulators and associated ground equipment.
Boeing and Saab's new T-X jet can become a future trendsetter in the world market.
The Boeing T-X is an all-new advanced pilot training system designed specifically for the U.S.
Air Force training mission. It includes trainer aircraft, ground-based training and support –
designed together from the ground up. It will replace the T-38 trainer in use by the Air Force
today and will train fighter and bomber pilots for generations to come.
Below: Fighter-like design and performance: twin tails, GE F404 engine, and high G and
high angle-of-attack capability. Boeing T-X is designed to look, feel and perform like fighter aircraft.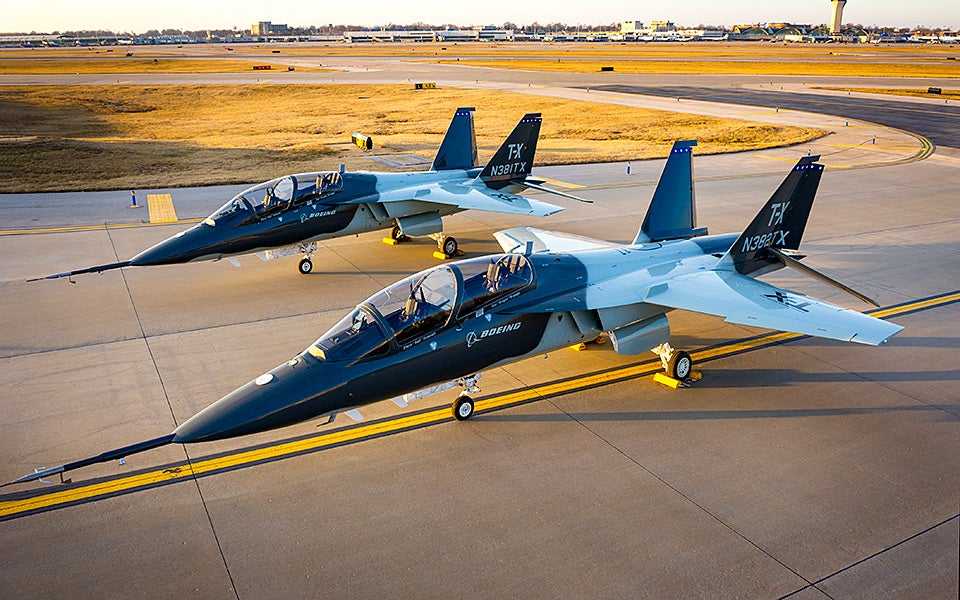 ST. LOUIS, Sept. 27, 2018 – U.S. Air Force pilots will soon train for combat with T-X jets and simulators from Boeing [NYSE: BA].

"Today's announcement is the culmination of years of unwavering focus by the Boeing and Saab team," said Leanne Caret, president and CEO, Boeing Defense, Space & Security. "It is a direct result of our joint investment in developing a system centered on the unique requirements of the U.S. Air Force. We expect T-X to be a franchise program for much of this century."

Boeing and its risk-sharing partner Saab designed, developed, and flight tested two all-new, purpose-built jets ― proving out the system's design, repeatability in manufacturing and training capability.

"This selection allows our two companies to deliver on a commitment we jointly made nearly five years ago," said Håkan Buskhe, president and CEO of Saab. "It is a major accomplishment for our partnership with Boeing and our joint team, and I look forward to delivering the first trainer aircraft to the Air Force."

Boeing is now clear to begin placing orders with its suppliers, including Saab. More than 90 percent of Boeing's offering will be made in America, supporting more than 17,000 jobs in 34 states.

Saab serves the global market with world-leading products, services and solutions within military defense and civil security. Saab has operations and employees on all continents around the world. Through innovative, collaborative and pragmatic thinking, Saab develops, adopts and improves new technology to meet customers' changing needs.
Made in the USA
Boeing T-X is more than 90% made in America and will support 17,000 jobs in 34 states across the country.  The partner SAAB will base its manufacturing in America, as will suppliers including General Electric and Triumph.
The U.S. Air Force schedule indicates initial operating capability in 2024.
For more information about the T-X jets check out Boeing's dedicated homepage.
There is also more information at SAAB Group.