Canadian PGW Defence to Export .50 Caliber Rifles to Ukraine
In an interview given to the Ukrainian UATV news channel, Ross Spagrud, the owner of PGW Defence Technologies Inc., confirmed that the company has been awarded a contract to deliver .50 caliber LRT-3 anti-materiel/sniper rifles to Ukraine. The total sum of the contract is about one million Canadian dollars which are roughly equal to $770,000 USD. The number of weapons to be supplied as well as the unit cost are not disclosed. You can watch the mentioned interview in the video embedded below.
PGW LRT-3 is a bolt action rifle chambered in .50 BMG. The rifle is fed from five-round detachable box magazines. The LRT-3 rifle also features top Picatinny rails, M-LOK accessory mounting slots on the forearm, adjustable and folding stock, fluted bolt and a muzzle brake. Apparently, as shown in the image below, these rifles are also offered equipped with suppressors.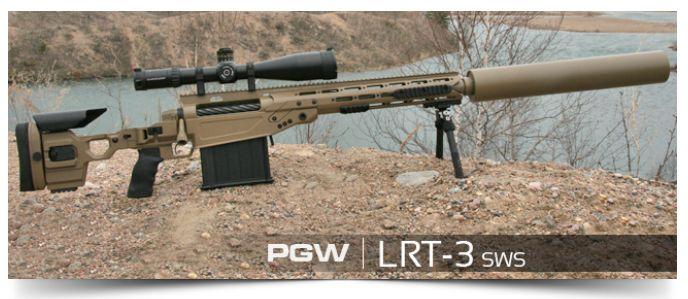 In conjunction with match grade ammunition, the PGW LRT-3 rifles are capable of extreme long-range precision fire. Other important factors in having successful target engagements with such a weapon system are the level of training of the personnel and the properties and quality of the optics. Unfortunately, there is no information concerning the scope models that will be used with these rifles by the Armed Forces of Ukraine.
Other features and technical specifications of the PGW LRT-3 rifle are listed below (quoted from the manufacturer's website).
Dimensions and Weight:

Weight: 25.125lbs. / 11.42kg
Open Length: With brake: 52.5in. / 133.35cm
Closed Length: Closed with brake: 43.5in. / 110.49cm
Open Width: 2.5in. / 6.3cm
Closed Width: 5in. / 12.7cm

Magazine Internal Length:

5.53in. / 14.04cm
Barrel Twist: 1-15in.
Barrel Material: Stainless Steel
Barrel Length Standard: 29in.
Chamber Type: 50 BMG ACCURACY
Ideal Ammunition: 750 GRAIN AMAX
Effective Range: 1800 Meters
Magazine Capacity: 5 RDS

Length Of Pull:

Min: 13.25in. / 33.65cm
Max: 14.5in. / 36.83cm

Cheekpiece Range Of Adjustment:
---
Sources:
UATV English. (2018, August 12). "Canadian Sniper Rifle Maker Signs Weapons Deal With Ukraine" [Video File]. Retrieved from: https://www.youtube.com/watch?v=Gtsl5hthDuE
Images from www.pgwdti.com , www.facebook.com/PGWDTI