Budget Constraints Force India to Slash Future Rifle Order
It has emerged that India's government has been forced to cut its potential order for a new standard issue service rifle from 800,000 down to just 250,000 even before a new rifle has been selected. India first announced its major rifle procurement programme back in February 2018, with a projected cost of $2.5 billion.
The procurement program has been scaled back by nearly 75% with budget issue reportedly hampering the initial huge order. The Indian military is 1.3 million strong, however, only 225,000 are front line infantry – therefore the Indian government believes savings can be made by prioritising who gets the new indigenously manufactured rifles when they begin to come off the production line. Support troops will have to continue to make do with the INSAS.
In April Hrachya reported that India had signed a Memorandum of Understanding (MoU) with Caracal International of the UAE to begin licensed manufacture of the Caracal CAR 817AR Rifle at India's MKU Corporation factory in Kanpur. At the same time MKU also partnered with Thales, signing another MoU, to develop an entry into the Indian Army's search for a CQB rifle. Last month we also reported that India was also in talks with Kalashnikov Concern about production of 7.62x39mm AK rifles under license.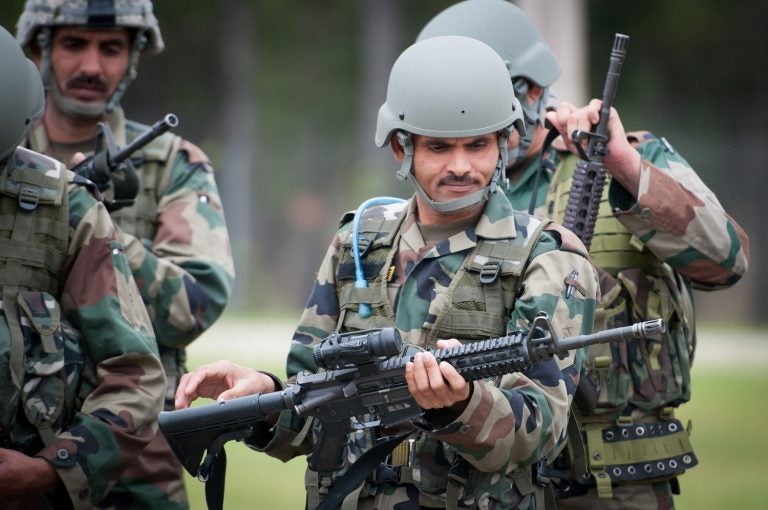 It is clear that India's current approach to small arms approach is multi-faceted with their military and para-military police forces requiring a variety of different weapon systems ranging from 5.56x45mm infantry rifles to CQB carbines to AK-pattern rifles. In addition to indigenous production aims India also has an immediate need for up to 166,000 rifles and carbines which can be imported from outside of India.
The Times of India recently reported, before news of the cut in the order size, that later in June delegates from the military are due to visit a number of foreign manufacturers. These reportedly include Colt, SIG Sauer (USA), Israel's IWI, Beretta, CZ and South Korea's S&T Motiv. India's RFP for the rifles and carbines solicited responses from nearly a dozen vendors, however, Russian manufacturers are not in contention with an Indian official explaining: "Russia had also responded positively to the assault rifle RFP, but it didn't have the calibre we are looking for, so there's no point going there." Following the Indian delegations visit to the manufacturer's factories the vendors will be invited to India in July and August for rifle testing and evaluations.
As India's seemingly unending struggle to adopt a new rifle continues we will keep readers informed with any and all future developments.